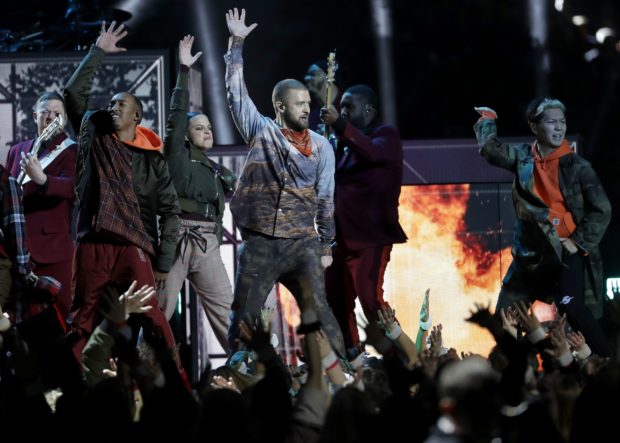 People in America and even some parts of the world are glued to their TV screens and monitors to watch this year's Super Bowl game, but one thing we look forward to every year would have to be the half time performance.
This year, Justin Timberlake took the stage and promised a performance that went back to his roots. He sang and danced to (I feel so tired for him) his chart-topping songs like "Rock Your Body," "SexyBack," and "Suit & Tie."—complete with a marching band dressed in tuxedos. He also sang "Filthy," the one song he picked from his most recent album. The show was concluded with "Can't Stop the Feeling."
.@JTimberlake kicks off the #SB52 halftime show https://t.co/AnoevlnJIt pic.twitter.com/4KG2uqJLSo

— Hollywood Reporter (@THR) February 5, 2018
.@jtimberlake brought down the house at #SBLIIpic.twitter.com/NJbTyu6V7g

— Super Bowl on NBC (@SNFonNBC) February 5, 2018
The controversial bit would have to be his tribute to Prince. He played on a white grand piano and sang "Until the End of Time" then transitioned to a cover of "I Would Die 4 U." A big purple curtain came down to show a projection of Prince from "Purple Rain." The final projection showed Prince's shadow from his 2007 Super Bowl performance.
'Minneapolis, Minnesota, this one's for you.' pic.twitter.com/1L0RJMJOgY

— Super Bowl on NBC (@SNFonNBC) February 5, 2018
Back in 1998 during a magazine interview, Prince said that he had no interest in using high-tech effects that would let him perform with a deceased artist. "That's the most demonic thing imaginable. Everything is as it is, and it should be. If I was meant to jam with Duke Ellington, we would have lived in the same age."
"That whole virtual reality thing… it really is demonic," he continued. "And I am not a demon … To prevent that kind of thing from happening is another reason why I want artistic control."
Prince's sister reacted when the rumors of a hologram came out days before the performance saying that they did not approve of anything like it and even spoke to Justin to clarify the issue. But I guess he still didn't follow.
UNDER NO CIRCUMSTANCES did we approve of this! Prince's music moved, NOW THIS! #Istand2protectthislegacy #prnfamily

— Sharon L. Nelson (@Sharon_L_Nelson) February 3, 2018
Twitter had split reactions based on his tribute to Prince. Some loved it and thought it was fire, but the rest felt like he didn't do him justice.
I know some people didn't like it but you can't be in Minneapolis and not do something pertaining to Prince pic.twitter.com/y2XvQ7KqnS

— Jasmine (@JasmineLWatkins) February 5, 2018
Prince didn't like Justin Timberlake.. it's kind of rude to use his image for this performance #PEPSIHALFTIMESHOW

— Affinity Magazine (@TheAffinityMag) February 5, 2018
If you ever shared two words with #Prince.
Or heard him speak.
Or saw him play.

You'd understand in the base of your bones — them deciding to hologram him at the SB — would've busted his heart to pieces. pic.twitter.com/TqK76Yacqi

— Vic Mahoney (@VictoriaMahoney) February 5, 2018
Holy Crap. That might be the best Super Bowl halftime I ever saw. Justin Timberlake crushes it. With the University of Minnesota Marching Band. Whoa. pic.twitter.com/O8rHxk9tlI

— Patrick Kessler (@PatKessler) February 5, 2018
Whew! Thank you, @jtimberlake. #SuperBowlLII

— Ajit Pai (@AjitPaiFCC) February 5, 2018
@jtimberlake that was FIIIIIIRE ? so many tunes!! And moves I need to learn asap #SuperBowl

— Tove Lo (@ToveLo) February 5, 2018
Remember that Justin's previous Super Bowl performance was also controversial because of Janet Jackson's wardrobe malfunction. He left unscathed while Janet was the one left penalized.
What do you think of his performance? Leave a comment below!
[
Variety
and
The Huffington Post
]
Photo by Matt Slocum/AP/REX/Shutterstock
Follow Preen on Facebook, Instagram, Twitter, and Viber
Related stories:
Here's Why People Aren't Excited About Justin Timberlake's Super Bowl Halftime Show
Lady Gaga's "Born This Way" Performance Is the Best Subtle Trump Jab of the Super Bowl
5 Super Bowl Performances Lady Gaga Has to Beat
All the Reasons We Loved Beyoncé , Coldplay, and Bruno Mars a Super Bowl 50