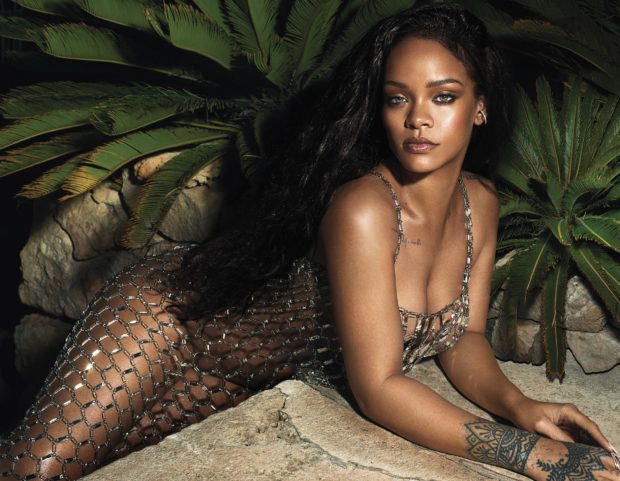 Rihanna just released a makeup tutorial with Vogue. And boy are we feeling blessed! I suggest we all take notes as this is her look for going out (TGIF)—featuring colors for the summer.
She starts with figuring out how to start a video and at some point said, "Hi, guys!" And immediately took it back and said, "I'm not gonna say 'Hi, guys'!" She then gets ready with a 'lil help from Fenty Beauty.
First up, foundation and then she goes in-depth when it comes to contour. Rihanna even threw a little tip-slash-shade, "Contour your face for your face. Not the way you see it in every YouTube tutorial because everybody has a different shape." And also the importance of blending, as if we couldn't emphasize that enough.
And when it comes to hiding eye bags, circles, and yes, even bad decisions, there is only one solution and that is concealer. Rihanna calls it the cure, and I know we all agree. Blotting with powder is another important thing—so important that if her palette doesn't fit her clutch, she'll change her clutch. Talk about priorities!
Her makeup is always based on her mood for the day, where she is going, and who she's going to see. And since this a night out look, she plays with fun colors from her Beach, Please palette. She used the pink shade as her eyeshadow and even her blush because it's summer. She layered highlighters too and combined two colors for dimension. Rihanna finishes her look with a pink and gold lip gloss.
As a final step, slather on some body makeup, in her case it's Body Lava. Now you're ready to own the night. Aka tonight!
So what did we learn that we can use over and over? 1) Don't be afraid to play around with different looks—always practice. 2) Products can be multi-purpose—bronzers can contour and also act as eyeshadow. Blush can also add color to your eyes. 3) Do not be afraid of highlighter! There's so many ways to use and play with highlighter. Glow, girl. Glow!
[
Vogue
]
Follow Preen on Facebook, Instagram, Twitter, and Viber
Related stories:
The Life Lessons Rihanna Taught Us in Her 30 Years of Existence
A Sneak Peek at Rihanna's Lingerie Line
Rihanna Just Dropped New Additions to Fenty Beauty
Men Are Doing Rihanna's Body Lava Video in the Most Creative Way Possible