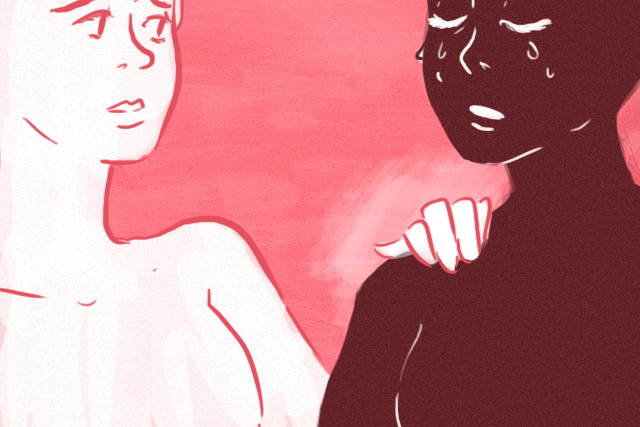 This column may contain strong language, sexual content, adult humor, and other themes that may not be suitable for minors. Parental guidance is strongly advised.
Much has been said about the solidarity of women, and, as the #MeToo movement continues to make its impact felt, it's clear—and heartwarming—that women do look out for each other and try to protect each other. And they tend to believe each other. There were reports, for instance, of Harvey Weinstein's female employees warning actresses and models against seeing the Hollywood mogul alone, and there was the "whisper campaign" Ashley Judd spoke of, in which word of Weinstein's predatory ways were passed on from woman to woman. Considering the power structures existing then, structures which seem to be slowly being eroded, those looking out for other women did so in ways that were available to them.
In younger times, long before we realized that men—and not our wardrobe or level of sobriety—can and should be held accountable for their actions, we would dissuade our girlfriends from going out with a guy we knew to be a "maniac" who couldn't keep his hands to himself. We would tell our friends to stay away from the creep who tried to spike our drinks one night at the club. We would tell classmates in college not to accept a lift from a particularly cute guy with a nice car because he would drive you straight home—his home—and try to rape you. That's just what girls did for each other.
And recently, here's what one girlfriend did for another: She used what was perhaps the most influential platform ever to press for the readmission of another woman into the fold.
The BFF: Anna Wintour, the most powerful editor in the world. The "Victim": Georgina Chapman, one-half of the designing duo behind the label Marchesa. The Medium: American Vogue, June issue.
"Before Georgina Chapman chose to break her silence to Vogue writer Jonathan Van Meter, she spent a lot of time soul-searching, wondering whether she should do so or not. Just after the very serious allegations of harassment, abuse, and assault against her husband, Harvey Weinstein, first became known last October, they separated. She disappeared from the public eye, retreating to look after their two young children, and trying to create some semblance of normality in her working life at Marchesa, the fashion label she founded with her business partner and lifelong friend Keren Craig. But how does one ever even begin to cope? When I went to see Georgina not long after the news broke, she was near mute with shock, trying to process the emotions—anger, guilt, revulsion, fear—as well as grappling with the terrible wider human cost in all of this.
I've known Georgina for a long time. We first met back in 2004, when she and Keren were launching their label, and she was giddy with anticipation and excitement about the future. She was warm, funny, and extremely self-deprecating. Georgina is essentially quite old-fashioned, and just as she was always the good daughter—she is still very close to her family—she also became the good wife. She adored Harvey, but in the blink of an eye, she went from being in a seemingly happy marriage to looking back on a relationship that had become both bewildering and terrifying.
I am firmly convinced that Georgina had no idea about her husband's behavior; blaming her for any of it, as too many have in our gladiatorial digital age, is wrong. I believe that one should not hold a person responsible for the actions of his or her partner. What Georgina should be receiving is our compassion and understanding. Just before we finished this issue, I met with her again. While still in turmoil, she was intent on doing her best for the children she loves so much, and ready for life as an independent woman. She could begin to see a future."
So far, so very supportive of Anna Wintour. How lucky of Georgia Chapman to have a friend so willing to bat for her in a so public and influential a forum as Vogue. And I suppose it is only fair to give Chapman the benefit of the doubt. However, there is no doubt that the designer benefitted from her husband's abusive behavior; after all, he insisted the women in his films to wear Marchesa on the red carpet, which of course resulted in valuable free publicity for the fashion label.
While no one really knows what goes on in a marriage except the two people married to each other—how many of us have been blindsided by the seemingly perfect couple splitting up after 30 years together?—it seems a bit far-fetched to not know at some level that your husband is actually an asshole, or that your wife is indifferent to you. It's not a question of accountability. No one should hold Chapman accountable for Weinstein's general odiousness, but one wonders if she enabled his behavior one way or another, either by remaining silent, ignoring the suspicions she may have had, or simply focusing her attention on the children and her work. But then again, while her husband lorded it over Hollywood, there must have been enough people falling all over themselves to curry favor with him or avoid risking his ire that his misdeeds were swept under the rug or simply glossed over with that convenient blanket excuse, "boys will be boys."
No doubt the support and friendship of a girlfriend as loyal as Wintour will help Chapman get through this unpleasant chapter in her life. As a recent Internet meme explained, "Women connect with each other differently and provide support systems that help each other to deal with stress and difficult life experiences. Physically, this quality 'girlfriend time' helps us to create more serotonin—a neurotransmitter that helps combat depression and can create a general feeling of well-being."
But what of the truly horrible racist women, often white and frankly pathetic and bitter, who call the police because a black woman and fellow student at Yale happened to be sleeping in the common room? Or because two black men were sitting around at Starbucks waiting for someone but not ordering anything? Or because a group of black women were leaving her neighbor's place, which they had rented on Airbnb? Or because a group of black people were barbecuing food at the park in a legally designated area?
Female solidarity has its limits. Any woman who promotes racism or sexism or bigotry or sexual abuse or child exploitation, I'm afraid, does not deserve any support. All the more so if they happen to be "educated" or ostensibly "Christian."
B. Wiser is the author of Making Love in Spanish, a novel published by Anvil Publishing and available in National Book Store and Powerbooks, as well as online. When not assuming her Sasha Fierce alter-ego, she takes on the role of serious journalist and media consultant. 
For comments and questions, e-mail [email protected].
Disclaimer: The views expressed here are solely those of the author in her private capacity and do not in any way represent the views of Preen.ph, or any other entity of the Inquirer Group of Companies.
Art by Marian Hukom
Follow Preen on Facebook, Instagram, Twitter, and Viber
Related stories:
Women Against Harvey: What Took So Long?
Why 'Boy Talk' Is the Worst Excuse for Sexual Harassment
Power and Fame Can't Save Sexual Predators Anymore
What Role Does Trauma Play in the #MeToo Campaign?