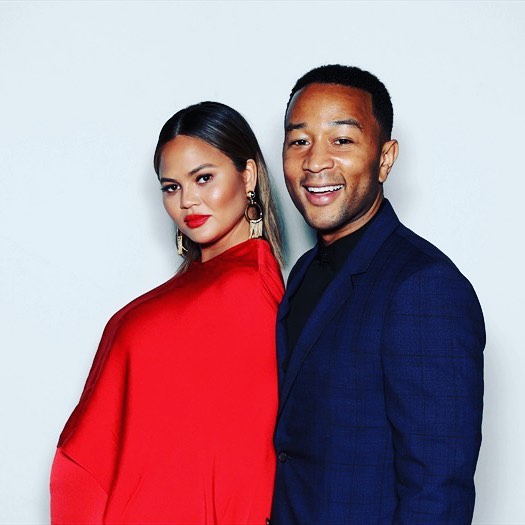 Chrissy Teigen and John Legend welcomed another (cute!) addition to their family, as if their daughter Luna in her avocado swimmies was not cute enough. Meet Miles Theodore Stephens and based on his mom's Twitter post, he was born last May 17.
One follower asked if the baby looked like Luna and Chrissy replied with, "Same nose!" And even shared how he makes the cutest little sounds and describes it as, "He is a few weeks early so he's littttttttttle and makes the teeniest noises. We are in love."
Four days later and Chrissy finally showed us a photo and my, oh my is he really the cutest (we will overuse this word, obviously) little human—complete with the hand to cheek pose.
"We are drowning in his little peeps and nuzzles. Our household feels overwhelmed with love. Thank you for your well wishes!"
Knowing Chrissy, she'll be sharing a lot of baby milestones on social media so we won't be missing out. Just yesterday she posted a tweet that's so relatable, it's funny.
I can confirm postpartum life is 90% better when you don't rip to your butthole. Baby boy: 1 point. Luna: 0

— christine teigen (@chrissyteigen) May 20, 2018
Plus, she keeps teasing her husband John for being out just after their baby was born.
wow didn't u just have a baby John smh go take care of it !!!!!! disgusting pic.twitter.com/l20XJGQ2Fu

— christine teigen (@chrissyteigen) May 20, 2018
Welcome to the world, Miles. You're already making it 100x better.
Photo courtesy of Chrissy Teigen's Instagram account
Follow Preen on Facebook, Instagram, Twitter, and Viber
Related stories:
This Is How Chrissy Teigen Announced Her Second Pregnancy
Chrissy Teigen Wants to Break the Stigma Surrounding Post-Partum Depression
What Saab Magalona and Coco Rocha are Doing Before They Pop
Chrissy Teigen Likes to Prepare Salad Butt- Naked