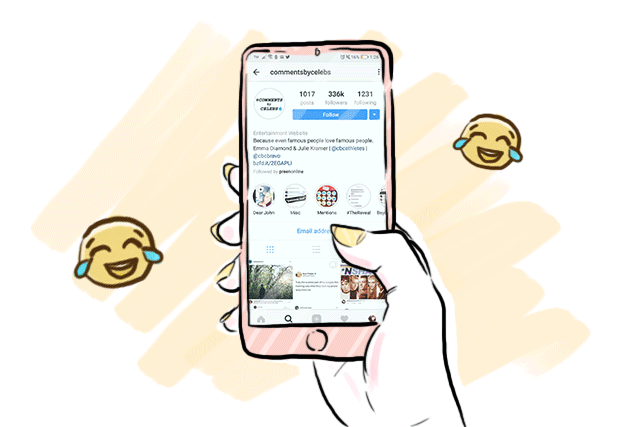 As much as we love social media, we've talked about how it's good to take a break once in a while. Another good way to make social media less toxic is to filter the different accounts you follow. Personally, I started unfollowing and unfriending people that 1) I'm not really friends with or 2) were posting things I don't agree with. Another way I keep social media less hectic is by following accounts with funny content. I noticed that when I started seeing these posts on my timeline, it made my day lighter. These ranged from random art to short comic strips, and celebrity-driven posts but a side we often don't see. If you want to achieve the same thing with your timelines, here are some accounts you can follow right now.
@commentsbycelebs
"Because even famous people love famous people," so Emma Diamond and Julie Kramer decided to create the IG account @commentsbycelebs. If you think your stalking skills are good, theirs is even better. Here you will see social media posts of celebrities and the comments from other famous people. And, because she's so funny, they have a #WeeklyChrissy series where they combine some of Chrissy Teigen's post into one slideshow.
@mydaywithjoel
Joel Strong is the "satirical photographer" and "stop motion enthusiast" behind @mydaywithjoel. He has face cutouts of celebrities and strategically places them on bodies of other people. Some are funny videos like Oprah dancing in the street. He also uses this method to recreate scenes from movies.
@quarterlifepoetry
Struggling with the adult life? Samantha Jayne feels the same way. She has an IG account called @quarterlifepoetry wherein she shares short poems along with artwork. The themes of the poems cover topics like finding the time to exercise, problems with social media, and yoga pants.
@catanacomics
All relationships are different but there are probably some aspects that could be similar. One girl decided to share snippets of her life with her boyfriend through short comics. It first started off on Facebook and made its way to Instagram. Personally, I can relate to some of these, especially the comic about ordering dessert.
@tasteofstreep
If you love Meryl Streep, hit follow on this account ASAP. Here you'll see pictures of Meryl photoshopped with different food along with some pretty cool backgrounds. Some of the photos include Meryl dressed in a pink robe inside a glass of pink lemonade and in a yellow dress as a yolk of a deviled egg. One of my favorites is Meryl as a strip of bacon in a cheeseburger.
Art by Marian Hukom
Follow Preen on Facebook, Instagram, Twitter, YouTube, and Viber
Related stories:
How to create the Instagram-popular moving photos you've been seeing
This or that: IG Stories templates are the new social media trend
These AI influencers are taking Instagram and they're too real
This Instagram account reveals copycats in the fashion world