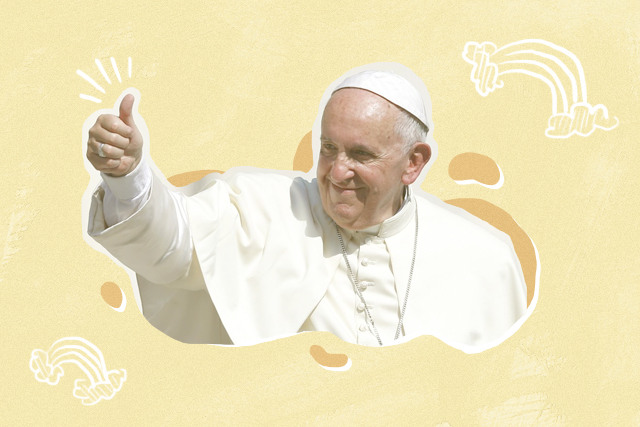 Religion is a tricky topic to talk about but let's keep our minds open as we discuss homosexuality and the Roman Catholic Church. According to The New York Times, "The Catechism of the Catholic Church states that people with 'homosexual tendencies must be accepted with respect, compassion, and sensitivity,' but it also calls a 'deep-seated' homosexual inclination and its acts 'intrinsically distorted' and 'contrary to the natural law.'" Sounds like a very complicated statement, right? I remember learning this as a kid and accepting it because I didn't know any better. It didn't help that my older relatives would look down on the LGBTQ+ community and said they would go to hell. That's a strong statement coming from people who follow religion blindly but there might be some hope.
Earlier this month, Pope Francis had three Chileans over at the Vatican. They were victims of sexual abuse by priests in Chile. The New York Times stated that Pope Francis invited them, "to ask their forgiveness and listen to their suggestions… as he tries to make amends for voicing doubts about their accusations." During this time, he had a three-hour talk with Juan Carlos and what the Pope said might influence the way the Catholic church perceives homosexuals. After telling the pope he was gay, "He said to me, 'Juan Carlos that's not a problem. You have to be happy with who you are. God made you this way and loves you this way, and the pope loves you this way.'"
The article went on, "The pope's remarks, if accurate, would reinforce his vision of inclusion, accompaniment, and mercy. It is an emphasis that is increasingly evident throughout a church hierarchy that he is reshaping." If this is correct, kudos to Pope Francis for trying to change years of discrimination within the Catholic church. And other Catholic figures are following suit. In the Italian version of "Building a Bridge," Archbishop Matteo Maria Zuppi of Bologna wrote in the preface, "The intent of the book is to help pastors develop an attitude of understanding, as well as a capacity for accompaniment, towards their homosexual brothers and sisters."
Although this statement was made, the church still has a long way to go. An article in Time brought to light a comment from Francis DeBernardo, executive director of New Ways ministry, "which advocates equality for LGBT Catholics." Francis said, "It would do a lot better if he would make these statements publicly, because LGBT people need to hear that message from religious leaders, from Catholic leaders."
This also goes to show that we can't always rely on institutions to make a change, we have to be part of it too. It's difficult to change how people think but it's not impossible. Yes, people can be stubborn but it's better to try and explain to them the right thing instead of leaving them with false perceptions.
Art by Marian Hukom
Related stories:
Why Does Religion Assign So Much Guilt Over Sex?
Why I am Letting My Daughter Choose Her Religion
When Will the Religious Atrocities Against Women Stop?
Alternate Met Gala 2018 Theme: Heavenly Bodies and "Catholic Fetishism"