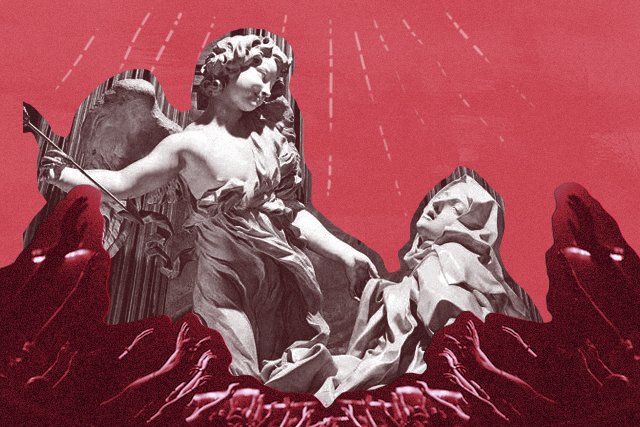 This column may contain strong language, sexual content, adult humor, and other themes that may not be suitable for minors. Parental guidance is strongly advised.
Last Monday's extravagant Met Gala may have been held at Fifth Avenue and 83rd Street, but its real location was at the intersection of fashion, Catholicism, and bacchanalia. The pretext for the ball, after all, was a new costume exhibition, "Heavenly Bodies," which explores fashion and the Catholic imagination.
And what an imagination it is.  And how it has informed fashion throughout the centuries.
From the severe and monastic to the opulent and lavish, fashion's interpretation of the Catholic imagination encompassed saints, sinners and angels, fallen or otherwise. The fact that someone like Rihanna was able to transform what was clearly inspired by papal vestments into a rather dazzling and risqué outfit, with a fully beaded skirt slit vertiginously high and a bustier bodice pushing forward her very ample bosom, is in a way emblematic of one of the inherent paradoxes of organized religion, particularly of Catholicism—tempering the earthly in favor of the divine, which includes controlling our most primal appetites, taming the pagan in us in order to become more like God, suppressing luxury for asceticism, in the process cleansing and purifying our souls.
The Catholic Church may have begun as a humble, austere fringe cult of sorts, but it soon grew into an empire marked by pomp and ceremony. And many of the Church rituals were adaptations of pagan rituals and Roman feasts. Hence, there was always, beneath the veneer of holiness and austerity, an all too human appetite for earthier pleasures. It's no wonder that holiness was hardly the word to describe the majority of the outfits worn at the Met Ball; instead, they were quite overtly sexual, with the references to religion actually coming across as fetishistic more than anything else. See: Kim Kardashian in a skintight gold gown by Versace embellished with crosses. The crosses, in fact, do little to distract from her celebrated curves, appearing little more than a cursory nod to the gala's dress code. Another cursory nod came in the form of a tiny gold cross dangling tantalizingly close to Miley Cyrus' butt. While Kim's dress left very little to the imagination, it still sheathed her in Crusader-like armor. Miley's dress, on the other hand, was not so much a dress but a piece of black fabric barely concealing her body, exposing her cleavage, her back, her butt crack and her tattoos.
Yes, saints and angels may have been revered, but they have always been the stuff of fetish. After all, the Catholic faith has always fetishized "virtues" such as virginity, venerating those who choose purity and a life of devotion to God above all else, to the point of entering the nunnery and calling themselves "brides" of Christ.  And that was something women who wished to be pure and saintly were taught to aspire to. Yet there is something fundamentally warped about aspiring to become a bride of Christ, taking what is essentially a human and Church-sanctioned union that legitimizes physical relations into a heavenly, albeit one-sided, ideal that both sublimates sexual desire completely and transforms it into a spiritual ecstasy. This erotic charge to fervent desire for God was labelled as a kind of mysticism—"bridal mysticism"—and its poster saint is St. Teresa of Avila.
The ascetic 15th century Spanish saint described one of her ecstatic episodes in her autobiography The Life of Teresa of Jesus.
"It pleased our Lord that I should see the following vision a number of times. I saw an angel near me, on the left side, in bodily form. This I am not wont to see, save very rarely…. In this vision it pleased the Lord that I should see it thus. He was not tall, but short, marvelously beautiful, with a face which shone as though he were one of the highest of the angels, who seem to be all of fire: they must be those whom we call Seraphim…. I saw in his hands a long golden spear, and at the point of the iron there seemed to be a little fire. This I thought that he thrust several times into my heart, and that it penetrated to my entrails. When he drew out the spear he seemed to be drawing them with it, leaving me all on fire with a wondrous love for God. The pain was so great that it caused me to utter several moans; and yet so exceeding sweet is this greatest of pains that it is impossible to desire to be rid of it, or for the soul to be content with less than God."
I don't know about you, but that's pretty much like an orgasm to me. In fact, St. Teresa's O-face has been immortalized in all its delicious and sublime glory in Bernini's famous marble, gilt and bronze sculpture, The Ecstasy of Saint Teresa, housed in the Church of Santa Maria della Vittoria in Rome.
No doubt her faith in God was pure and sincere, and had Masters & Johnson been around then, they might have tried, for the sake of science, to measure her bodily responses during her moments of spiritual paroxysms, checking her heart rate, her pulse, her breath, the contractions in her cervix and uterus, the flush in her cheeks, and the secretions in her vagina. No doubt they'd conclude that the good saint was having an orgasm. Perhaps even multiple orgasms.
B. Wiser is the author of Making Love in Spanish, a novel published by Anvil Publishing and available in National Book Store and Powerbooks, as well as online. When not assuming her Sasha Fierce alter-ego, she takes on the role of serious journalist and media consultant.
For comments and questions, e-mail [email protected].
Disclaimer: The views expressed here are solely those of the author in her private capacity and do not in any way represent the views of Preen.ph, or any other entity of the Inquirer Group of Companies.
Art by Marian Hukom
Follow Preen on Facebook, Instagram, Twitter, and Viber
Related stories:
The Met Gala 2018 Dress Trains that Went on For Days
The Must-Have Accessory Seen on the Met Gala 2018 Red Carpet
A Woman's Virginity Does Not Define Her
Why Does Religion Assign So Much Guilt Over Sex?
Metropolitan Museum of Art Launches a Collaboration with Pat McGrath