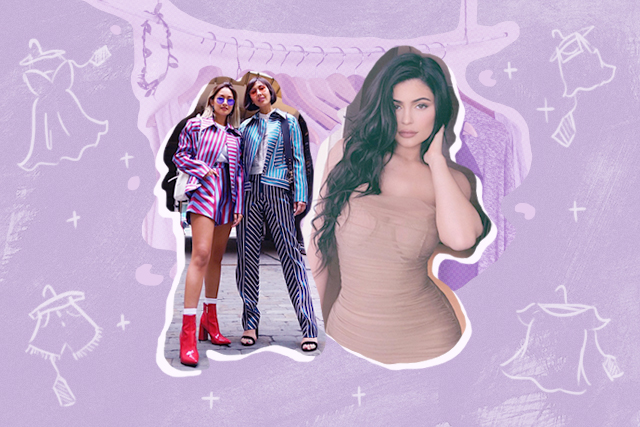 Scrolling through social media, I'm sure we've all paused at a photo of a celebrity and wondered where they got their outfit from. Luckily, some do tag the brands but for the ones who don't we're just left to scour the Internet for the pieces. But have you ever wanted to shop straight from their closet? Imagine copping their designer goods for a fair price. Well, just like you and me, many celebrities have started selling their old clothes online. They go through their closets and get rid of some stuff to make room for fresh new drops while their followers can cop what they don't want anymore. They sell them through different online channels like Instagram and other apps and websites. Check out the list below to see which celebrity closets you can shop from now.
Martine Cajucom
Last week, Martine Cajucom shared a photo on Instagram that showed her in the midst of boxes and piles of clothes and shoes. The caption read, "The closet cleanse is complete! Selling Prada, A.P.C, and Acne stuff for as low as P400." She's selling her stuff on the Carousell app under the username martine143. Looking at her account, some items are already sold and reserved. If you missed out, don't worry because Martine will be "listing items all week so keep checking back too.
Lena Dunham
Last year, Lena Dunham announced that she would be selling her clothes to raise money for Planned Parenthood. She told The New York Times, "I have to take all this good fashion fortune I've had and spread it." Almost a year later and there are still some pieces up for grabs. You can cop her Miu Miu lace and silk top or a Thakoon satin colorblock dress. Check what's still available here.  
Liz Uy and Laureen Uy
Sisters Liz Uy and Laureen Uy are known for their creative fashion sense. But when the trends and seasons change, so does their wardrobe. When they want to make room for the new stuff, they sell their clothes on Instagram on the account SECONDS. Here, you will see designer bags and shoes going for a reasonable price. What's still available? A pair of red Balenciaga heels, Chloé shoulder bag, Alexander Wang mini bag, and much much more.
Kylie Jenner
You can also shop Kylie Jenner's closet through The Real Real. There are a variety of items like a pair of Gucci jeans, Versace backpack, and BVLGARI bag. Each item has a short description followed by "From the closet of Kylie Jenner." In the product details you will also see the estimated retail value and the condition of each piece so you know what you're getting. Cop whatever is available here.
Maxene Magalona, Janna Tee, Megan Young, Saab Magalona, and Lauren Young
A group of local celebrities decided to come together and sell their clothes on Instagram. Maxene Magalona, Janna Tee, Megan Young, Saab Magalona, and Lauren Young officially launched BeshBuy in September last year. Prior to that, they would sell their clothes in bazaars like the Trendsetters Bazaar. Now, you can check out their stuff on Instagram including Saab's shoes and Maxene's tops.
Art by Marian Hukom
Follow Preen on Facebook, Instagram, Twitter, YouTube, and Viber
Related stories:
Kimi Juan's tips to get you ukay shopping like a pro
Hoarding clothes? Let go of them with these e-commerce apps
Let's try this: No shopping for a year
The most important online shopping questions answered