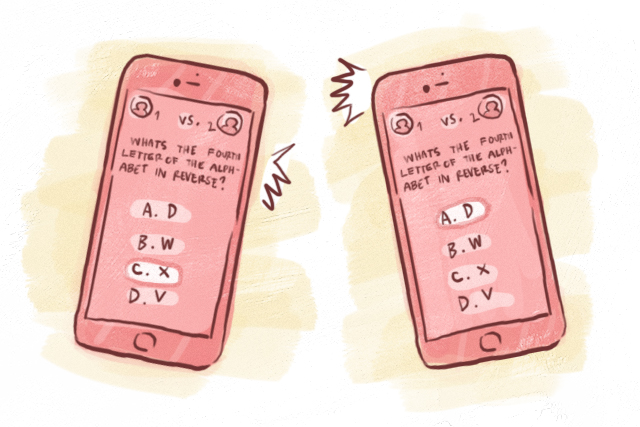 What else gets can get heart beat racing aside from competitive sports? Answer: trivia game apps. That sounds nerdy but going head-to-head with another person, trying so hard to answer correctly before the timer's up is both fun and stressful. Don't get me started on leaderboards where you see who has the highest daily or weekly scores.
If you feel like getting into friendly competitions, even win actual cash from answering trivia questions, you can download the apps we listed below. Also a tip before you start playing: Brush up on general knowledge and think really fast. Good luck!
Trivia Crack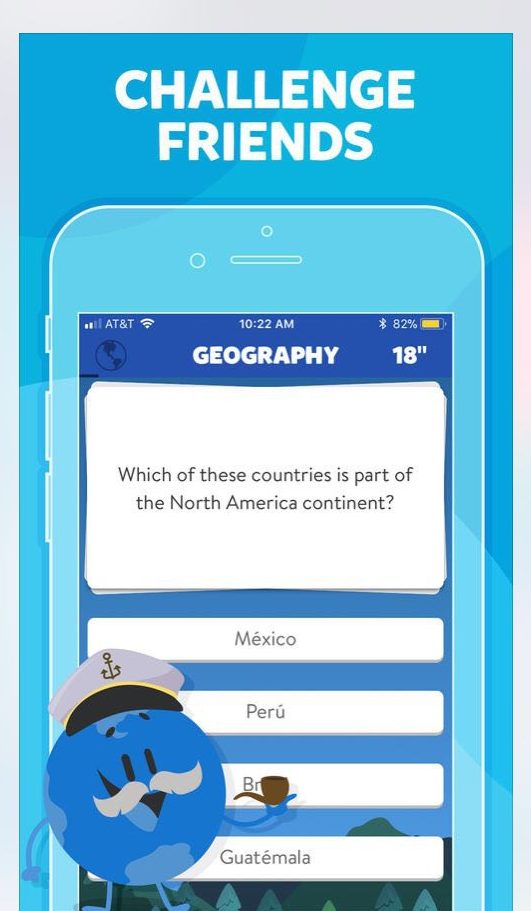 In Trivia Crack, you will answer questions from randomly-selected categories. You can play solo or do multiplayer games from people around the world. This app became so popular in 2017 that it was downloaded 300 million times. Forbes spoke to Trivia Crack's developers and found that the game's success lies in the fact that there are endless questions available because users can submit their own. Download for free on Apple Store and Google Play.
Paydro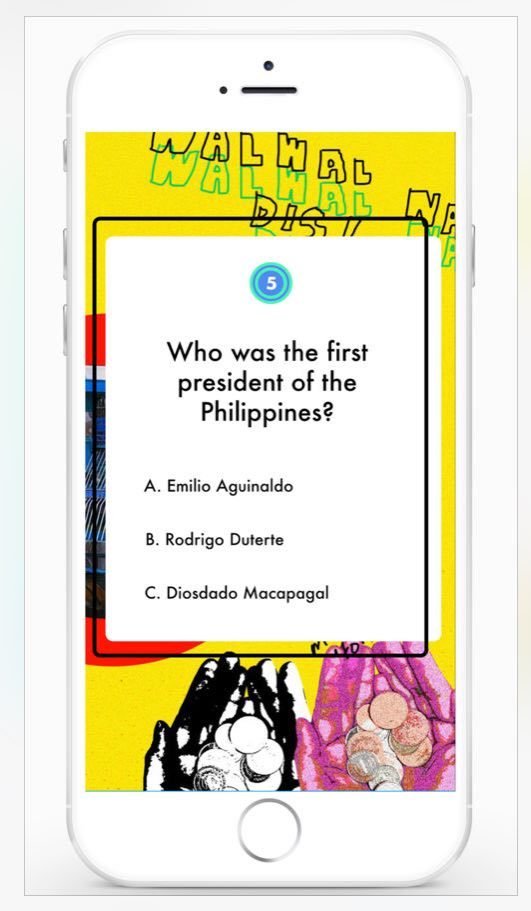 Let me just say that this our (my friends and I) current obsession. Paydro is a Filipino-made game which livestreams its trivia challenges thrice a week. All you need is to answer all 11 questions correctly and you have the chance to win a cash prize—as in actual money. I'm not kidding. It can range from P10,000 to P50,000 (Sam YG said during one game that this will get higher in future shows), and the winnings you'll get will depend on how many users win that day. It's pretty nerve-racking since you only have 10 seconds to answer each question and if your Internet connection is unstable, you might experience lots of lag which might cause you to lose. You've been warned. Download for free on Apple Store and Google Play.
Jeopardy! World Tour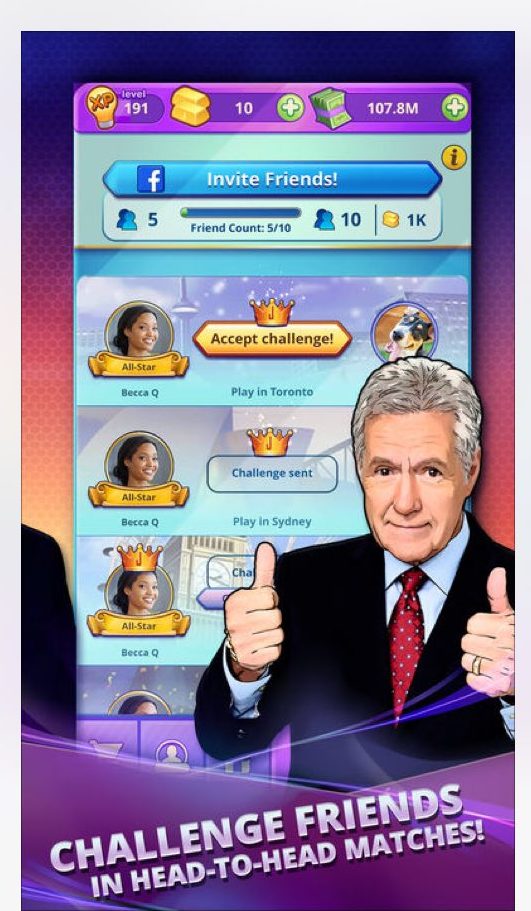 If you're a fan of this game show, then you'll love the app. Jeopardy! World Tour pairs you with players from around the globe. It's semi-similar to the show where you choose the question you want to answer. The only difference is that there's a multiple choice option. You can also use power-ups to help you in the game. Download for free on Apple Store and Google Play.
QuizUp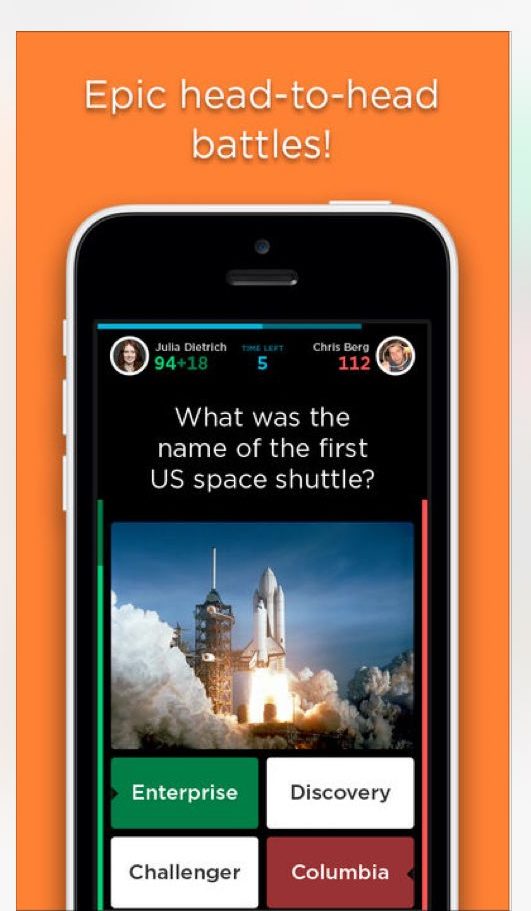 This is the first trivia game app that got me hooked. What's great about QuizUp is that it contains hundreds of categories and sub-categories that cater to your interests. You also get customized badges every time you win against your opponents. To be honest, my personal favorite aspect is the fact that I get a Game of Thrones-inspired badge and title next to my name. (Yes, I answer GOT trivia way too much.) Download for free on Apple Store and Google Play.
Fight List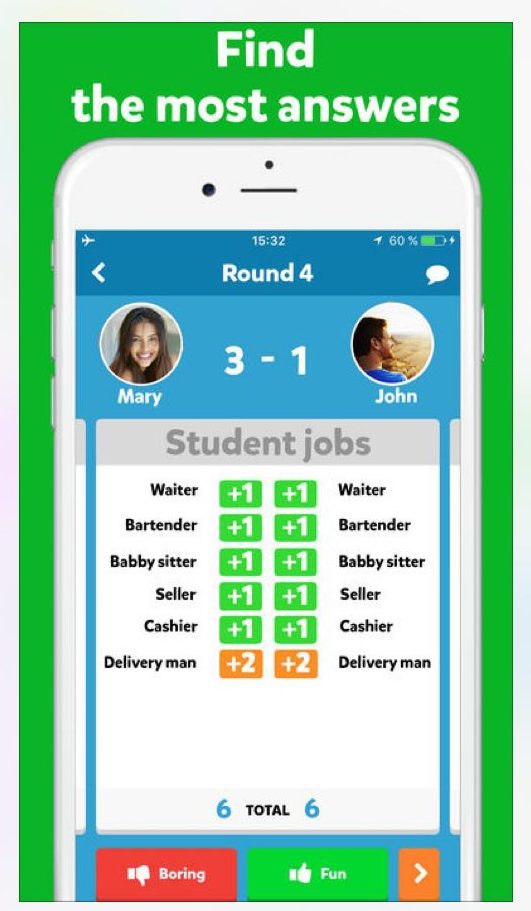 Fight List doesn't have a Q&A format, but it will still exercise your brain. This is a multiplayer game which simply shows you categories like "Student Jobs" and all you have to do is to give the best answer to them. Some answers will be scored higher than others, so you better very carefully. The objective is to have a higher score than your opponent to rank in the worldwide leaderboards. Download for free on Apple Store and Google Play.
Art by Marian Hukom
Follow Preen on Facebook, Instagram, Twitter, YouTube, and Viber
Related stories:
These travel apps will help you find flights and secret destinations
How meditation apps can help you de-stress
Get moving with these phone games that track your health
It's official: Katy Perry got her own app, too