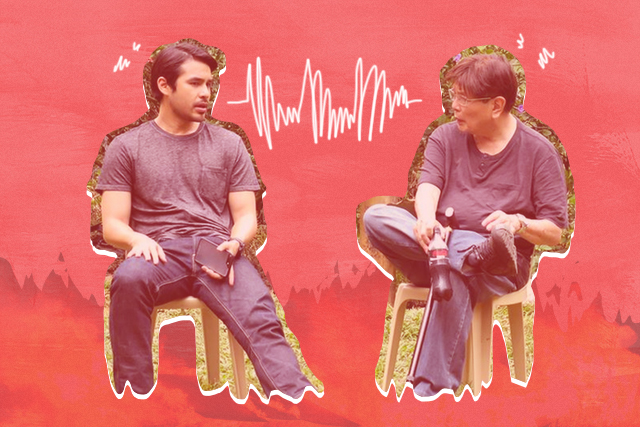 Sooo, there has been beef between Citizen Jake star Atom Araullo and director Mike De Leon the past few days. If you haven't been following it, you might be confused about what's happening. Especially since the movie just came out last week and it's being promoted constantly on social media.
What exactly happened? How and when did this start? Here's a quick timeline for you.
May 23, 2018: Citizen Jake premieres
Citizen Jake was supposed to premiere during last year's Metro Manila Film Festival (MMFF) but it was pulled out. Come May 23 of this year, the movie finally premiered and the whole cast was present during one of the opening nights. Everything seemed well and good, but…
May 25, 2018: Mike De Leon's "disappointment"
In a now-deleted Facebook post, director Mike expressed his disappointment for Atom's performance while shooting the film. "I only realized later that Atom's journalism was not exactly the kind of journalism I had in mind. It's not the gritty kind but more of the celebrity-centered schlock that sometimes verges on entertainment, even showbiz," he wrote. "Looking back, I can see why he wanted to become a movie actor. Perhaps the journalist was really a closet movie star." He added that there were some scenes where Atom's acting was "unsubstantial."
https://twitter.com/omgaset/status/999588750182121474
Some netizens questioned the director's post, saying that Atom did great in the film. He then clarified in the comments section, "[Not] as an actor, but as a person." Oooh, the tea is scalding.
May 30, 2018, 8:36 a.m.: Atom Araullo's first and last response
A few days later, Atom posted an equally lengthy response on his personal Facebook account. He defended himself, saying that Mike approached him to star in the movie because he wanted a journalist or non-actor. (Technically, Atom was an actor who starred in TV shows when he was a child.) Atom also said that he wasn't surprised that Mike went on a tirade because he is "a deeply troubled person" who allegedly lashed out on him while shooting the movie.
Read the full statement below:
May 30, 2018, 1:56 p.m.: Mike De Leon comes back with more anecdotes
Mike didn't take Atom's statement lightly and expanded on why he was disappointed in his star. "When we were shooting the last sequence with Teroy, you unexpectedly ignored my direction and did something that was not rehearsed nor agreed upon. Many people were witness to this. The following day, I told you that never in my career as a director has any actor disrespected me as much as you did. Then I told you that if you wanted to direct yourself, then by all means do it. You can overact all you want. I will just shoot whatever you wish to do and direct the other actors in the scene. Then you went into a meandering explanation about why you did it without really saying anything, not even apologizing," he said.
Mike also brought up that Atom was not the only one who had to work harder because of a difficult colleague. "You said you had to endure a lot throughout the making of the film. Well, guess what, I had to do that, too. I had to endure your superciliousness, your overweening ego, your disparaging remarks about movie people and actors, even your lack of manners," he said.
You can read Mike's full statement below:
May 31, 2018 (today): Citizen Jake social media pages are back to regular programming
So far, there are no more statements from both men. The Citizen Jake Facebook page has just been sharing articles related to Mike's recent statement. While Twitter has been engaging with viewers and calling everyone to watch the film.
What do you think of the whole debacle between Atom and Mike? Do you think that Mike's arguments were warranted as a director of the film? Or does Atom have a point since he is (technically) a newbie in acting? Sound off in the comments section below.
Art by Marian Hukom
Follow Preen on Facebook, Instagram, Twitter, YouTube, and Viber
Related stories:
What's so special about Citizen Jake? Aside from Atom Araullo, of course
How Atom Araullo evolved from child star to ridiculously hot reporter
The director for 100 Tula Para Kay Stella reacts to negative reviews of their film
Erik Matti and John Lloyd Cruz defend Honor Thy Father in congress today