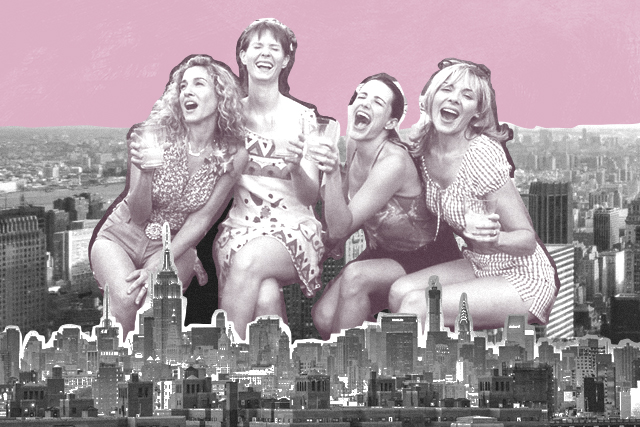 This column may contain strong language, sexual content, adult humor, and other themes that may not be suitable for minors. Parental guidance is strongly advised.
It's been 20 years since Sex and the City first aired on TV. Which means the SATC girls today—the infamous foursome of Carrie, Miranda, Charlotte and Samantha—would be in their 50s pushing 60, perhaps on their second or even third marriages, perhaps with more children, a lover or two… 
Whatever you might think of SATC, and some have dismissed it as inconsequential vapid fluff, an exercise in supreme narcissism, while others have called it an endorsement of promiscuity, it was a radical show in many ways. Yes, it elevated the cozy camaraderie of girlfriends and their appetite for girl talk; their endless and sometimes vicious post-mortems on dates, trysts, and events were an ongoing plot device. Yes, it glamorized life in New York to an unrealistic degree. Yes, it categorized women into archetypes—are you a Carrie, Miranda, Charlotte or Samantha?—that sometimes made them predictable rather than complex. But, it depicted the pursuit of sex, as well as the enjoyment of sex, as an inalienable right every woman should enjoy.  
It was perhaps the commitment-averse Samantha Jones who personified sex positivity at its most liberal and most daring. She couldn't care less what anyone thought about her and lived life according to her own rules. She judged no one, and refused to be judged. In fact, she said, "If I worried about what every b*tch in New York was saying about me, I'd never leave the house."
Sex for her may have been a power play at times, but it was always about her pleasure first and foremost. And she was upfront about it. "I'm a try-sexual," she declared in one episode. "I'll try anything once."
Describing a blow-job, she said, "You men have no idea what we're dealing with down there. Teeth placement, jaw stress, suction and gag reflex—all the while bobbing up and down, moaning and trying to breathe. Easy? Honey they don't call it a job for nothing."
It's quite curious though that at the height of SATC, every woman strongly identified with one of the four characters, but everyone seemed to feel they were either a Carrie or a Charlotte or a Miranda, but it was rare that a woman would admit to being a Samantha, at least in Manila. Because to say you were a Samantha was tantamount to saying you were a slut who sleeps around, and NOBODY wanted to have THAT reputation in Manila or in any other place apart from, say, Paris or New York.
And yet, when you think about it, it was Samantha's attitude to life in general, and sex in particular, that probably was the most freeing. While she has been accused of "acting like a man" in her no-strings, even callous love-them-and-leave-them approach, she was, in many ways, just setting her own standards and refusing to settle. She may have had an aversion to the sappy, Hallmark card-worthy version of romantic love, but she wasn't averse to love. She just didn't actively seek it, and if it came her way, it had to be on her own terms.
"I love you," she told Smith in the SATC movie, "but I love me more. I've been in a relationship with myself for 49 years and that's the one I need to work on."
In fact, one spring, I found myself in New York after a relationship had ended, an ill-advised and rather impetuous relationship that followed on the heels of another breakup, this time from a long-term relationship with a much older man. Believing myself to be a "relationship kind of girl," I didn't quite know how to navigate dating on a casual level in New York, seeing as the men were so hot and my sojourn in the city was so short.  
So I resolved to "Samantha-fy" myself for the duration of my stay, enjoy the attention of all these men, maybe sleep with one of them if I felt brave enough to do so, and not expect things to lead to anything serious; after all, we wouldn't be in the same city, or country, or even continent.
It turned out to be one of the most memorable stays in New York, partly because of the hot young 25-year-old (!) with lovely manners I ended up seeing quite a few times, but mostly because I learned a lot about myself, that I had shaken off the burden of having to be in a relationship for my life to have some kind of meaning, never mind that the other person was so spectacularly wrong for me. And most importantly, I learned to be open to the magic of possibility.
Speaking of relationships, Sex and the City started out with a note of cynicism: Carrie pronounces in a voice-over: "Welcome to the age of un-innocence. No one has breakfast at Tiffany's and no one has affairs to remember."
And yet, underneath the tutus and plunging necklines and power suits and preppy outfits, behind the affected sophistication, I couldn't help but wonder whether Sex and the City wasn't so much about sex as it was about relationships. It acknowledged that sex, whether within the context of a one-night stand, a casual arrangement, or a more solid coupling, embodied a relationship in one form or another. It's true that the ladies had to kiss quite a number of frogs before finding "the one," but if they never ended up finding him, they still had each other.  
The series may have celebrated sex and its occasional bedfellow, love, but it also celebrated sisterhood of the over-analytical brunch. Because it there's nothing like knowing you have a support system when things don't always work out.
B. Wiser is the author of Making Love in Spanish, a novel published by Anvil Publishing and available in National Book Store and Powerbooks, as well as online. When not assuming her Sasha Fierce alter-ego, she takes on the role of serious journalist and media consultant. 
For comments and questions, e-mail [email protected].
Disclaimer: The views expressed here are solely those of the author in her private capacity and do not in any way represent the views of Preen.ph, or any other entity of the Inquirer Group of Companies.
Collage by Marian Hukom
Follow Preen on Facebook, Instagram, Twitter, YouTube, and Viber
Related stories:
Kim Cattrall denies Sarah Jessica Parker's friendship
This Carrie Bradshaw-approved It-bag is back on our radars
My parents gave me the sex talk—twice
Why Stephanie Kienle-Gonzalez is all about the Carrie Bradshaw look