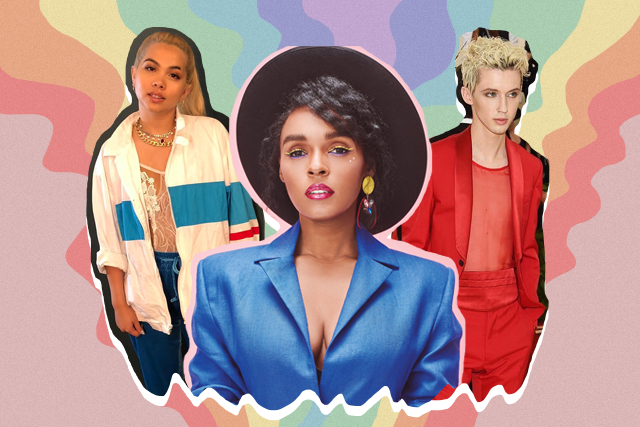 Just like with recent films, there has been a steady rise of LGBTQ+ representation in music. "It's 20gayteen!" people would declare online, both as an explanation for the "trend" as well as a cheer. Why? Because it's about damn time for these stories to be told without fear of judgment or discrimination.
It's also equally refreshing to see people relate to the songs and music videos that these artists put out. Like seeing a reflection of their current lives through the eyes of their favorite singers. So in case you're looking for new artists to listen to, especially those that are in the LGBTQ+ community, we've listed some of them below.
Hayley Kiyoko
Ever since her post-Disney debut single "Girls Like Girls," Hayley Kiyoko has become the unofficial "lesbian Jesus." Through her music and the videos she directs, Hayley shows an honest depiction of her experiences as a lesbian woman. "Over time, my existence alone will help people see that a lesbian singer is just a singer. So while I might not want to constantly be asked about my sexuality and just be me, a big part of me is my love of women. So I guess I'm talking about it until it's no longer seen as something to talk about," she told Refinery29.
Janelle Monáe
Last April, Janelle Monáe came out as pansexual in a Rolling Stones cover story. She said that she first identified as bisexual "but then later I read about pansexuality and was like, 'Oh, these are things that I identify with too.' I'm open to learning more about who I am." But even before that, Janelle was never shy about mixing up masculine and feminine elements with her looks. When addressing criticisms saying that she dresses too "mannish," she simply says, "Shut up, I'm not for male consumption." She has also openly sang about her feelings toward women—a more recent example is "Pynk."
Troye Sivan
Pop sensation Troye Sivan has gone a long way since his young YouTube days. In 2015, he came out with his debut album Blue Neighborhood where he wrote songs that tackled his journey of coming out and self-discovery in songs like "Heaven" and "Youth." He also released a music video trilogy that told a love story of two gay teens. With his upcoming second album Bloom, which comes out in August, Troye aims "to bring lightness to the world" through his new songs. He told Music Choice, "I really want to portray a happy, carefree, LGBTQ person, because I think that's something I missed out on seeing when I was a kid."
Kehlani
Kehlani is best known for her R&B tunes and the intricate tattoos on her body. Her song "Honey" is considered an LGBTQ anthem as she sings about being in love with another woman. Speaking to MTV, she said this song allowed her to "be myself fluidly in my music and not just in my life." Recently, she clarified on Twitter that she's neither lesbian nor bisexual, but queer. "I felt [like] gay always insisted there was still a line drawn as to which 'label' of human I was attracted [to] when I really [just] be walking around thinking, 'ERRYBODY FINE,'" she tweeted.
Sam Smith
As an openly gay man, Sam Smith has been an advocate for showing the realities of same-sex relationships and also showed support for same-sex marriage through his craft. The video for his 2015 hit "Lay Me Down" showed a gay couple getting married in a Catholic Church and was touted as pro-gay marriage. Meanwhile, the video for "Too Good at Goodbyes" features the relationship struggles of various LGBTQ couples, showing that they go through normal human stuff like the rest of society. In an interview with V Magazine, Sam said that he's grown up since his first album, saying he "became a gay man properly" by having "proper relationships with men" and not a straight man who didn't love him back.
Art by Marian Hukom
Follow Preen on Facebook, Instagram, Twitter, YouTube, and Viber
Related stories:
Show off your LGBTQ+ pride from head to toe
Janelle Monáe celebrates women while wearing vagina pants
Four transgender Filipinas who've shown us a thing or two about bravery
LGBT terms we're not getting right
Why this love story is different from what you usually see