For independence month, we've been celebrating everything Filipino from local products to strong female inspirations in history. Another way we can show appreciation for our culture is through art. You might be familiar with international artists but why not educate yourselves on local ones too. If you're not sure where to start, we found a museum where you can a quick dose of it. The Historia exhibit held at Ayala Museum showcases over 50 paintings, prints, and sculptures for you to enjoy. I recently went to its opening and was surprised to see works of artists I did not know. There were also pieces by known artists like Juan Luna and Fernando Amorsolo. While looking around, I noticed that most of the works depicted activities or scenes from Filipino culture. They're simple but we could learn from them.
Everyday fashion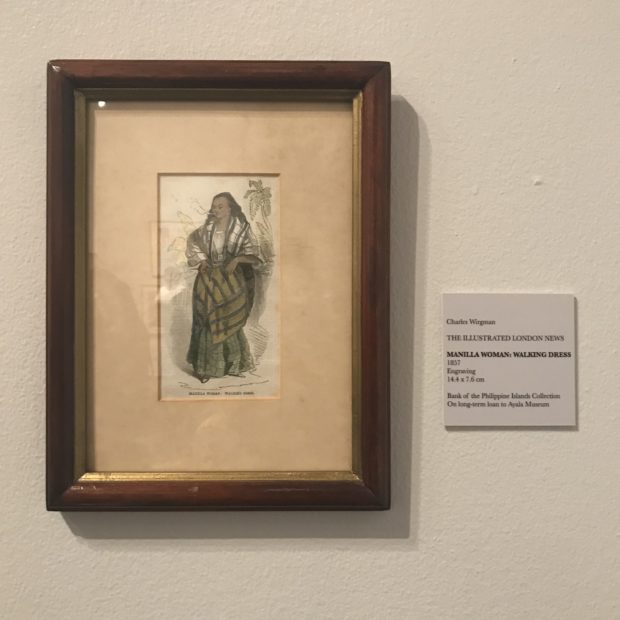 Manila Woman: Walking Dress by Charles Wirgman
Have you ever wondered what Filipino fashion must have looked like before? Charles Wirman gives an idea with his piece entitled "Manila Woman: Walking Dress." This was made using an engraving method. This is a technique used to make prints from metal plates. Here, you will see a woman casually smoking while wearing a green skirt with a yellow overlay. She also has long, luscious black hair. Who else is living for this outfit?
Fishing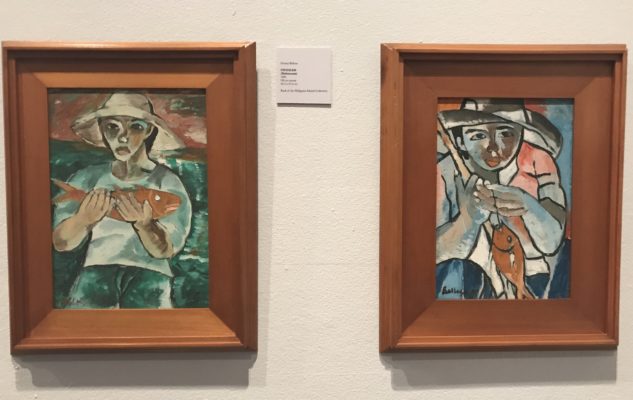 Untitled (Fisherman) by Norma Belleza
Norma Belleza gives us a more intimate look at fishermen. Her oil on canvas painting features vibrant colors like orange, blue, and green. The scenes depicted in these pieces almost look like snapshots or candid moments from their lives. She gave so much life into the paintings with just her use of colors and the expressions on the fishermen's faces.
Weaving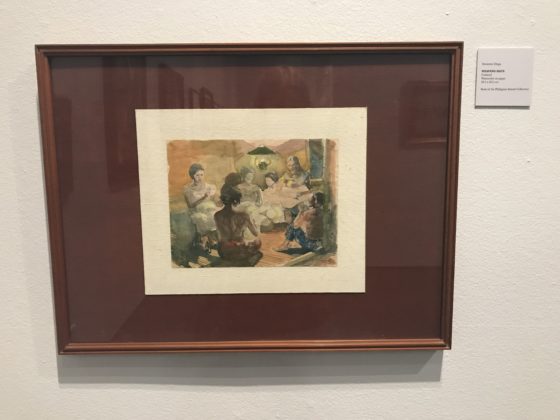 Weaving Hats by Demetrio Diego
Filipino women are known for being crafty and this watercolor painting proves it. Demetrio Diego's work shows a group of women sitting in a circle weaving hats. There is also one girl playing the guitar. Music and crafts? Yes, please.
Farming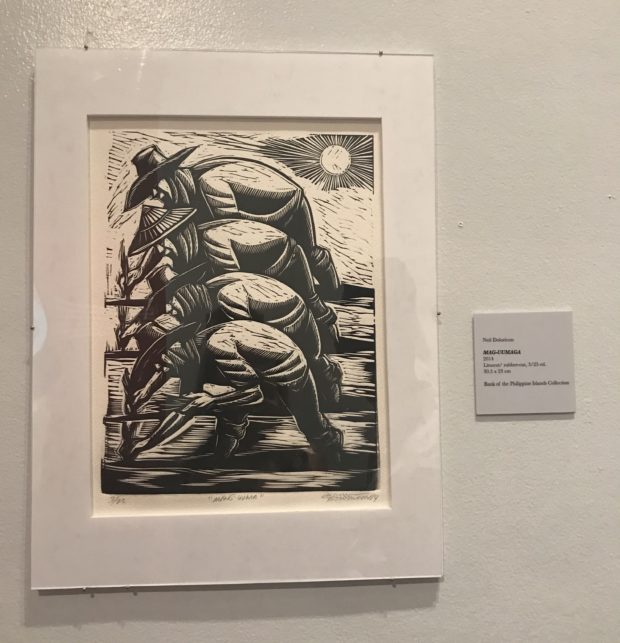 Mag-uumaga by Neil Doloricon
Whether you've tried it or not, you know that farming is not an easy task. The conditions aren't always ideal but you have to be methodical and organized. Neil Doloricon's rubber-cut artwork shows just that. There are four farmers standing in a row, each performing the same step. His piece was made using the Linocut technique of rubber cutting. The print is made by carving and cutting out the design and then ink is placed on it before being stamped.
Sewing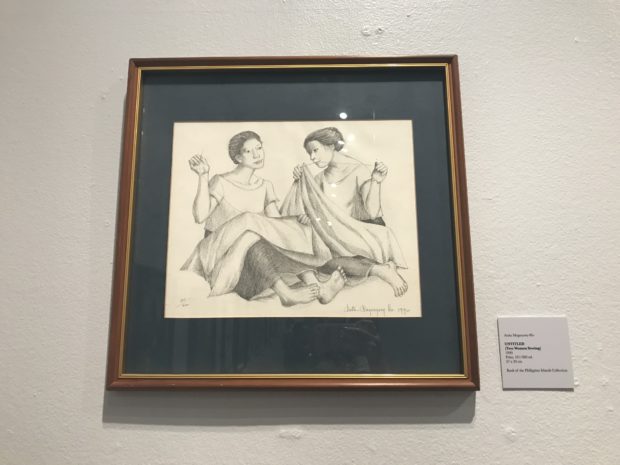 Untitled (Two Women Sewing) by Anita Magsaysay-Ho
I remember my lola teaching me to sew when I was a little kid and this print by Anita Magsaysay-Ho reminds me of that. There are two women sitting casually on the floor working with large pieces of fabric, one is even using her teeth to cut the thread. What could they be making? Some new clothes for their kids perhaps? Do you ladies still have relatives who hand-make clothes for you?
Enjoying a meal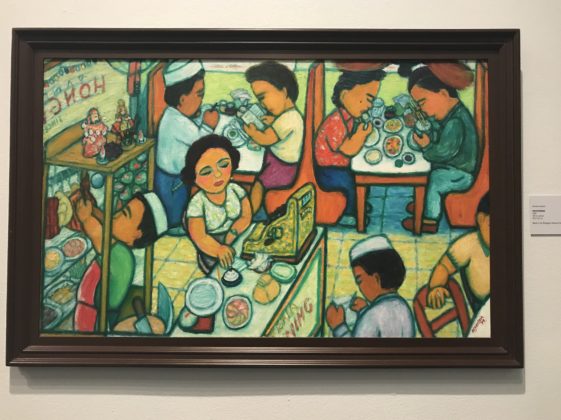 Panciteria by Antonio Austria
One thing Filipinos love to do is eat, especially with other people. I mean, if restaurants serve family style, that's even better. Antonio Austria was able to capture the liveliness of restaurant in his painting. You will see people eating meals from large plates and a very busy staff. Is this painting getting you excited for your next family gathering?
Art by Marian Hukom
Photos by Tisha Ramirez
Follow Preen on Facebook, Instagram, Twitter, YouTube, and Viber
Related stories:
How sexual abuse and Duterte's profanities were depicted at Art Fair 2018
Mich Dulce's art show speaks of the burden of fertility and reproduction
These Filipino heroines showed that women stood their own in the battlefield
How did Jose Rizal view women when he was still alive?