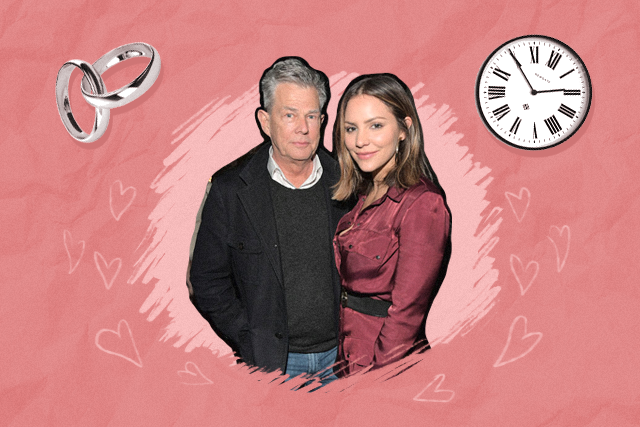 Earlier this week, Katharine McPhee announced that she got engaged to partner of one year David Foster. While many congratulated them, some raised their eyebrows on their 34-year age gap. So if you're not familiar with "May-December relationships," we have to talk about a couple things.
It's true that there are relationships with big age gaps that work, and these aren't limited to being with older men. It's also not at all weird that Katharine and David are together because they're both consenting adults who seem in love and have known each other since American Idol Season 5—which premiered 12 years ago, by the way.
What is weird is the concept of "cradle-snatching," a term used to describe a person who's dating someone younger. Our sex columnist B. Wiser touched on this topic before, citing a Saturday Night Live skit where grown men meet their future second wives, who are portrayed by young girls and a unborn child, in a dating show. It's an extreme example but not far from the truth.
In the context of Katharine and David's relationship, think of this: David was married to his first wife, singer BJ Cook from 1972 to 1981. He later married former model Rebecca Dyer in 1982. David already had two wives and two kids, Erin and Sara, before Katharine was born in 1984. Soon, she'll be wife #5. Let that sink in for a bit.
"It's easy to understand the appeal of the older man to the younger woman. Being older often translates to more mature, more established, more secure, and more moneyed," B. Wiser stated. "The older man seems more sophisticated to the younger woman, and more experienced, and therefore in a position to spoil her and shield her from the more unpleasant realities of life because he's been there before and knows the drill."
Many would also associate May-December relationships to gold-digging, echoing the likes of Anna Nicole-Smith and J. Howard Marshall, and Hugh Hefner and his Playboy bunnies. But sugar daddy stereotypes aside, the dark side of this type of relationship is that there are literal cradle-snatching older men who target girls who are not yet of age.
Nevermind the fact that Katharine McPhee is 34 years old and marrying a 68-year-old man. There may be creeps out there who would rather be with underage girls á la Vladimir Nabokov's Lolita. Even worse is that child brides still exist in some parts of the world—the highest percentage being in Africa, according to UNICEF.
May-December relationships can be both good and bad, depending on the people involved and their intentions. Sure, age is just a number but don't go for a child/minor. That's just sick.
Art by Marian Hukom
Follow Preen on Facebook, Instagram, Twitter, YouTube, and Viber
Related stories:
Katharine McPhee and David Foster got engaged on a mountain
How celebrity couples with big age gaps make it work
Guys, look! That 8th grader in your daughter's class could be your second wife
Your snap judgment about Janice-Gerald rumors says more about you
Why are you only vicious towards cougars?