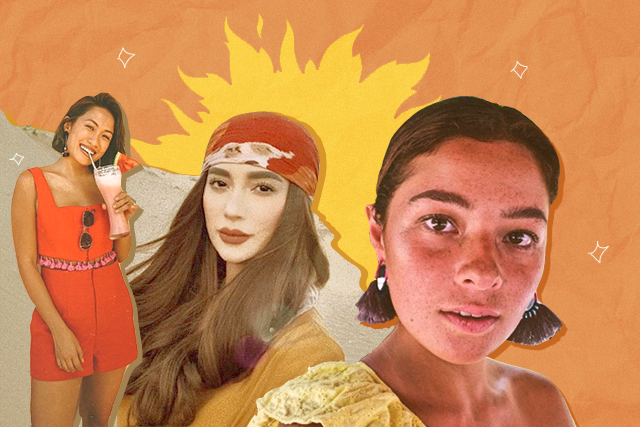 It might not be stormy anymore, but the rainy season isn't over yet. With the gray clouds in the sky and moist atmosphere, we just feel like escaping, preferably to the beach. Unfortunately, we're stuck in the city but we've living vicariously through people posting on social media. I'm sure you've seen some celebrities living it up at island destinations, both local and abroad. If you're looking for a quick break, check out where these celebrities have been spending their rainy season.
Laureen Uy
Instead of staying in the rainy city, Laureen Uy jetted off to Cebu with her boyfriend Miguel Cruz. They stayed at the Bluewater Sumilon Island Resort and celebrated their second anniversary. She took photos on the beach and relaxed in a bungalow by the ocean. And, yes, we want a hammock in our future homes too.
Arci Muñoz
Arci Muñoz loves to travel and her latest destination was Hawaii. She has six photos posted and they might just give you some serious FOMO. Let's stop to admire the clear blue water and soft sand. It seems like every spot on that beach was IG-ready.
Kim Jones
Kim Jones seems to be taking a break from city life and decided to spend some time at the beach with her husband Jericho Rosales. They're currently in La Union and Kim is putting work aside. She posted a photo of Jericho on the beach with the caption, "Not today, emails." Same, Kim, same. She's also catching up on some reading and we have suggestions if she needs more books.
Kimi Juan
If you follow Kimi Juan, you'll know that she's almost always at the beach. She's in Japan now but a few days before she left, she was in Bohol. She was able to work on her tan and savor the "last of summer." I don't know about you, but her posts make me want to book a ticket to Bohol ASAP.
Andi Eigenmann
Recently, Andi Eigenmann announced that she would be moving to Baler. We're not sure if she already has but she has been posting photos from there. One was a black and white picture with her looking off to the sun. In the caption she said, "Life is short. Move to the beach and never look back!!" We honestly wish we could do the same. Oh, and she shared some surfing photos too, of course.
Lauren Reid
Lauren Reid was recently in Siargao and not just for vacation purposes. Apparently, she's opening a spa later this week called Sirena Spa. So, she made the trip as part of their team building. But it was equal parts work and fun. They did spend time at the beach and took some photos on boats too.
Bela Padilla
Just like Arci, Bela Padilla also spent some time in Hawaii. She had a pretty packed itinerary that involved visiting Kualoa Ranch, which she looked like, "Skull Island or Jurassic Park." She spent some time lounging by the pool and doing yoga on the beach during sunrise.
Maymay Entrata
Maymay Entrata also took a break from her busy schedule to go to the beach. A few days ago, she posted photos from Palawan. There are picture of her posing for the camera, standing on a boat, and sitting on the sandy beach. Someone take us to Palawan too, please!
Art by Marian Hukom
Follow Preen on Facebook, Instagram, Twitter, YouTube, and Viber
Related stories:
Exploring Baler, the beach destination Andi Eigenmann is moving to
Beach time under the rain: How to dress up right when it pours
Laureen Uy and Bela Padilla on how to work the sandy beaches
A family beach trip isn't complete without these things