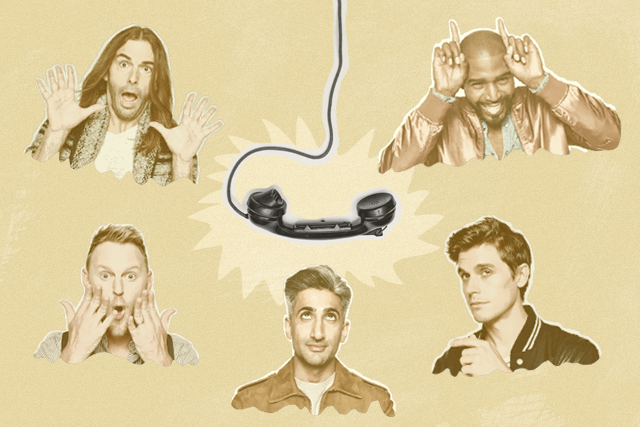 You've been hiding under a rock if you haven't heard of Netflix's show Queer Eye. It's a show that features five gay guys namely Tan France for fashion, Jonathan Van Ness for grooming, Karamo Brown for culture, Bobby Berk for design, and Antoni Porowski for food and wine, they help and empower different people from the community. If you don't know how influential their show is right now, they were actually nominated for five Emmy's. FYI. 
What that show did is not just help the heroes of their show, but those who are watching and following the series. You wouldn't believe the amount of tears we shed in the office because we relate to certain moments or was just simply touched to the core. 
"I think that's what makes the show really relatable, is that we don't pretend to know everything about everything. And I think it's important for me to be honest and say that I don't know about this and I want to inform myself, I want to educate myself," said Tan. During the episode with Skyler, Tan was honest to say that he didn't know much about the trans community and this allowed them to have an open dialogue about it. "I have learned so much about the community last year than in my entire life, honestly," he quipped.
This should totally apply to all of us, to have that humility to admit that we don't know everything and that being open to learn is already a great step!
Sometimes the lessons come unexpectedly which was the case for Antoni during AJ's episode. "I realized until then, I actually never really have that many open conversations or engaged in much dialogue about (sort of) coming out and my sexuality," shared Antoni. "I think I was really inspired by how my brothers-slash-castmates shared about their stories. It really helped set a healthy precedent in wanting to share in a safe space. AJ's vulnerability and shyness and what that meant for him just made it easier to share my personal story."
The show also shed light on topics that aren't casually talked about. Karamo, for example, had a traumatic encounter with a police officer. "I think a lot of people don't get to see what it's like for people of color, African Americans or black people, but also people of Middle Eastern decent or Asians who feel a fear of being stopped by a police officer and not knowing if they're going to be harassed just by who they are," he said when we asked about what happened during that shoot. But what happened after? What changed when the show was aired? "The response since the show has aired has been nothing but love. It has been people contacting each of us, telling us that that episode allowed them to learn and understand—that they might not have fully supported people in marginalized communities who have complaints that they felt victimized. And now they are awake to it and will try to support and you know, make sure they support." These changes may seem small, but from our POV, they're slow and steady steps to a more compassionate and empathetic world. 
Jonathan, who seems to always be overflowing with confidence, talked about how self-love and self-confidence doesn't come easy. "It's not like a light that you turn on when you come in a room, it's a constant relationship that you build with yourself everyday," he said and it's true. He even likened the situation to saving up in a piggy bank, "It's something's like a little piggy bank, you have to keep on depositing those little coins and all of a sudden you have this fortune that no one can take away from you and that's self-confidence." So if you're feeling down and out, just think about Jonathan giving you the best pep talk ever. Okay, hunny? 
One sensitive topic we talked about on the phone was about religion and the Church. Remember when Bobby had a hard time during Miss Tammye's episode? That's because of what happened to him and his family after he came out. "I didn't speak to my family for a couple of years after I came out, but eventually they came around and they realized that the views of the Church against homosexuality were not right and that they'd love me unconditionally, so believe in yourself and know that it's not you, it's them."
"God did not move," added Jonathan. "People move, but God did not move. God or your Higher Power loved you before and after you came out." We couldn't have said it better! 
They're just two seasons in and already we're already learning so much from the show and its hosts. We're beyond glad they announced the third season because we really can't get enough of the Fab Five. Like seriously, we can't. 
Art by Marian Hukom
Inserts by Giphy
Follow Preen on Facebook, Instagram, Twitter, YouTube, and Viber
Related stories:
If you needed more reasons to watch Queer Eye season 2, here they are
The best way to support the LGBT community? Be a good ally
Queer Eye was more than just makeovers
The 6 best LGBTQ vloggers you should be watching right now