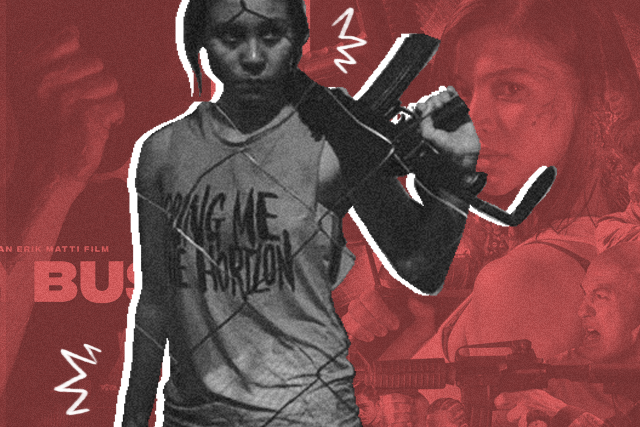 The success of action movies like Buy Bust isn't just credited to the director and the lead actors. Behind the scenes, there are trainers and stunt people who work just as hard to make the film badass. One of them is Kayley Carrigan, who's been doing stunts professionally for two years now.
I first saw Kayley's fighting chops as Jorelle, her persona in Manila Wrestling Federation, where she faced off against men who are slightly bigger than her. A friend later showed me a clip of her doing stunt training and sparring with colleagues on set. It's evident that she's not a woman you should mess with and it's admirable how strong she is.
https://twitter.com/KayleyCarrigan/status/1002988030603362304
We got the chance to talk to Kayley about her experience as a stuntwoman and how she got the chance to work on Buy Bust. Keep reading to know more about her.
Give us a little background on your career as a stuntwoman and the training you've done.
I trained and had a tremendous experience of performing stunts for two years. I learned some basic forms of hand-to-hand combat, fancy kicks, basic rollovers, and so on. The Hollywood action director Sonny Sison taught me in his previous workshop about doing proper posture and movement of fight routines and stunt fall.
Is it really as dangerous as people think it is?
They may think it's surreal, but it looks totally risky. [It's the] same as my family and friends' reactions when I did my previous stunts in some TV series and movies. They were like, "OMG! You did that!? You're a woman! Didn't that hurt?" And I was like, "I'm getting used to it because pain is gain."
How do you make sure you're in tip-top shape?
In my home workout routine, I do 30 reps in five sets by any kinds of sit-ups for my abs, 500 squats for my legs, 15 reps in five sets for my biceps and shoulders. In my diet meal, I eat two pieces of chicken without rice, two boiled eggs with mixed veggies and tomatoes, and sometimes I take a lot of chicken Caesar salads—like two or three.
https://twitter.com/KayleyCarrigan/status/990324990871404544
How did you find out that you'll be working on Buy Bust? What were the types of stunts you were tasked with?
There was an audition and they were looking for the stuntmen and women who are willing to do hand-to-hand combat, gun firing, and other stunt works for the cast's fighting scenes. They contacted me for the fight rehearsals and shooting days with Anne Curtis and Brandon Vera. It was such an honor and [I feel] so blessed and thankful that I worked with them on the big screen.
https://twitter.com/KayleyCarrigan/status/1016158153665216513
Do you have memorable battle scars from Buy Bust or any of the movies you did stunts on?
Ugh! Yes and it was painful. Six months ago, I failed in my stunt work (although I wore a harness) at the side of the train bridge in Calamba for the Hong Kong Action Television series Fist Fight starring Birth of the Dragon star Philip Ng. I got a heart-shaped wound near my cheekbone. It hurt pretty bad, but the shoot must go on.
What can you say about stereotypes that women shouldn't be strong because it's deemed un-feminine by society?
I think women can be strong, independent, and have an agentic state. It takes quite a long time to develop mind and body to feel confident and beautiful inside and out.
What are some benefits of your training that you'd like to share to other women?
Always think SAFETY FIRST, that is the most important thing. Although you can do it in your mind, you might not in reality. Don't force yourself to perform a stunt without training or if you really wanna do it just for fun. You must ask your fellow stuntmen/women for advice about achieving it and how will you do it safely.
Art by Marian Hukom
For the latest in culture, fashion, beauty, and celebrities, subscribe to our weekly newsletter here
Follow Preen on Facebook, Instagram, Twitter, YouTube, and Viber
Related stories:
Buy Bust gets 100% on Rotten Tomatoes
Here's how to prepare yourself for the Buy Bust suspense
WATCH: Anne Curtis shows off martial arts skills in Buy Bust short
Strong female leads in movies inspire us to break gender stereotypes