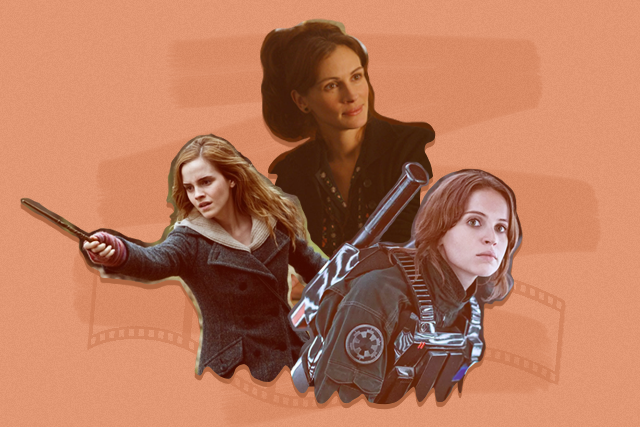 To all the ladies out there, do you get a warm, fuzzy feeling when you watch movies with strong female characters? Because I do. There's something about sitting in a cinema and watching women play powerful characters. Not just physically strong but smart, resourceful, creative, etc. For me, these characters serve an inspiration for when I'm feeling down. It gives me the push I need when I feel weak. Who wouldn't fearless when they see fellow women breaking society's stereotypes? So, if you feel like celebrating your womanhood, check out these films.
Katherine Ann Watson in Mona Lisa Smile
Julia Roberts has played many strong female characters but her role as Katherine in Mona Lisa Smile is one of my favorites. In this movie, she is an art professor at Wellesley, a private women's college. It is set in the 1950s wherein women were just expected to find a husband and become a housewife. Throughout the film, some of her students drop out because they get engaged. Katherine, however, doesn't believe in this tradition. She tries to encourage her students to strive for careers instead of just marriage. She even encourages one student to apply for law school. In the end, her students are grateful and describe her as, "an extraordinary woman who lived by example and compelled us all to see the world through new eyes."
Jyn Erso in Rogue One: A Star Wars Story
Ever since Star Wars was rebooted and started churning out new movies, they have presented us with many string female characters. One of which is Jyn Erso from Rogue One. This movie tackles probably the biggest plot hole in the Star Wars universe, which revolves around the destruction of the Death Star. Here, Jyn joins forces with resistance fighters to steal the space station's plans. Her character shows strength in many ways: mentally, emotionally, and physically.
Hermione Granger in Harry Potter
If you grew up reading and watching Harry Potter, Hermione Granger has probably been your idol for years. In the beginning, she proves herself to be very smart. She excels in her classes and works hard. As her character develops, we also learn that she's pretty tough and displays moments of courage. I mean, can you imagine how difficult it was to change her parents' memories? Or ride a dragon? Or destroying a Horcrux?
Kat Stratford in 10 Things I hate About You
'90s movie fans would know about 10 Things I Hate About You. Not only for Heath Ledger's singing on the steps scene but also for Kat Stratford's character. Played by Julia Stiles, Kat is a senior in high school and she always speaks her mind. She didn't care about being popular but focused more on her future like going to college in New York. Throughout the movie, she also  tries to protect her younger sister Bianca from gross high school boys who just want sex. At the end, she also teaches us that once in a while, it's okay to be vulnerable and to show emotion. Who else cries every time the poem scene comes on?
Elle Woods in Legally Blonde
In Legally Blonde, Elle's goal was to go to Harvard Law and go after her ex-boyfriend. So, her intentions weren't exactly driven by the right goal but don't worry, it changes. After getting accepted into Harvard and seeing her ex with a new girl, she decides to make the most out of her education. She starts to take her classes seriously and even gets into a prestigious internship program. Elle doesn't just show that hard work pays off. She was able to use her knowledge in other fields to solve a case. I guess knowing about fashion collections and the chemicals used in hairstyling can come in handy too.
Merida in Brave
Among the Disney princesses, Merida displays characteristics that can be positive for young girls. Unlike past princesses, Merida isn't set on marriage just yet. While eligible men were going through obstacles to win her hand, she wanted to fight for herself. And she proved that not only could she compete with these men, but she was better. Going against your parents isn't always ideal but speaking up for yourself and what you believe in is a good place to begin. She was able to start a conversation with her family and in the end help the kingdom without a man by her side.
Art by Marian Hukom
Follow Preen on Facebook, Instagram, Twitter, YouTube, and Viber
Related stories:
How Wonder Woman became a feminist and gender equality icon
A feminist review of Fifty Shades Darker
6 all-female TV and film groups who didn't need any man
Immerse yourself in LGBTQ stories portrayed in Milk and Blue is the Warmest Color