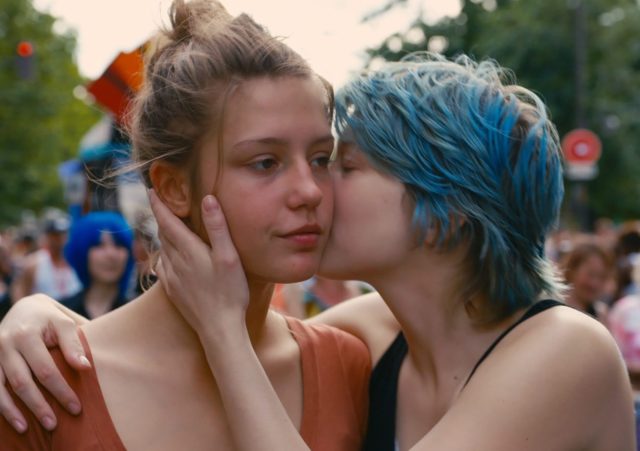 We still have a long way to go when it comes to LGBTQ representation in film. GLAAD's 2016 Studio Responsibility Index noted that there's been a decline in the quality of representation in the past year. The report also cited how gay male characters are given more screen time over lesbians and bisexuals.
That said, we're also not discounting other LGBTQ-centric movies that paved the way for representation in media. If not for most of these films, then we wouldn't have groundbreaking hit shows like Orange Is the New Black, Strut, or Sense8 which show inclusivity. And what better way to celebrate Pride Month than to appreciate a great selection of films, right?
The Bitter Tears of Petra von Kant (1972)
This German film features an all-female cast and portrays the tormented romance stories of designer Petra von Kant. Slant's in-depth review gives a nod to how the film explores Petra's shifting emotions from her divorced husband to her beloved models. You can say it takes you on a journey of self-discovery and confusion through the eyes of each character.
Rent (2005)
You might've heard "Seasons of Love" one too many times by now, and you'll have Rent to thank for that. The Broadway play-turned-film revolves around the lives of talented individuals who go through the struggles of drugs, sexuality, and AIDS. What's great about the film is that it portrays the characters' various backgrounds and is inclusive in their portrayal of lesbianism and drag culture.
Brokeback Mountain (2005)
The Oscar-nominated Western film starring Jake Gyllenhaal and Heath Ledger was once considered controversial for its same-sex themes. Screenwriter Diana Ossana once told Out that Hollywood considered it "career suicide for a straight actor to play a gay person" back then. However, the film is more than just a mere shock factor with two actors kissing. As Empire noted, director Ang Lee managed to make an effortless love story between two gay men who discover their feelings for each other.
Ang Pagdadalaga ni Maximo Oliveros (2005)
When it comes to Philippine cinema, LGBTQ films are still pretty low-key. But back in 2005, Ang Pagdadalaga ni Maximo Oliveros caught everyone's hearts with its endearing coming-of-age story. Young Nathan Lopez's portrayal of the titular role brought laughs and tears as he tries to balance his love for a policeman with his loyalty to his family.
Milk (2008)
Starring Sean Penn, Milk is centered on Harvey Milk, activist and the first openly gay politician to be elected in the US government. The film openly depicts Harvey's efforts in pushing for gay rights in the '70s, as well as his love affair with Scott Smith (played by James Franco). The Guardian wrote that Milk was effective in showing Harvey's fight against bigotry in America—an example that people across the globe should follow on a daily basis.
Blue Is the Warmest Color (2013)
Many have lauded this French film for its romantic story between two teen girls and the gutsiness of the mature themes. Blue Is the Warmest Color explores the stereotypes thrown at attractive girls who are expected to date boys. In Roger Ebert's review, he wrote that the film takes the viewers into a journey of discovering one's sexuality and exploring their "keys to sensual ecstasy."
Carol (2015)
If you're into films that tackle forbidden romances, then you'll like Carol. The romantic drama delves into the complicated relationship between Carol Aird (Cate Blanchett), who is going through a divorce, and aspiring photographer Therese Belivet (Rooney Mara). Carol is also based on the feminist lesbian classic The Price of Salt by Patricia Highsmith. According to The New Yorker, the novel is a reflection of Patricia's battle with her emotions toward women. "…like many sophisticates at the time, she viewed homosexuality as a psychological defect that could be fixed; yet she had enough self-respect and sexual appetite to reject any attempt to fix her own," the publication wrote.
The Danish Girl (2015)
Although The Danish Girl was subject with many controversies due to Eddie Redmayne's portrayal of Lili Elbe, you can't deny that the film gave a somewhat deeper understanding of transgenderism. Lili, formerly known as Einar Wegener, is the first trans woman to undergo sex reassignment surgery in the 1930s. Similar to the movie, her life came to a tragic end following the surgery.
Screengrab from Blue Is the Warmest Color
Follow Preen on Facebook, Instagram, Twitter, Snapchat, and Viber