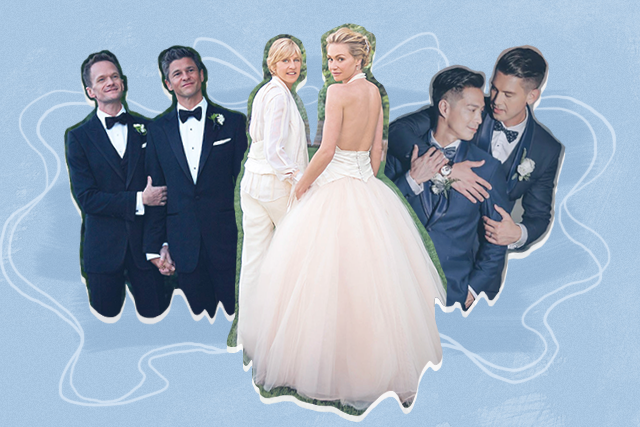 The highlight of the Sense8 finale was the beautiful wedding between Nomi Marks, a lesbian transgender woman, and Amanita Caplan. That scene alone showed why the series was well-loved as it never shied away from often taboo topics in society. This was also a reminder that an LGBTQ+ wedding is just like any other wedding: a celebration of love between two people.
Since June is both Pride Month and the time when wedding fever begins, we thought it'd be fitting to list down our favorite heartwarming LGBTQ+ nuptials. This also includes Filipino couples who still tied the knot despite society looking down on the act. Keep scrolling and get ready to say, "Awww."
Ellen DeGeneres and Portia De Rossi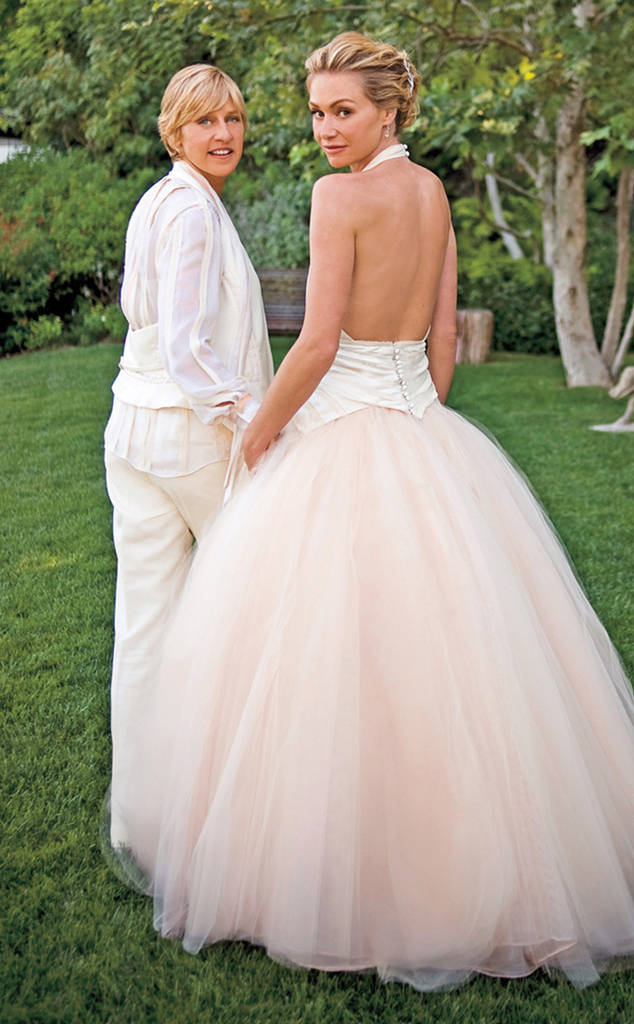 Ellen and Portia are the best example of a couple who loves to joke around and never fails to show everyone just how much they adore each other. They got married in 2008 at Beverly Hills, California with 30 of their closest friends and family present at the ceremony. Both of them wore Zac Posen ensembles and based on their wedding video, they had tons of fun in their garden nuptials.
Neil Patrick Harris and David Burtka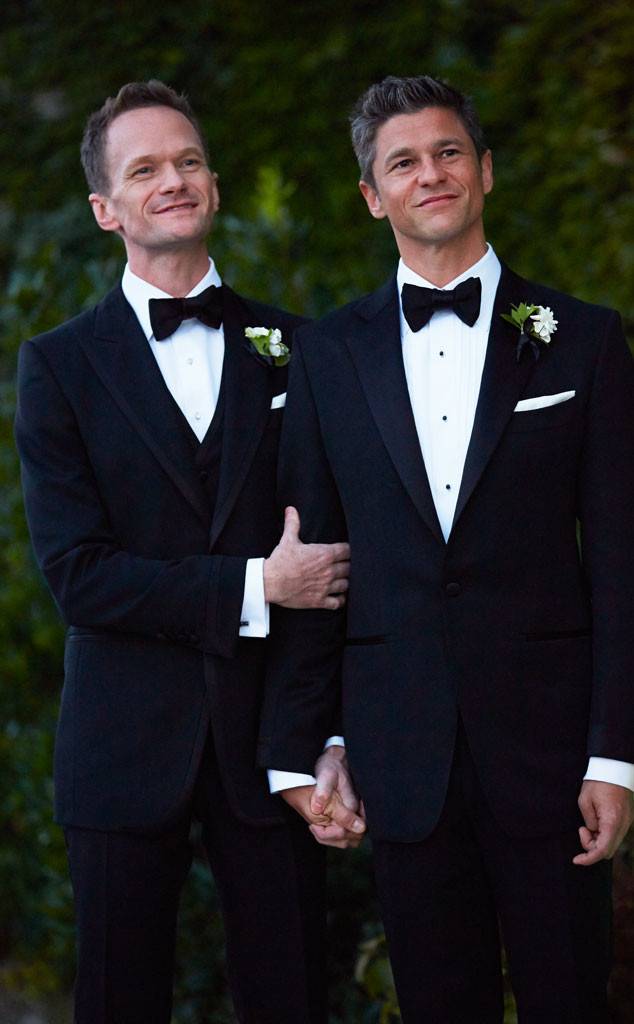 The couple were together for 10 years before they got married in Italy in 2014. They wore Tom Ford tuxedos and the song for their first dance was Kelly Clarkson's "A Moment Like This." They later had twins together named Rupert and Harper. Since then, we've all been blessed with adorable family photos, especially during Halloween.
Francis Libiran and Christian Mark Jacobs
Designer Francis Libiran said "I do" to long-time boyfriend Christian Mark Jacobs last year in Boracay. It was attended by their friends and family, including guests like Kaye Abad, Dr. Aivee Teo, and Jing Monis. Their reception was held at The Lind and they ended the night with a fireworks display. After the wedding, Christian shared snippets from his vows on Instagram, "I will cherish you every day for the rest of my life. I will wake up beside you and thank God for the biggest blessing He has ever given to me. I will love your children, Miggy and Gabby, and care for them as my family. The world may not always be for us, but my world will always be you."
Miko Aspiras and JV San Juan
When we spoke to pastry chef Miko Aspiras and his partner JV San Juan before their wedding, they said that they're practically a married couple already and that the ceremony was just a formality. They had a celebration in Tagaytay and the actual ceremony was held in New Zealand. They also took the opportunity to tour the country and try all the yummy pastries and desserts they could come across.
Ellen Page and Emma Portner
Juno star Ellen Page announced earlier this year that she and dancer Emma Portner got married in secret. It was so low-key that there aren't photos from the actual wedding day. But these set of photos, which include a shot of the couple's hands wearing their wedding bands, are enough to make us swoon over their love for each other.
Monique Wilson and Rossana Abueva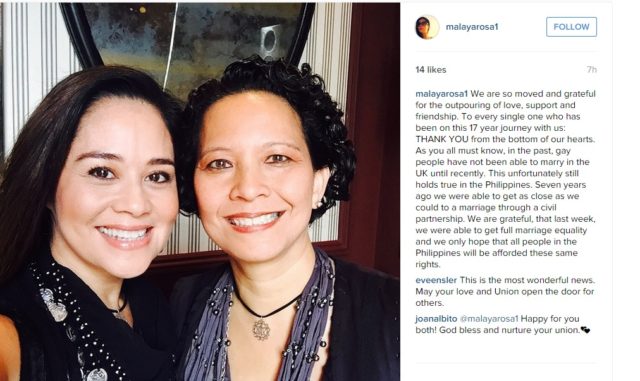 Another low-key ceremony was Monique Wilson, theater actress and activist, and Rossana Abueva's wedding. They got married in 2015 at Notting Hill, London after 17 years together. According to their invitation sent to family and friends at the time, "come celebrate our seven–year civil partnership into a more revolutionary commitment: marriage (in the eyes of the law), but really—the re-affirming of our radical union with those who have lived and laughed, cried, and celebrated, rallied and protested, created and adventured with us these last [17] years." Their wedding also came shortly after same-sex marriage was legalized in the UK.
Colton Haynes and Jeff Leatham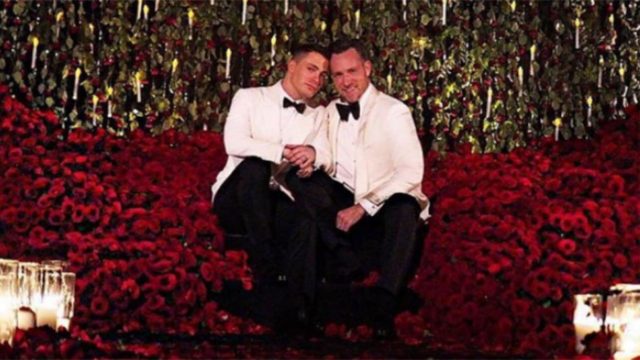 Colton Haynes and Jeff Leatham had a glitzy wedding back in November and they even had Kris Jenner to officiate it. They had famous guests like Sofia Vergara and Joe Manganiello, Chelsea Clinton, Melanie Griffith, Dylan O'Brien, and Billie Lourd present at their black-and-white-themed ceremony. Sadly, though, they recently split and filed for divorce after only six months of being married. [Sobs]
Art by Marian Hukom
Follow Preen on Facebook, Instagram, Twitter, YouTube, and Viber
Related stories:
Chef Miko Aspiras and partner JV San Juan answer the big questions surrounding marriage
Ellen Page just married professional dancer Emma Portner
Bridal designer Francis Libiran doesn't have a clue when it comes to his wedding
Who is going to be Monique Wilson's lawfully wedded wife?
U.S. Supreme Court gives gay couples a reason to celebrate