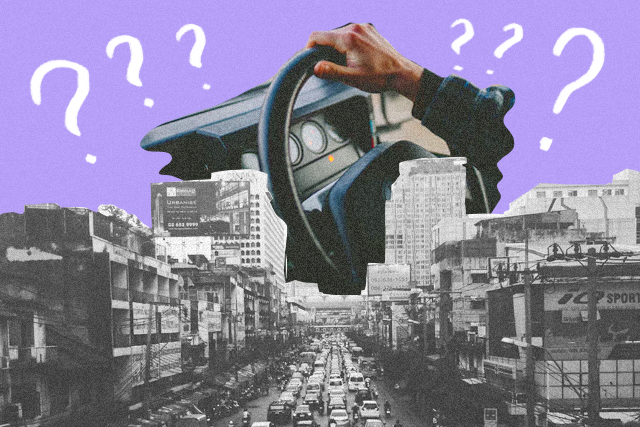 Yesterday was the first day motorists got to experience the high-occupancy vehicle (HOV) lane policy banning driver-only private vehicles along EDSA. Before the start of implementation, this drastic move was already met with criticism. MMDA, however, still pushed for it, encouraging the public to be "more open" about the idea and promising that it would be discontinued if proven ineffective.
Judging from yesterday's turn out, MMDA still has a long way to go to get the public on-board the new policy. The first day of the week-long dry run already saw over 3,000 caught violating of the scheme (since it was a dry-run, they were merely reprimanded as opposed to paying the supposed P1,000 fine). Moreover, before the day ended, senators filed a resolution to put a halt on the new scheme, citing the lack of public consultation prior to the implementation. It said, "The implementation of a regulation that would allegedly affect 70 percent of the road-users tax-paying motorists plying the Philippines' major thoroughfare without holding a prior public consultation or hearing is violative of the due process of laws enshrined and protected under the Constitution."
We tried to see if it was in any way effective by turning to the people most concerned, and finding out what they have to say.
Since the ban was only effective from

7 to 10 a.m.

and

6 to 9 p.m

, netizens noted that the traffic was still there; it merely shifted to a different time.
Dear @MMDA this is what your NO SINGLE RIDER in EDSA effect. This is c5 at 6:10am

NICE! BRILLIANT MIND ?? pic.twitter.com/HuZyJ9iako

— Marc (@mrcrndn) August 14, 2018
Due to the new MMDA scheme, traffic has shifted to super early in the morning. In which case, you might still end up being stuck in EDSA beyond 7am. This new rule has diminished the work life balance of the workforce.

— Hannah Ramos (@HannahJRamos) August 15, 2018
Or, to other roads.
@MMDA banning cars from edsa doesn't solve the traffic issue. It just redistributes traffic to smaller roads that cannot handle the volume. Solution? Build better infrastructure and better public transportation.

But that would be asking too much from this country of course

— Mike Castro (@mikecastrooo) August 15, 2018
@MMDA traffic was just transferred to c5 and other side roads. And it is still traffic here at edsa cubao sb. People need to go to work you know? Have the public transpo fixed rather than implementing these stupid ideas.

— Carla Gatbonton (@CarlaBianca17) August 15, 2018
Some felt that the whole scheme was just plain absurd.
i. can't. even. with the reasoning.

listen: we're on edsa on those specific times because we NEED to be on edsa, traveling, at those times. it's not a random, joy-ride thing. https://t.co/Xszjp6EE5Q

— Lynda Jumilla-Abalos (@lyndajumilla) August 15, 2018
Good job, MMDA. You not only freed EDSA of cars, you also freed office cubicles of employees because everyone's stuck somewhere but EDSA.

— Coycoy P. Cordova (@coycordova) August 15, 2018
Others expressed anger and disappointment over what they deemed as a "band aid" solution
if youre gonna implement the driver-only car ban sa edsa make sure na maayos public transportation niyo na sufficient to hold the number of ppl that left their cars at home gago ang daming tao sa train sobrang band-aid solution nakakainis

— Jash Bacani (@jasharky) August 15, 2018
Maybe, just maybe, the real solution to the growing EDSA traffic situation is to actually abide and fairly enforce the rules instead of creating a new "flavor of the month" scheme that leads to more problems in the long run.

Isn't it a wonder

— Lance Tan Ong (@lancetanong) August 15, 2018
Others questioned who the policy really benefits
You know who won't be affected by this? Politicians with several cars and drivers✨ Are you a parent who drives your kids to school bec they might die if they take our shitty public transit? SORRY, YOU CAN'T TAKE EDSA AFTER YOU DROP THEM OFF!!! HAHHA!!!

— Saab (@saabmagalona) August 14, 2018
In fairness to this dumb ban, EDSA cleared up and I got to the office in less than 2 hours compared to my usual 3. Still think it's dumb doe since it only benefited me 'cause I have a driver….

— Gianina (@_giaSORIANO) August 14, 2018

The second day isn't looking so good either. In fact, situations seem worse.
Solo rule on Edsa is even worse!! Bravo philippines!!! #ItsMoreFunInThePhilippines #LaroLaroLang pic.twitter.com/VHvK3LfoxM

— Solenn Heussaff (@solennheussaff) August 16, 2018
It took me three hours to get to school today when it usually just takes 45 mins to an hour….danggg is this the effect of the EDSA single driver ban?? ??

— Bella Manzano (@bellamanzano) August 16, 2018
If these negative sentiments continue, and the senate resolution pushes through, the policy might not see the light of day at all on Aug. 23, which is when it's officially set to start.
Would you like the scheme to push through? Share with us your EDSA driver-only policy experience in the comments section.