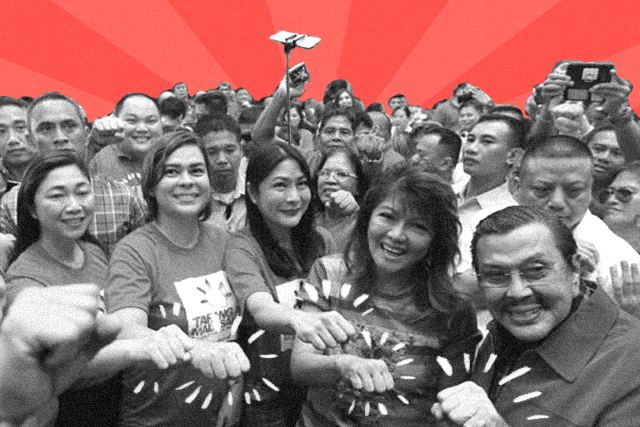 Earlier this week, it was reported that Ilocos Norte Gov. Imee Marcos formally joined the Hugpong ng Pagbabago (HnP), a regional political party headed by Davao City Mayor Sara Duterte-Carpio.  As of writing, many of the prominent names associated with the party are women—incumbent senator Cynthia Villar, House Speaker Gloria Macapagal Arroyo, Taguig City Mayor Lani Cayetano, and DPWH USec. Karen Jimeno.
The automatic response when you see a party featuring such women of power is, oh, this is going to be a feminist movement. "Girl power!" people may be shouting. But that's not really the case when you think about the reputation that some of them has.
Okay uunahan ko na kayo ha: HINDI ITO TAGUMPAY NG FEMINISMO. Sara Duterte, Imee Marcos, and Cynthia Villar just happen to be women; they don't represent our interests or work towards women's empowerment. The oligarchies endure! https://t.co/ymTvLnmAou

— Millennial Mangkukulam (@agasramirez) August 14, 2018
Mayor Sara Duterte is a key player as she is the HnP chairperson. While she has been vocal about how she was being mistreated because of her gender, people can't help but see her as complicit or an enabler of her father, Pres. Rodrigo Duterte's misogynistic actions in the past. When he made a rape joke during the presidential campaign, Mayor Duterte admitted that she was a rape victim too, hence, she wasn't offended by the remark. She never spoke up against the many times her father made disrespectful jokes toward women—including the controversial "shoot in the vagina" statement.
In the case of Imee Marcos and Gloria Arroyo, they are often associated with corruption and being "anti-poor." Gov. Marcos is, obviously, the eldest daughter of dictator Ferdinand Marcos. She has insisted that her father should be forgiven for the atrocities that happened during Martial Law (which he declared) and have emphasized time and again that she and her other siblings were not complicit nor aware of what was happening. Pres. Duterte, who allied himself with the Marcoses, claimed that Gov. Marcos and former senator Bongbong Marcos were too young to know what was happening that time. But, as Albay 1st district Rep. Edcel Lagman pointed out, she was already of legal age during the height of the ML regime.
If you think about it, Martial Law lasted from 1972 to 1981—that's almost 10 years. So it checks out that the Marcos children have matured already while their father was still in power.
The governor also lauded millennials who put her family in a different, more "positive" light. This type of historical revisionism was met with criticism as the younger generation deserves to know about what really happened and how many Filipinos were victimized in that era.
Meanwhile, many weren't happy that Arroyo took the House Speaker position because it was like ignoring the fact that she was charged with graft and corruption while she was still president. Netizens have pointed out that her being "the first female Speaker" isn't an accomplishment that the Philippines should be proud of. Not to mention that her party, the National Unity Party (NUP), has an alliance with HnP. With her as the current House Speaker, it's possible that the influence Mayor Duterte's regional party will increase significantly.
For everyone else interested in the politics of the Philippines (read: just me)

The country elected its first female speaker…

but it's disgraced ex-president Gloria Arroyo! Corrupt and arrested in 2011 for electoral fraud in the '04 presidential election.

Also a Duterte ally

— Avery Gagne 🇵🇭 (@avery_gagne) July 28, 2018
HnP has also endorsed former PNP director general Rolando "Bato" Dela Cruz, special assistant to the President Bong Go, and former senator JV Ejercito in next year's senatorial race. All of them have been criticized for their competency, complicity to Pres. Duterte's actions, and corruption as well, among many other issues.
The critique that HnP isn't a feminist group is a warranted argument. You see, feminism doesn't exist in every all-women function that pops up or when a woman takes up the helm. The causes and intentions should be aligned too. Plus, feminism isn't for the convenience of those in power. You can't be a feminist if you don't stand up against misogyny and also ignore the plights of citizens, most especially the less fortunate—the whole point of the movement is to create equal rights for all and not step on others. (Read: intersectional feminism)
Unless, of course, they prove us wrong in the upcoming elections. But it's difficult to tell with this kind of track record.
Art by Marian Hukom
Photo courtesy of Inquirer.net
For the latest in culture, fashion, beauty, and celebrities, subscribe to our weekly newsletter here  
Follow Preen on Facebook, Instagram, Twitter, YouTube, and Viber
Related stories:
Gender does not apply when it comes to corruption and thirst for power
Twitter and FB reacts to Gloria Arroyo's sudden oath-taking as House Speaker
Pres. Duterte endangered the health of women with this remark
Ivy Park is a feminist brand but the production is anti-poor women