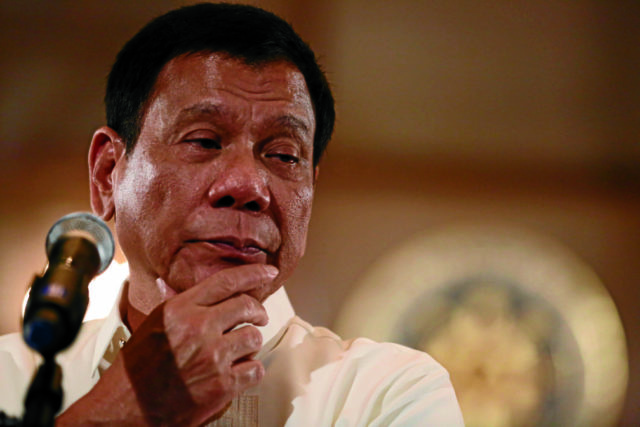 Filed under "Irresponsible Things Our President Says," President Rodrigo Duterte discouraged people from using condoms because, for him, they're not pleasurable to use. And if you think he was joking, he wasn't.
Duterte said this at an event hosting returning OFWs from Kuwait, which mostly consisted of women. It seemed like it was meant to promote the government's distribution of free contraceptive pills but also proceeded to say, "Wag 'yang condom kasi hindi masarap 'yang condom. Hindi, totoo. Hindi ako nagpapatawa… Alam ko ayaw ninyo ng condom so either mag-pa-injection kayo good for six months. Bahala ka kung ano." (Don't use condoms because it doesn't feel good. It's true. I'm not joking… I know you don't like condoms so just get a [contraceptive] shot that's good for six months. Your choice.)
Um, we have a question: Did someone give Duterte a fact sheet about condom use? Because he's apparently discrediting their effectiveness in protecting people from STDs and pregnancy. They're 85 to 95 percent effective! Not to mention that they're the most accessible birth control method given their availability at convenience stores and supermarkets. Safe Spaces PH has even set up locations that give out free condoms.
Duterte's remark also placed the burden of contraception and family planning on women.
"There is nothing pleasurable or funny about the rise in our cases of HIV and teen pregnancy," Sen. Risa Hontiveros said in a statement. "The President's statement is a virtual insistence that women should continue to carry the burden of family planning alone. This contradicts one of the aims of the Reproductive Health Law, which he claims to champion, to ensure equality in responsibility as far as family is concerned. This is unacceptable."
This incident comes after Duterte's order to shoot female rebels in the vagina. We don't know about you but we're really feeling just how much he's making women's lives more difficult in various aspects. But all of us should do our part to properly educate each other and not put anyone's health and safety at risk.
Photo courtesy of Inquirer.net
Follow Preen on Facebook, Instagram, Twitter, and Viber
Related stories:
Don't Give Pres. Duterte a Free Pass For His 'Shoot in the Vagina' Joke
The Dangers of Hooking Up Without Protection
Where Do Tito Sotto and Loren Legarda Get Off Defunding the RH Bill?
The #LiftTRO on Contraceptive Pills Is Every Woman's Fight
Finally, Here's How You Can Silence the Cat Calls and Wolf Whistles