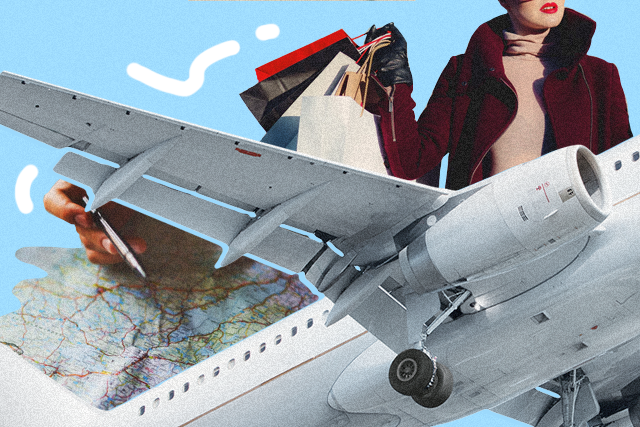 When traveling, sometimes layovers can't be avoided. Maybe the tickets turn out cheaper with layovers or it's the only way to get from point A to point B. Whatever the case, layovers can last for hours. During this time, you might be wondering what you should be doing.
Don't let this free time discourage you from going on the trip. There are so many things you can do. I've had to deal with many layovers in the past, so I have some suggestions on what you can do.
Spend some cash
Airports are filled with shops and restaurants. Kill time by exploring what they have to offer. You will most likely find items you won't find here. A lot of shops are also duty-free so you get to save some cash. If you're heading back home, this is your last chance to get gifts for your friends and family. Remember, food is always a good option for that. Speaking of food, you can also try out the different spots at the airport. You might find some of your favorites or discover new ones.
Take a quick trip
If you have enough time, you can take a quick trip around the destination you're waiting at. Find tourist spots near the airport so you have enough time to get back for your flight. I have a layover for an upcoming trip and our plan is to have lunch at a Michelin Bib restaurant known for their eel dishes.
Get some shuteye
Growing up, I once went on a trip with my family and we had a seven-hour layover. If you have this much time, I suggest getting some sleep. It might mess with your body clock but you'll definitely need the extra rest when you're traveling. This is also great for those who have a hard time sleeping on the plane. Airports have lots of space so you're sure to find somewhere to take a nap.
Play games
Waiting a few hours for your next flight can get boring and eventually, you'll get impatient. Keep yourself busy and distracted by playing games. This is perfect if you're traveling with other people. There are many card games that you can pack in your bag. They don't take up much space and you can whip them out when needed.
Read or listen
Take this free time to catch up on some reading. I'm sure you bring at least one book with you when you travel, so this is your time to read it. This also works for audio books. If you're more of a podcast type of person, download the episodes you've missed and start bingeing.
Find a lounge
Airports also have different lounges that you can go to. Some airlines have their own for their passengers. There are also other ones that you can go to if you have certain credit cards. Lounges are great too because they usually have food, comfy chairs, Wi-Fi, charging stations, and TVs. Here, you can relax until you have to board your next flight.
Quick massage
A lot of airports also have quick massage stations. Services usually include back and shoulder massages or a foot spa. These are perfect for when you get off a long flight and waiting to get on another. This is something my mom loves to do. They also have different time durations, some as short as 30 minutes. Sit back and have the masseuse release any tension you might have. No one wants to sit in a plane with a bad back.
Art by Marian Hukom
For the latest in culture, fashion, beauty, and celebrities, subscribe to our weekly newsletter here
Follow Preen on Facebook, Instagram, Twitter, YouTube, and Viber
Related stories:
Packing tips from a seasoned traveler
Eco-friendly travel must-haves to bring on your next trip
How I've grown and evolved as a traveler
How you can travel like a pro with the right carry-on