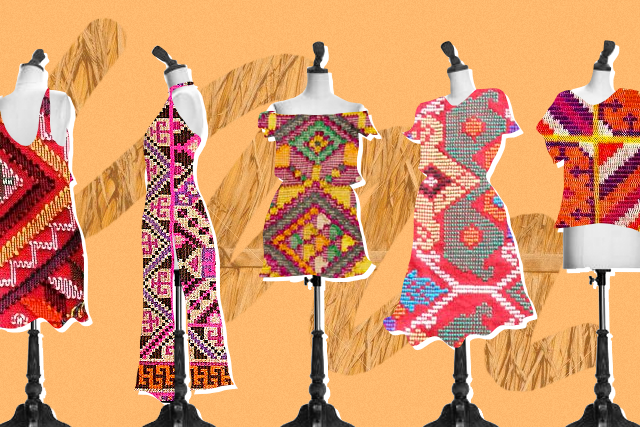 For those of you who forget, this month is actually Buwan ng Wika. I'm sure you remember celebrating this when you were still in school. You would play Filipino games, eat Filipino food, and wear traditional clothes to school.
In grade school, many would dress in a cute Baro't saya and there were even contests to see who had the best costume. In high school, I remember some outfits getting more elaborate, while others went for something more simple and wore a barong instead or a farmer's outfit.
Now that we're older, we may not be participating in these activities anymore but we can still showcase our culture. There are many local brands that try to harness traditional fabrics and silhouettes and apply them into modern clothing. Not only are they fashionable but they're crafted with our culture in mind. Take a look at the brands below and see what they're doing.
Piopio
Not only are they known for their cool pieces, but they use indigenous fabrics as well. They have crop tops made of Yakan and jeans have Inabel pockets. Their clothes have funky patterns and they put them together in ways that make it even more interesting. They don't just showcase the clothes, they also show the people behind it. In the process, they introduce the different master weavers that they work with. Available at Aranaz, Power Plant Mall.
Filip + Inna
"Inspired by tradition," Filip + Inna makes collection with indigenous artisans. As part of their new collection. They have pieces embroidered by T'boli artisans. They also use handwoven Yakan fabric and beadwork by T'boli artisans. They use these fabrics and techniques in modern ways by making shorts, jackets, and even sneakers. Available on Instagram.
Araw
Araw is known for their easy linen pieces. For Independence Day this year, they released a collection inspired by the traditional terno. This included tops with puffed sleeves in pastel colors, a mini terno dress, and a midi-length skirt. They created a modern Filipiniana you can wear everyday. Available at Tropa Store.
Kaayo
"Weaving the best of tradition and trends to come up with notable pieces from the southernmost major Island in the Philippines." is what Kaayo is all about. By that statement, you can probably already tell that their clothes are made in Mindanao. They use T'boli, T'nalak, and Manobo embroidery. Their most notable piece is the Tangkulo scarf. These are handmade by women artisans from the Bagobo Tagabawa tribe. The fabrics are hand-dyed and then embellished with pompoms and beads.
Lara
Local materials can also be used for accessories like bags. Lara "[transforms] indigenous materials of Samar into contemporary fashion creations." They have bayong bags embroidered with colorful flowers. They also did their own take on belt bags with their Fannypack Collection. Their other pieces include sun visors, backpacks, and banig slip-on sneakers. Available on Instagram.
Art by Marian Hukom
For the latest in culture, fashion, beauty, and celebrities, subscribe to our weekly newsletter here
Follow Preen on Facebook, Instagram, Twitter, YouTube, and Viber
Related stories:
There's an IG account that spots comments from local celebrities
Support local brands on National Lipstick Day
A look back at some of Cinemalaya's most controversial films
Five local films to watch this rainy season