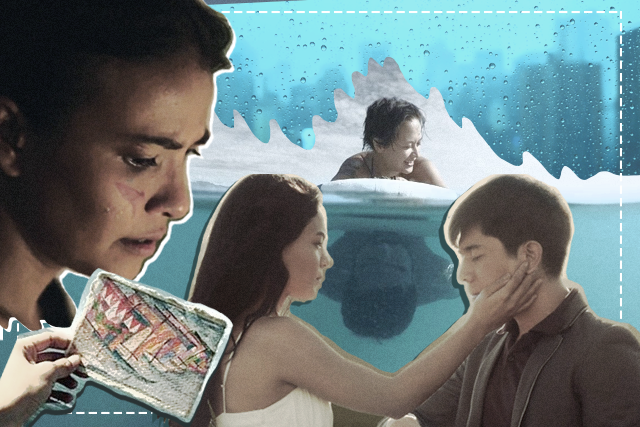 The gloomy weather and relentless rain is a great hassle for most of us, but be honest, the suspension of classes or work is something you look forward to, because it at least affords you some downtime to do whatever you want while waiting the storm out. And if the weather has got you feeling in a binge-watching mood, don't worry, we've got the perfect list of movies to get you started.
If you're one to indulge on the melancholic, longing sentiment that comes with the gray weather, here are some local films you can check out which beautifully capture that feeling. So prepare your blanket, some chips, maybe some tissues, and hit play.
Sakaling Hindi Makarating
Sakaling Hindi Makarating was one of the 10 finalists in the CineFilipino Film Festival, and has garnered awards such as Best Cinematography, Best Musical Score, and Best Editing, among others.
Kita-Kita star Alessandra de Rossi plays Cielo, a woman trying to get over a long term relationship who suddenly receives anonymous postcards from across the country. In pursuing the journey to find out the mysterious sender, she also goes on a journey of healing and self-discovery. 
Baka Bukas
A semi-biographical film by director Samantha Lee which debuted at the CinemaOne Film Festival in 2016, Baka Bukas  is a delicate coming-of-age and coming-out story.
Jasmine Curtis shines in her portrayal of a millennial creative who struggles to come to terms with her unrevoked feelings for her childhood best friend, a young and hardworking actress who aims to make it big in show business. Director Samantha Lee effectively evokes the pain and triumph of young love in cinematographic shots that mirror the fragility and delicateness of relationship between the two best friends.
Apocalypse Child
Apocalypse Child depicts the strange entanglement of lives between multiple characters. Sid Lucero plays Ford, a surfing instructor and the rumored lovechild of auteur director Francis Ford Coppola, as some scenes of his famous film, Apocalypse Now, were shot in Baler. 
The film centers around Ford's relationship with his mother, Chona, his student and lover, Fiona, his childhood friend who returns to the island as a congressman, Rich, and his girlfriend, Serena. The story follows a beautiful narrative which unearths a long and complicated feud between the childhood friends, and a series of events leading to the discovery of truths about their past.
Sana Dati
The final chapter of director Jerrold Tayag's Camera Trilogy, Sana Dati is a complicated and tender depiction of love and loss laid out in a non-chronological narrative.
It tells the story of Andrea, played by Lovi Poe, who is introduced in the morning of her wedding. The reason behind her uncanny hesitation and actions on the big day is revealed when she meets the wedding photographer, prompting her to revisit and face her painful past.
Never Not Love You
We see Nadine Lustre and James Reid in a new light in this film by seasoned director Antoinette Jadaone. Never Not Love You is about the all too real difficulties of making a relationship work after the honeymoon stage has died down and the couple is faced with life's realities. The on- and off-screen couple handled their roles with enough maturity to make the characters believable in their struggle to keep the relationship alive despite the long distance, differing career choices, and focusing on each other's individual personal growth.
Art by Marian Hukom
Follow Preen on Facebook, Instagram, Twitter, YouTube, and Viber
Related stories:
Strong female leads in movies inspire us to break gender stereotypes
6 female directed movies to binge on this weekend
The K-drama formula: Why so addicted to these shows?
Film & food: Movies to watch for every craving