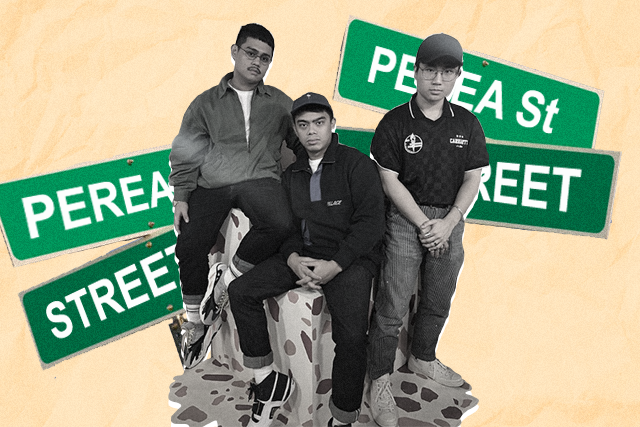 Social media is always buzzing with new viral content. The latest ones to hit IG TV are videos from Perea Street.
If you're not familiar, these videos are made by Julo de Guzman, Judd Figuerres, and Edsel Uy, who are actually filmmakers. Every week they post an episode revolving around streetwear. They range from unboxing, test runs, and discussions on trends. But with a comedic twist.
How did these videos come about? Speaking to the boys, they said, "It started when the three of us decided to buy some hoodies and caps from Awake NY Clothing. We were all excited when the package arrived and decided to film ourselves opening it. We decided to post the video on an Instagram account, @pereastreet (The name of the street where our office is located). We didn't think much of it at first. We thought only our circle of friends would enjoy the video. We kept making more and more people started following and watching."
And it's true, almost everyone I know has seen their videos. We each have our favorite episodes and so do they. "My favorite episode is 'Perea Pride Rock' just because we were able to sing 'Circle of Life' in the entirety of Perea without anyone calling us out," shared Judd. Julo, on the other hand loves all of them while Edsel's is episode six. "It was our first collaboration with a major brand, Nike. It's quite literally a dream come true!"
Aside from streetwear and comedy, impromptu songs also come about, like "Fanny Pack." There have also been remixes going around that they use in their episode intros. They each also have their favorites. Their top two are made by musicians Mong Alcaraz and Jorge Wieneke (Similarobjects).
Their chemistry and dynamic as a group is also what makes these videos fun to watch, and they all bring something special. "I try to focus on the overall creative direction of each episode," shares Judd. "But we're all very collaborative and we're all very hands on with our process. It's always a conversation between the three of us." Edsel likes to focus on editing, "so I try to bring a new and unconventional way of storytelling through the IGTV format." If you've seen any of the episodes, you'll know that Julo brings "togetherness."
With everything they've created their end goal is, "We just want to spread good vibes and meet Virgil Abloh."
Now that we got to know the minds behind Perea Street, let's break down some of our favorite moments from their videos.
Fanny pack
The fanny pack trend is not going anywhere and the Perea Street boys might have cemented that. In episode three entitled "You're so fanny," each of the boys show off their fanny pack of choice.They also show what they carry inside including breath mints, floss picks, and earphones. The number one thing that stood out from this episode would have to be the short fanny pack song. I'm sure this has gotten stuck in your head.
For the love of basketball
Some of the episodes also reference basketball. Personally, I'm not a fan but I couldn't stop laughing. In episode two, watch them unbox the Nike x Off-White Air Jordan 1 and practice some basketball drills. They also play some basketball in episode six where all the boys wore the Don C Jordan Legacy 312 Nike Pack complete with short shorts.
The chunkiness is killing me
Some of us are fans of dad sneakers and so are the boys of Perea Street. In episode four, they explore different brands and breakdown the chunkiness of each sneaker. Yes, some are definitely chunkier than others. They even did a quick survey to see which shoe people would actually wear.
Model siya eh
You know those IG photos you see of influencers where they're looking off into the distance? Well, they made a song for that too: "Model siya eh, tingin malayo." Not only is it catchy, but it's just too funny.
Editing
Comedy aside, their videos are also really well made. Well, they do have experience in photography and videography, so it makes sense. I especially appreciate the way they cut their videos from one scene to another and then back and forth. They're able to do it in a way that doesn't make the video feel messy.
If you've seen any of their videos, what are your favorite moments? Let us know in the comments section.
Photo courtesy of Perea Street's Instagram account
Art by Marian Hukom
For the latest in culture, fashion, beauty, and celebrities, subscribe to our weekly newsletter here
Follow Preen on Facebook, Instagram, Twitter, YouTube, and Viber
Related stories:
Ang Babaeng Allergic Sa WiFi reminds us of social media's distractions
Breastfeeding is accepted in public but not on social media
These social media accounts might give better love advice than your BFF
It might be time for some social media spring cleaning