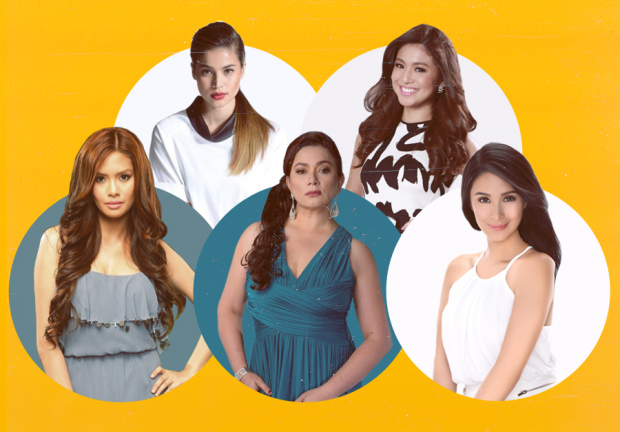 I grew up watching teleseryes with my family, both by intention and chance. And when I watch hard and long with my mom, chances are there will be feelings: Hers will be for the bullied bida (usually Kim Chiu, as expected from a #KimXinatic), and mine's for the missing portrait of the woman that best portrays me.
If you were to ask me, there are only five female characters out there. Yes, five. That's because our country is made of millions of women who can be segregated and boxed into five personalities. Nice going, pop culture!
Take a look at the five top archetypes local actresses keep playing, and tell me: how often have you seen them?
#1 The Probinsyana Bumpkin



Do Filipina women from outside the metropolis feel flattered that they're represented on TV, albeit inaccurately? These bumpkins range from being unrealistically fair to offensively dark. (We're looking at you, TV5. How thick should Eula Caballero's blackface need to be for us to get the point that she's the maid from a region elsewhere? To be honest, she needs none of that.)
They know about farming or cooking tinapa, but when thrown in a mansion with their boss (or in Maria la Del Barrio's case, the boss' hot son), they're as naïve, idealistic, and emotional as five-year-olds.
#2 The Rich Maldita
Terror sometimes came with Dina Bonnevie, Cherie Gil, Gladys Reyes, and Eula Valdez. The likes of them have earned the right to some of the most quotable lines in Filipino culture. They dress impeccably, complete with red lips, smoky eyes, and a vendetta against someone for reasons that you don't really understand.
And oh, these characters have also perfected the bitch slap, like any caricature of a villain should.
#3 The Pretty Girl with a Heart of Gold
Think Heart Evangelista and Kristine Hermosa for classic examples. Or Kathryn Bernardo for a modern one. Their angelic faces earned them the right to act as good as they look. Sometimes, they do it to a fault that you'd think they'd be a little smarter. Little did they know that putting beauty and goodness together is the stuff of legends.
It puts the character in this one-dimensional identity whose pristine image doesn't give way to development.
#4 Tomboy Gone Girl
Just because you're one of the boys doesn't mean you have to be noisy. Are you reading, Badong? Princess of the masses Anne Curtis charmed her audience with her fish ball-eating and kalesa-driving stints, tricking people into thinking all tomboyish girls are irreverent women who can either pack a punch or buy you, your friends, and this club.
#5 The Nice Girl that Needed a Makeover
What the character that launched Nadine Lustre and Julia Barretto lacks in the looks department, she makes up for in the personality test. Decked in zits, thick brows, frizzy hair, tan skin, and prints worn wrong, this archetype serves as a foil to the up-and-rising hottie of the network. She will also give the arrogant male protagonist the most brutal reality check that will make him fall in love with her—much to those mean girls' dismay.
Watching these same characters over and over again isn't just boring—it's tiring. We're missing the better stories of the smart girl who sleeps around, the sharp-tongued woman who prays, and the nice girl who needed to gun somebody. Because really, what is to be made of us who can be pretty, tomboyish, geeky, rich, emotional, and feisty all at the same time? And who can best portray us sans the melodramatic crying? That we'll have to watch and see.
Art by Dorothy Guya
Photos courtesy of GMA, Kapamilyalogy, ABS-CBN, Pinterest, and Adronico