Iza Calzado is always spreading body positivity on social media. In her latest post, you can see her posing and smiling in a bikini.
The post got many positive comments but someone decided to leave a nasty message. One netizen asked why her body and skin looked loose. So rude. It's easy to get angry at a comment like that but Iza's response was far from that.
She took the time to craft the message. "I wish I could say I was merely chubby but truth is I was obese. I have lost 100lbs (or more) 14 inches from my waist and if you think about it that's probably like I had twins or gave birth several times." She went on to say that, yes sometimes she wishes she had better skin but she learns to look past it. "So [the] best thing to do is to accept what I have and celebrate the things I have been blessed with, including a healthy body, no matter the size or shape or skin texture."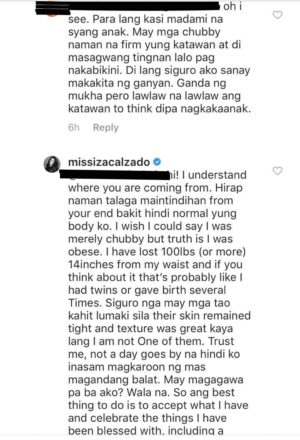 Iza even took the extra step to make sure the person who left the comment was not hurt. "I am also sorry that you were attacked for your comments. I know you did not mean to hurt me."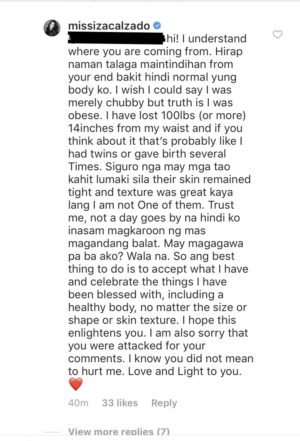 Wow, teach us your ways, Iza!
Photo courtesy of Iza Calzado's Instagram account
For the latest in culture, fashion, beauty, and celebrities, subscribe to our weekly newsletter here
Follow Preen on Facebook, Instagram, Twitter, YouTube, and Viber
Related stories:
Learning to love my body has been an upward struggle
Iza Calzado has a snack recipe you won't stop munching on
How Iza Calzado, Iya Villania, and Coco Quizon are promoting body positivity
Dear Kourtney Kardashian's BF, please don't body-shame her