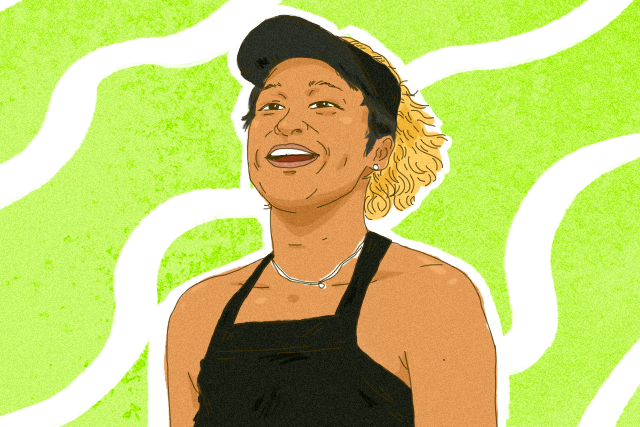 I'm sure the name Naomi Osaka has been making rounds on your feeds or timeline. Her recent win was a messy one, having been overshadowed by tennis superstar Serena Williams' outburst at the game's umpire, and the crowd's booing. A lot of angles have been presented but ultimately, one thing was settled: Naomi Osaka's victory was robbed off its rightful glory. So I say It's time we put the spotlight where it truly belongs. Get to know the 20-year-old champion below.
Young achiever
Born to a Japanese mother and a Haitian father, Naomi started her journey to greatness at a very young age. Inspired by the Williams sisters, her father began coaching her early on. This year, though she's never won a title in the WTA Indian Wells tournament before, she managed to sweep every match, effectively beating out former no. 1 players Maria Sharapova and Karolína Plíšková, as well as current top dog, Simona Halep. Her finals match against Daria Kasatkina was nearly as effortless, too.
At  the young age of 20, she's beaten Serena Williams—whom most consider not only the greatest tennis player, but the greatest athlete—not once, but twice. The first time was during the Miami Open. The second, the one you're hearing about, effectively made her the first Grand Slam singles champion from Japan.
View this post on Instagram
Fangirl
Like every young girl who dreams to make it big in tennis, her sports hero is Serena Williams. In the third grade she did a school project about Williams. "I colored it and everything," she shared. "I said 'I want to be like her. '" Throughout her career, she's always used her idol as inspiration. "Sometimes when I'm in a really important position, when I'm serving, I'm like, 'What would Serena do?'" adding that "She's the main reason why I started playing tennis and I have seen her on TV so many times and I have always been cheering for her." In her previous win against Serena, she said, "Just playing against her is kind of like a dream for me. I'm very grateful I was able to play her and it is even better that I was able to win." She posted this fangirl moment through her Instagram.
View this post on Instagram
After winning the game prior to her match with Serena, when asked if she had anything to say to her next opponent, her response was short and sweet: "I love you." Explaining her teary apology to the crowd during the US Open trophy ceremony, she said she understood the crowd, as the fan in her was weeping as well. "Because I know she really wanted to have the 24th Grand Slam, right? Everyone knows this. It's on the commercials, it's everywhere." she said, "When I step onto the court, I feel like a different person. I'm not a Serena fan. I'm just a tennis player playing another tennis player, but then when I hugged her at the net (tearing up) … when I hugged her at the net, I felt like a little kid again."
View this post on Instagram
An authentic tribute to her idol! #NaomiOsaka #USOpen pic.twitter.com/4zGesoXc8U

— Denise Miller ?? (@IrieDame) September 9, 2018
Despite Serena's behavior during the match which drew flak from critics, Naomi assures nothing has changed. "I'm always going to remember the Serena that I love. It doesn't change anything for me," she said. "She was really nice to me, like, at the net and on the podium. I don't really see what would change."
Millennial through and through
In an interview with GQ, it was noted that one of the first things she mentioned was Overwatch, a popular video game. Apparently she's obsessed. "On practice days, Osaka is on the court for four hours. Then she goes home and plays four, sometimes five hours of video games—mostly Overwatch with her older sister Mari." Before flying out for the tournament, she reportedly had this serious concern: "I was debating if I should travel with my PS4 or not." And oh, you'll be glad to know her other obsession. Facing the press after winning her first title, she described the feeling the way most of us describes ours: through a meme. "Towards the end I didn't know that I won the match point," she said. "So then I was like Caveman SpongeBob." She didn't need to say anything else, we get it. We hope the reporters did, too.
View this post on Instagram
View this post on Instagram
Shy and awkward teen
Far from her player persona, Naomi is actually soft-spoken off-court. But there's no disconnect there. "I just feel like I know [tennis] is sort of my job and, like, if I were to say it, like, in a gaming term, then it's sort of a mission that I have to complete. Um, so yeah. I just sort of tune everything out and just try my best to complete the mission." Like most of us, she has her awkward moments, and they're all so endearing.
She is so cute ? #NaomiOsaka #USOpen (?Eurosport) pic.twitter.com/eKkbvSAqoi

— Rena (@_irenka23_) September 9, 2018
During her acceptance speech for her first title, she started out with "Hello, hi, I am—okay never mind." After a couple minutes of seemingly random thank you's and giggling throughout, she closed by saying, "This is probably gonna be the worst acceptance speech of all time." In otherwise serious post-match press conferences, the reporters love her for your youthful candor. If you follow her on Instagram, you'll discover she's much more relatable than you think—you won't help but love her, too.
View this post on Instagram
View this post on Instagram
Art by Marian Hukom
For the latest in culture, fashion, beauty, and celebrities, subscribe to our weekly newsletter here  
Follow Preen on Facebook, Instagram, Twitter, YouTube, and Viber
Related stories:
Naomi Osaka didn't deserve to be booed after winning the US Open
Serena Williams is not here for your sexist comments
Serena Williams can win no matter what she wears
Serena Williams breaks Maria Sharapova's 11-year streak as highest-paid female athlete