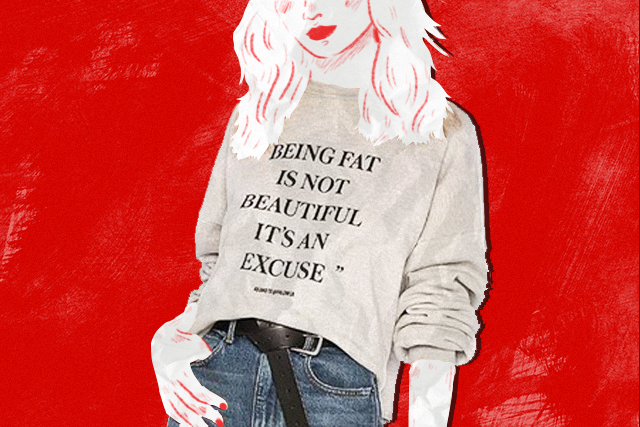 Raising awareness and advocating for body positivity don't always end with positive reactions. LA-based brand Revolve is learning this the hard way. They recently released a line of sweaters in collaboration with LPA with quotes from different celebrities and influencers like Lena Dunham, Cara Delevingne, and Paloma Elsesser. According to The Cut, Revolve's intent "was to comment on the modern-day 'normality' of cyberbullying; the sweatshirt contained comments each celebrity had received from trolls online." The proceeds of these items were set to be given to charity.
These comments included "Being fat is not beautiful it's an excuse," and "If you translated a bum onto her face, she's have a better face." The promotional photos for these items were shot on women who were thin. For a collection aimed towards spreading body positivity, it's odd that the sizes were only until XL. After the photos were posted, netizens were not happy.
so the brand that doesn't cater to women above a size 10 @REVOLVE made these sweatshirts to combat "internet trolling" but decided to put the sweatshirt about fat shaming on a skinny model. pic.twitter.com/4WaeVHDjn2

— tiffromthe6 (@tiffromthe6) September 12, 2018
Beauty is not based on size, but ignorance is based on insecurity @REVOLVE are trash and are either so ignorant that they think this message is acceptable, or they are so insecure that they have to play off body shaming in order to gain attention.

— Felicity (@FelicityHayward) September 12, 2018
Hi @REVOLVE, thanks for proving what everyone who isn't a size 00 influencer already knew about you: ? https://t.co/Wo8nXAp8ze

— Sarah Conley | Rascal Honey (@imsarahconley) September 12, 2018
Plus size model Paloma took to Instagram to address the issue. "I am so angry and upset about having, even remotely, been attached to something so problematic and distant from my true ethos and practice," she said. Paloma also wanted to make clear that she wasn't part of the layouting of the clothes or the marketing.
View this post on Instagram
Lena Dunham also spoke up via a post on IG. "For months I've been working on a collaboration with my friend Pia's company LPA through parent company Revolve—sweatshirts that highlight quotes from prominent women who have experienced Internet trolling [and] abuse." She then goes on say that she no longer wants to be part of the collaboration. "Without consulting me or any of the women involved, Revolve presented the sweatshirts on thin white women, never thinking about the fact that difference and individuality is what gets you punished on the Internet, or that lack of diversity in representation is a huge part of the problem. Lastly, Lena wanted to make it clear that her "only goal on this planet is to empower women through art and dialogue."
View this post on Instagram
The sweatshirts have been pulled out of the site and although many statements have been released, who is to blame? Is it merely Revolve's fault for getting the marketing wrong or did the project miss the mark from the start. Even if these sweatshirts were modeled on women of different sizes and colors, and the font of the names were bigger, I think it wouldn't have been received well either. I appreciate that there is a group of women trying to raise awareness on bullying and body positivity, but there could have been a better way to execute this campaign.
Art by Marian Hukom
For the latest in culture, fashion, beauty, and celebrities, subscribe to our weekly newsletter here  
Follow Preen on Facebook, Instagram, Twitter, YouTube, and Viber
Related stories:
Why fat-shaming shouldn't be used to motivate people
Why we need to get over fatphobia and body shaming ways
Thousands sign a petition to cancel Netflix's Insatiable
Is there still a swimsuit competition in Bb. Pilipinas?