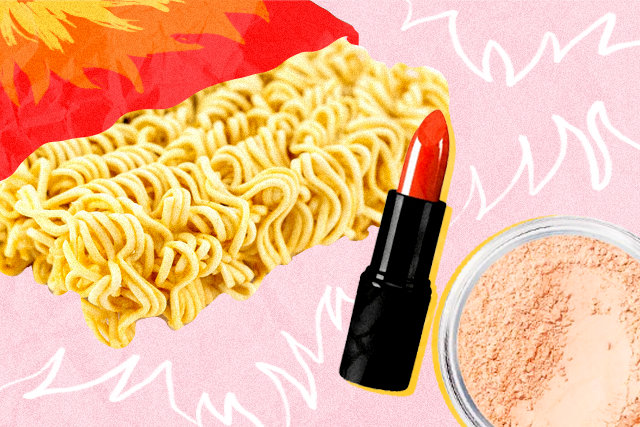 There was a weird trend on YouTube wherein beauty vloggers attempted to do their makeup using food products. Like, actual cheese powder, flour, and chocolate. Now, if you think that it's a waste to raid your pantry for your makeup needs (it is), there are actually food brands and places that came out with their own beauty lines.
As uncanny as some of them may sound, the products are actually intriguing. It also makes us hungry and thirsty just looking at them—effective marketing, TBH. For the foodies out there, here are the collections you can cop and also those you might've missed because they're limited-edition.
The Face Shop x Coca-Cola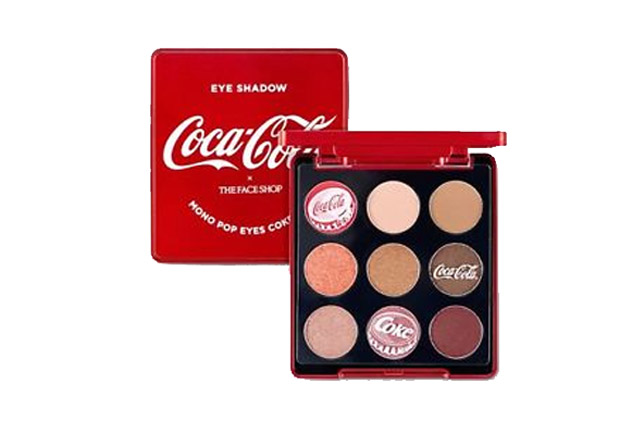 The Face Shop launched their Coca-Cola collaboration in the Philippines earlier this year, and it has everything we adore about the drink. First, the packaging is the same red shade as the beverage. Second, and probably the best detail, is that the products have a cola scent—especially their lip tints! The collection has all the items you need for a simple makeup look: a cushion foundation, lip tints, lipsticks, and an eyeshadow palette.
Try: The Face Shop x Coca-Cola Monopop Eyes 01 Coke Red. Available at Century City Mall.
Shu Uemura x La Maison du Chocolat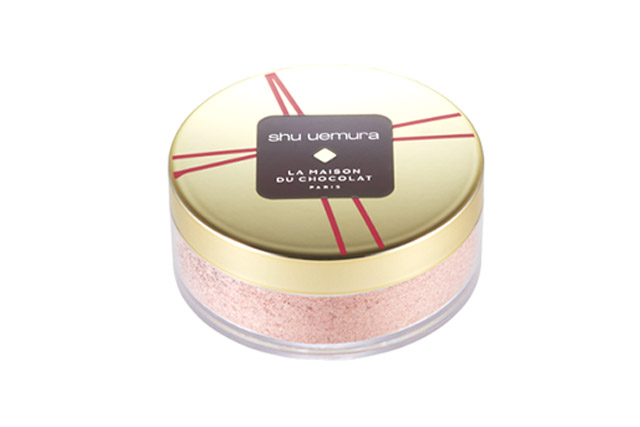 As part of their holiday line, Shu Uemura is launching a limited-edition chocolate-inspired makeup collection on Oct. 2. This is in collaboration with luxury chocolatier La Maison Du Chocolat. There will be two eyeshadow palettes, six new lipstick shades in matte and cream formulas, a metallic lip liner, loose shimmer powders, blushes, two vivid brow and lash gels, and a cleansing oil. All of them will be chocolate-scented and flavored—perfect for all the sweet lovers out there.
Try: Shimmer Powder in Rose. For updates, visit their website.
TonyMoly x Samyang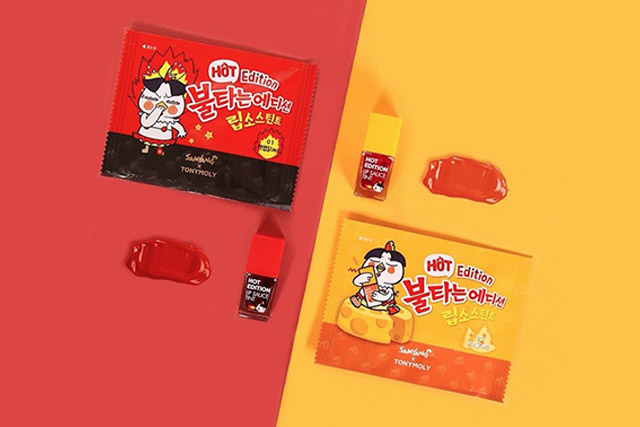 Are you a fan of the spicy noodles challenge? Well, Samyang, the brand behind the fiery dish, has a collab with TonyMoly. The collection will be inspired by the Buldak Spicy Chicken Ramen and will include the following: Hot Coverdak Cushion (with a refill that comes in a sauce packet), Noodle Blusher (Bad Red and Carbolighter), a Lip Care Stick balm, and Lip Sauce Tint (Spicy Red and Cheese Red). Luckily these products don't seem to be hellishly spicy. But Allure did mention that Beauty Box Korea is selling them with free packs of spicy noodles. BRB, signing up for the noodles!
Try: TonyMoly x Samyang Lip Sauce Tint. Pre-order on Beauty Box Korea.
KFC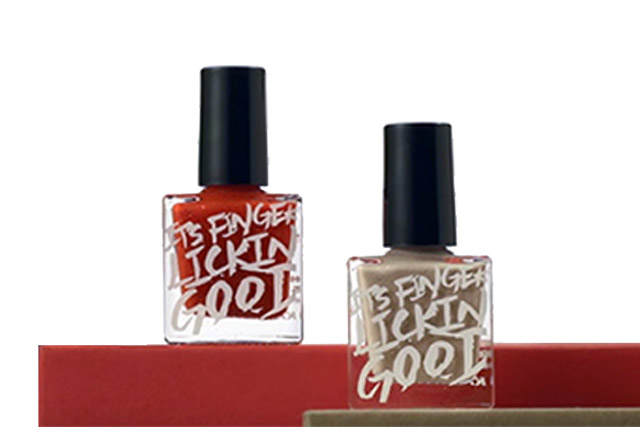 2016 was an, um, ambitious year for KFC. They first released two edible nail polishes that's chicken-flavored—original and spicy. Then, they delved into sunscreen territory because who doesn't want to smell like 11 secret spices while cooking under the sun? Since then, the food chain hasn't released other chicken-inspired beauty products.
Try: KFC Edible Nail Polish. Only available in Hong Kong.
Sara Happ x Sprinkles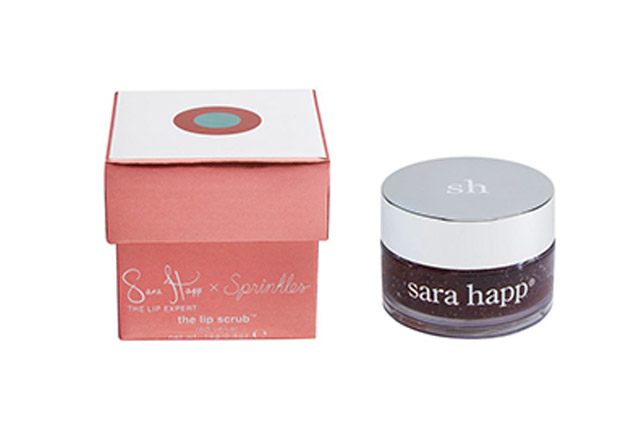 Sara Happ, known for her sweet lip scrubs, collaborated with US dessert shop Sprinkles to create a red velvet-flavored scrub. According to the website, the scent will remind you of "rich, warm chocolate infused with hints of silky cream cheese." It works as a regular lip scrub to exfoliate and you get a dessert fix.
Try: Sara Happ The Lip Scrub – Sprinkles Red Velvet. Available online.
Hershey's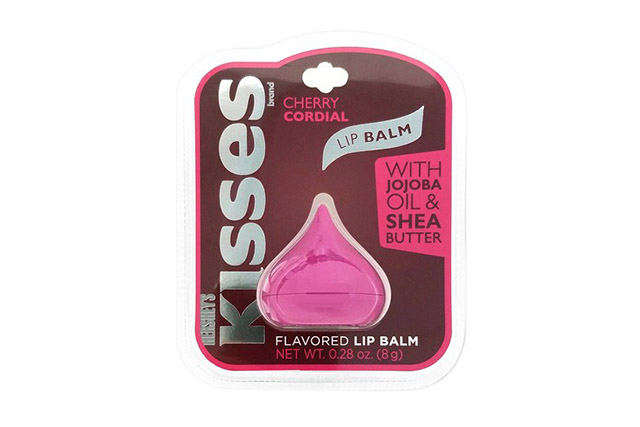 Hershey's decided to capitalize on their Kisses brand to make a line of lip balms. These are inspired by their various flavors like milk chocolate, cherry cordial, strawberry, and coconut cream. They're also formulated with shea butter and jojoba oil to ensure that your lips are moisturized.
Try: Hershey's Kisses Cherry Cordial Lip Balm. Only available in the US.
Art by Marian Hukom
For the latest in culture, fashion, beauty, and celebrities, subscribe to our weekly newsletter here
Follow Preen on Facebook, Instagram, Twitter, YouTube, and Viber
Related stories:
Why have a plate of chicken when there's nail polish that tastes like it?
Stop what you're doing: Fried chicken-scented sunscreen now exists
This lip scrub tastes like your favorite cupcake flavor
Smell like crème brûlée and put chocolates on your eyelids