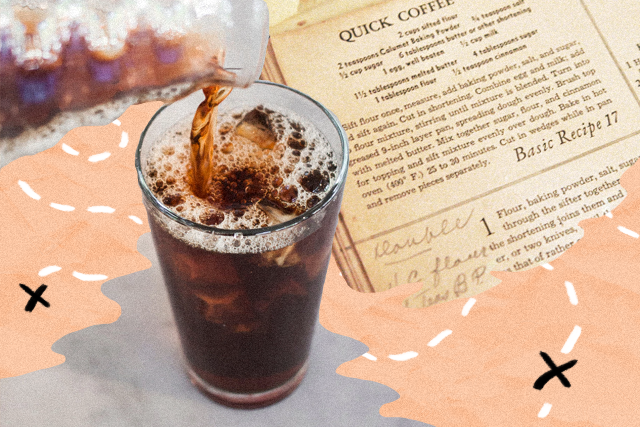 Cold brew coffee isn't a new concept but it seems like everyone is finally into it, including many coffee shops. Go to any cafe and they most likely have cold brew options for you to choose from. But what is cold brew coffee? It is coffee that has been brewed with cold water for 12 to 24 hours. Since the brewing time is quite long, it has a more full-body taste to it and the best part is that it is less acidic than iced coffee. So, if iced coffee is your jam, you might want to switch to this instead.
Honestly, this is so easy to make at home and you can make it in large batches so we included a quick recipe below. However, if you're in a rush or are craving some caffeine in the middle of the day, we also found some spots that you can check out, one even delivers.
Homemade
What you need:
Coffee beans
Water
French press
How to make it:
1. Get your favorite coffee beans and grind them until they turn into a coarse powder.
2. Add 3/4  cup of coffee grounds to the French press.
3. Add 2 1/4 cups of water and stir the mixture.
4. Cover the French press with the plunger up and place in the fridge for 12 to 24 hours.
5. Filter the coffee, pour in a mug, and prepare it your usual or way or drink plain.
Type A
View this post on Instagram
If you're in need of a coffee fix but lack the energy to get out of bed, Type A is your solution. They have subscriptions that offer 900 ml glass bottles, which is equivalent to 18 glasses. Oh, and the best part? Once you're through, you can just have the bottle refilled. Located at The Alley at Karrivin, Chino Roces Avenue, Makati City or online.
Yardstick
View this post on Instagram
Yardstick is known for their coffee so they obviously offer some cold brew options. They have four variants: The Original Cold Brew, Cold Brew with Milk, Single Origin Series, and Cold Brew Mocha. So you can pick one that's strong or sweet depending on your mood. They also come in bottles for the guys and gals who are rushing to work. Located at Universal LMS Building, 106 Esteban Street, Legazpi Village, Makati City.
Nitro7 Coffee and Tea Bar
View this post on Instagram
Nitro7's coffee isn't just cold brew, it's infused with nitrogen too. They have many kiosks placed in malls all over the metro so you shouldn't have a difficult time getting a cup. They also have different flavors. Order the hazelnut caramel mocha for something sweet or the peppermint mocha to complete the (almost) Christmas feeling. Located at Ayala Malls The 30th, 30 Meralco Avenue, Ortigas Center, Pasig City.
Poison Coffee & Doughnuts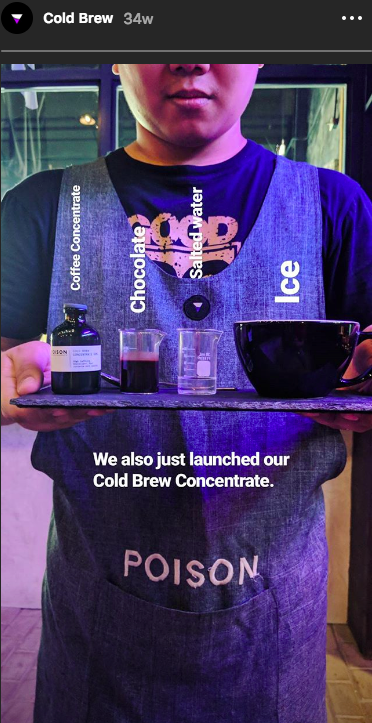 While you're indulging in one of their doughnuts, order yourself a cold brew coffee too. They serve it many ways like over ice, as a dirty chai, and even a salted Mocha. I suggest matching your order to whatever doughnut flavor you're having. Located at Karrivin Plaza, 2316,Chino Roces Avenue, Makati City.
Toby's Estate
View this post on Instagram
Toby's keeps their cold brew simple with just two options: cold white and cold black. The cold white is made of cold brew concentrate, fresh milk, and just a little bit of brown sugar syrup. Yum!
Art by Marian Hukom
For the latest in culture, fashion, beauty, and celebrities, subscribe to our weekly newsletter here
Follow Preen on Facebook, Instagram, Twitter, YouTube, and Viber
Related stories:
Make your morning coffee less basic
Where to find local coffee and work without distractions
The solution to chilly weather? Spiked warm drinks
Hot chocolate drinks that are perfect for sweater weather