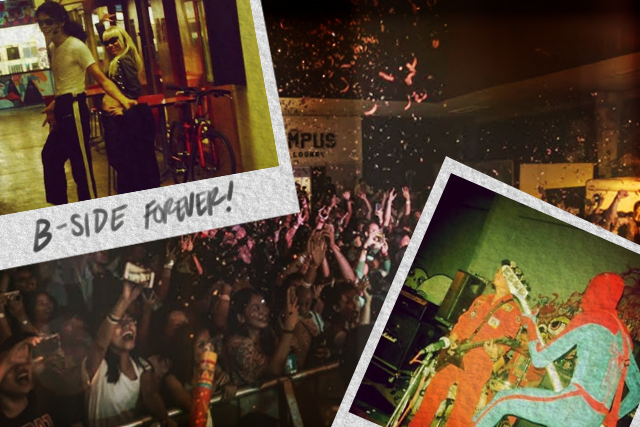 The first time I went to B-Side was in 2013—a college blockmate invited us to watch Wolfgang, Kamikazee, and Valley of Chrome. I remember being right in front and my leg was hitting the metal barricades because of the volume of people; Jay Contreras tried to crowdsurf; and I went home smelling like beer—not because I got wasted, but some drunk guy accidentally spilled his bottle on my head while I was sitting on the floor. But it was still a fun night, nonetheless.
Since then, B-Side has become one of my favorite venues to go to for local gigs (especially the music fests that last until dawn) and also food. The murals and graffiti on the walls added to its charm. I'm sure many people would attest to this too considering that the venue is almost always packed when there's an event.
Sadly, all good things must come to an end.
Earlier this month, the B-Side management announced that they're stopping operations by the end of the month, Sept. 30. The events space will reportedly be replaced with a condominium in the future, while The Collective will remain operative. As of writing, several artists and fans have bid their good-byes to B-Side via social media. A final gig was also held last night.
Since opening in 2010, the venue has staged several events, opened various shops, and even survived storms—it stood strong for almost nine years. Naturally, B-Side regulars and people who've worked and performed there took the time to look back on their fondest memories. Today, we're here to share a number of them.
A cultural hub
"B-Side is well known for hosting all kinds of music from hip-hop, electronica, metal, punk, reggae, indie rock, and all sorts of not-easily classifiable sounds," Raymund Marasigan of Sandwich and Pedicab tells us.
Before local indie—be it rock, acoustic, etc.—scene's popularity skyrocketed, B-Side was well-known for staging Fliptop battles and having weekly reggae nights called Irie Sunday. Jam Lorenzo of The Geeks credits the former for getting him to watch a show there. "Back [in college], I wasn't really familiar with the whole local gig scene but my early fascination with Fliptop meant that I always held B-Side in high regard."
View this post on Instagram
Anna Sobrepeña Ong of B-Side Productions also had an over-the-top memory from some of the earlier shows. "The first Irie Sunday was really memorable because Papadom brought his Lynx. Also, I remember Maria Cafra's burning of the guitar," she shares.
The vast selection of music offered a sense of inclusion among fans and musicians who have differing preferences. At the same time, it somehow brought together the different genres you'd normally never expect in a gig, like rock and hip-hop. Last night's gig is proof of that as they invited DJs, rappers, bands, and so much more to present B-Side's diversity one last time.
"In retrospect, I'm amazed by how wide-ranging and inclusive [B-Side] was, and its effects in the Manila music scene," Ayon Sanchez of BuwanBuwan Collective says. "Fliptop, Irie, Subflex, Meiday, and the list goes on and on. All are indebted to B-Side."
Aside from musical performances, B-Side also became a hub for other hobbies and interests—from art exhibits to stores selling costumes, ukuleles, and bike parts. "I'm very sad to see it go because it's one less venue for people to get together and experience local culture," says Myrene Academia of Sandwich.
Affordable food and drinks for everyone
A B-Side gig isn't complete without the grilled pork barbecue, hotdog, and isaw right next to the bar. It's almost inevitable that gig-goers would flock to get drinks and a quick snack in between sets because of how affordable they were. I mean, hello, P50 for a glass of rum coke was a steal!
"It's always good," Diego Mapa of Pedicab, Tarsius, and The Diegos says. "And it is one of the few Makati clubs that still serve overflowing Red Horse at a good price!"
When you explored The Collective a bit more, you would find restaurants serving dishes like chicken wings, shawarma, Thai coffee, and vegan options. A few of them, like Wabi-Sabi Noodle House (their vegetarian ramen is the bomb!), have already found new locations to serve their patrons; while others may have branches across the metro.
View this post on Instagram
Relationships for keeps
It sounds cliché but music does have a way of bringing people together, regardless if the event is small or massive. You could hit up friends you haven't seen in a while to watch a show and it'd feel like you were never apart for months before that. "It is the place where I got to bond more with my college friends," gig-goer Angela Saulo recounts. "I finally got a lot of them to come and join and we sang all night, sat outside or at the back when our feet couldn't take standing anymore."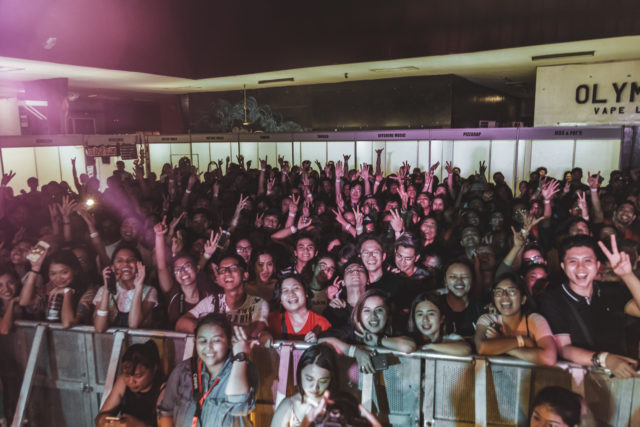 Several bonds were formed at B-Side. I've seen people on social media who've thanked the kind group who adopted them because they were alone at a gig. There are also those who celebrate the fact that they finally met their online friends in the crowd. Whatever the situation was, the goal was to always enjoy the music with the people around them.
Nicole Sarmiento, head of Red Ninja Production, says she would always remember getting up on stage with her teammates and friends from bands as they sang along to Lions & Acrobats' "Cloud" during the final performance of their Year-Ender Fests. "I was so overwhelmed that I sat behind one of the pull-up tarps to cry." I would also attest to how hair-raising it was to hear every single fan screaming the lyrics until they lost their voices the next day.
View this post on Instagram
Photographer Jeremy Caisip says he gained new friends and worked with various people when he covered the Red Ninja Year 9 Fest earlier this year. "What made it memorable were the people I got to work with, who I met two years ago at the Year 7 Fest."
And like most gatherings, there are also funny stories to tell. Ziera De Veyra, who works closely with B-Side and local bands Radioactive Sago Project and Brass Pas Pas Pas Pas, recalls the stormy gig night that got them stranded. "When Brass Pas Pas Pas Pas launched their first album, it got super flooded outside The Collective, so people were wet and late," she says. But she guarantees that they had a good time despite the relatively small turnout, telling us about getting drunk and sleeping in the car until 7 a.m. to wait for the flood to subside.
Aside from meeting their bandmate at B-Side, Autotelic collectively tells us about the time they helped Chicosci bassist Eco Del Rio propose to their keyboardist and vocalist Kai Honasan last year. I remember that they were playing "Hanap" and they did an instrumental break so they could make Kai look at the crowd, and gold letter balloons that spelled "MARRY ME." Happy tears were shed both onstage and in the crowd—our group included.
View this post on Instagram
Since that day, Kai and Eco also did a prenup shoot at B-Side and got married this year at a location overlooking Manila Bay. "To say B-Side is memorable to me is an understatement, it's where most of my milestones happened," Kai says.
Trian Lauang of The Oemons also has a funny story about their bassist's current relationship, which actually started at B-Side. "He had a girl come over to see him play for the first time at B-Side. Perhaps out of pity, seeing him play for such a sh*tty band, she became his girlfriend shortly afterwards. They're still happily together to this day," he says. (Trian also quips that his bandmate might've gone on a date which explained why The Oemons sent their response to me on the deadline itself.)
She also mentions that she'll miss hanging out with friends in the spacious holding room. Other bands like Blind Stereo Moon, Radioactive Sago Project, and Brass Pas Pas Pas Pas echoes this, saying that B-Side became their go-to hangout spot. Francis De Veyra, who plays for the last two bands mentioned, even got to know the staff, bouncers, and vendors at B-Side.
Meanwhile, Julie Samonte of Blind Stereo Moon sums it up perfectly: "It welcomed everyone—young and old, Manila-based and probinsyano bands, and basically people from everywhere who wanted to find a tambayan at the heart of the city."
#BSideForever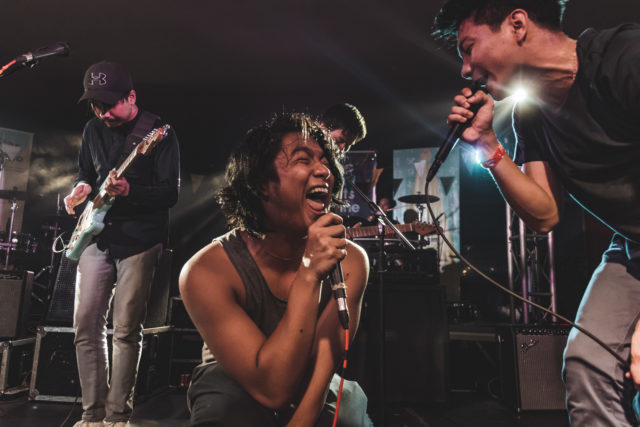 When Nicole of Red Ninja emailed me for this article, her subject head read "BSide Foreverrrrr," a phrase that both artists and fans could resonate with. Likewise, #BSideForever is also a hashtag used on social media in light of its closing.
"B-Side helped Red Ninja grow and it saddens me that we have to say good-bye to it, heat and dirty bathrooms and all," Nicole says, adding her gratitude to the staff who helped in organizing events.
The venue will be physically gone, but memories of the place would live through the stories being told. For example, Kjwan drummer Eo Marcos tells us that their vocalist, Marc Abaya took a literal leap of faith and stage dove during B-Side's anniversary gig. "It was really cool to see from where we were," he says.
There were several album launches held at B-Side as well like Autotelic's Papunta Pabalik, Ayon Sanchez's Arigato Hato EP, Kai Honasan's In Your Face & Other Songs About Other Faces EP, and so much more. A lot of firsts also happened for both attendees and performers. The Geeks had their very first gig in 2013 where Jam "did a lot of dumb stuff" where he told terrible jokes on stage and gave an awkward interview. Pedicab got to play a gig that was featured in the independent film Ang Nawawala.
View this post on Instagram
Gig-goers like Angela also did the unexpected and attended gigs alone at B-Side. "Even with a lot of people around, I never really felt too anxious or stressed. I didn't feel claustrophobic," she says. "I never attend gigs alone at all. So that was special to me even though I ended up drunk at the end of the night."
What's also special are artists who brought their kids to B-Side, not just to watch their shows but to spend quality time with them. "My most fond memory was the time my then-little daughter designed her first vintage custom bike," Raymund shares. "She picked the parts and colorway (pink and white) that became this cool little low rider with banana seats and coaster brakes."
If I'm not mistaken, I also recall watching Vin Dancel's young son play the drums for Peryodiko. Sometimes, there were also babies and toddlers wearing noise-canceling headphones while watching their parents on stage. So at least the young ones would get to tell their friends that, hey, we went to B-Side before it closed down.
It's a day after B-Side's final gig and I kinda regret not going. But seeing stories like these, as well as throwback posts under the #BSideForever hashtag and the few photos I have in my Camera Roll, is a gratifying consolation prize. And in these anecdotes, a few things are certain: B-Side will be missed and people are thankful for its existence.
How about you? Do you have a B-Side story to tell?
Art by Marian Hukom
Photos by Jeremy Caisip and Dan "Spider-Dan" Garomo
For the latest in culture, fashion, beauty, and celebrities, subscribe to our weekly newsletter here  
Follow Preen on Facebook, Instagram, Twitter, YouTube, and Viber
Related stories:
Ditch the party music and go to these live music venues
Female-fronted bands that flip off gender stereotypes in music
The "Kung Di Rin Lang Ikaw" music video is making netizens cry and rethink their relationships
Concert blues: How do I spend on a ticket without regrets?