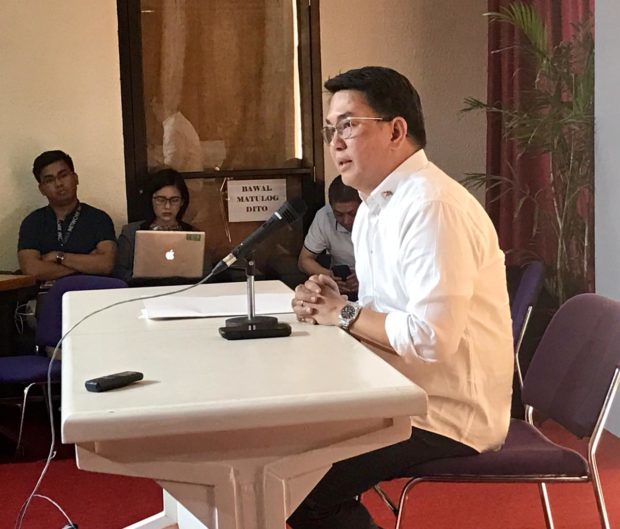 ACTS OFW party-list Representative John Bertiz III compared his outburst at NAIA to a woman on her period.
The incident—him refusing to follow airport security measures and take off his shoes, and berating the airport official in charge, was captured in a CCTV video which has since gone viral. He initially said that he scolded the official and took his ID for being selective and letting "Chinese-looking passengers" go through the detector with their shoes on. MIAA also denied these claims, saying there were no such passengers before Bertiz entered. 
WATCH: OTS released CCTV footage taken from a different angle of ACTS OFW Party-list Rep. John Bertiz confronting airport security personnel. | via @makipulido pic.twitter.com/cOIOiYK7zo

— GMA News (@gmanews) October 1, 2018
He now apologized for the behavior, saying that he is also a human being who can't help but lose his temper sometimes. "Hindi ko na rin maiaalis na tao lang po na marupok, umiinit ang ulo, na-s-stress din sa trabaho." (I cannot erase the fact that I am still only human. I get hot-headed sometimes; I get stressed out on my job.) He said it only happens every once in a while, just like when women get their period: "For the past three years that I've been a member of Congress, once a year na dapuan tayo ng monthly period." 
Bertiz on how he'd address concerns about his behavior: "For the past three years that I've been a member of Congress, once a year na medyo dapuan po tayo ng monthly period ay hindi ko na rin po maiaalis na tao lang po, na marupok at umiinit ang ulo, naiistress din sa trabaho."

— Path Roxas (@PathRoxasINQ) October 1, 2018
Oh, scoff! First off, excuse me, Mr. Bertiz, but you don't know what you're talking about. For someone who's never experienced that, you have no right spouting such a sexist statement. Also: having a period is not an excuse for one's behavior. Not to put myself on a pedestal here, but there are days when I'm on my period, and I'm annoyed AF, but I still manage to be civil. Netizens agree this is such a bullsh*t excuse, too.
Damn… It is not an excuse dahil tao laman siya, marupok, naiistress or whatsoever. Magresign siya sa kanyang trabaho kung hindi niya kaya ang ganitong sitwasyon. Marami ang kababayan natin ang umaasa na magkaroon ng trabaho tulad niya.

— Albert Arellano (@AlbertArellano) October 1, 2018
Bertiz: Once a year dinadatnan tayo ng monthly period.

Me: pic.twitter.com/t2QJ4ZaAKG

— noelle (@nonononoelle) October 1, 2018
Bertiz is a horrible human being. He's apologizing with half a dozen excuses as though we can't see through this. And he gets a lot of media mileage from this. https://t.co/Qw86AWDxzx

— Markus Villa (@makeapoint690) October 1, 2018
Thankfully, despite his apology, minority floor leader, Rep. Danilo Suarez said the House minority bloc are still looking into filing a complaint before the Committee on Ethics and Privileges, if no outside party would do so.
[ABS-CBN News and Inquirer.net] 
Photo courtesy of Inquirer.net
For the latest in culture, fashion, beauty, and celebrities, subscribe to our weekly newsletter here  
Follow Preen on Facebook, Instagram, Twitter, YouTube, and Viber
Related stories:
Why it's so hard to fight everyday sexism
How should women call out egotistic men—in and out of the office
A woman was strip searched in front of male cops and their gazes are haunting
Somebody tell Bill Cosby's publicist that the jail sentence wasn't racist nor sexist