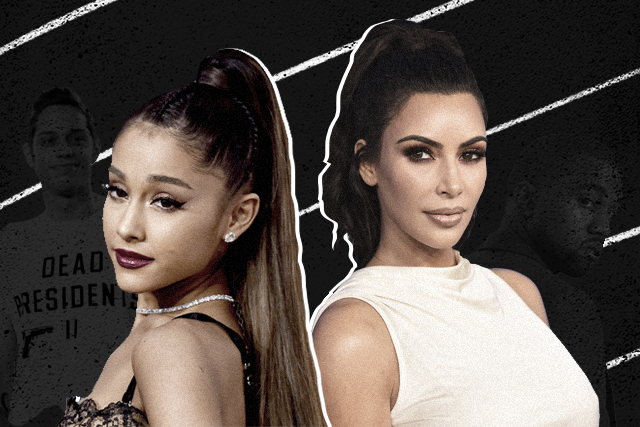 Let's get this out of the way: Women aren't responsible for the behavior of men. If their boyfriends or husbands, even their exes, make an ass of themselves, the automatic response shouldn't be "You led him to do this, woman. This is your fault."
However, what happens when you see women, who have been outspoken about several issues, openly defend the men that go against their beliefs? That's the conundrum that fans of Kim Kardashian and Ariana Grande faced when they called out their beaus Kanye West and Pete Davidson, respectively, for their problematic remarks and misbehaving.
Kanye, who's always been candid about his support for Pres. Donald J. Trump, was the center of another controversy after wearing a "Make America Great Again" cap on Saturday Night Live and going on a pro-Trump rant that was cut because of time. He then continued his outburst on Instagram where he called for the abolishment/amendment of the 13th Amendment, which outlaws slavery in America. Both Chris Evans and Lana Del Rey called him out—and right then and there, we knew that we #stan the right people.
Kim K was reportedly unsurprised by her husband's actions, but a source also told People that she was embarrassed by it. But in the past, Kim has stood by Kanye's support for Trump, albeit problematic at times, saying that she admires and loves him for being "a free thinker." This also comes into question since she has avoided criticizing Trump during their meetings.
Kanye will never run in the race of popular opinion and we know that and that's why I love him and respect him and in a few years when someone else says the same exact thing but they aren't labeled the way he is and you will all praise them! Kanye is years ahead of his time

— Kim Kardashian West (@KimKardashian) April 25, 2018
Comedian and SNL regular Pete Davidson has also called Kanye a "jackass" for his antics. However, even he's not safe from criticism because of his brand of humor. In the same SNL episode where Kanye was in, he joked about switching Ariana's birth control pills with Tic-Tacs, adding that he didn't want Ariana to go anywhere. This obviously hit a nerve with several women, especially among Ariana's fanbase. Before, he was also scrutinized for making a joke hinging on the Manchester bombing during Ariana's concert—he said this before they started dating but Arianators didn't appreciate the insensitivity.
Ariana has made it clear that she doesn't find her fiancé's joke funny, but defended him saying that it's just his way of making people laugh. A source also told People that Pete is empathetic toward victims of terrorist attacks since his father died during 9/11.
https://twitter.com/ArianaGrande/status/1014956407882469376
Again, neither Kim nor Ariana should be held accountable for their significant others' misbehaving. But many have also questioned why they're defending and/or dismissing these actions, especially if it goes against their beliefs. Ariana, at least, has stood her ground by denouncing Pete's insensitive joke about the Manchester bombing, but not the one about birth control—not yet anyway. People could easily say, "Hey, lighten up, it's dark humor." But you also have to listen to those who've expressed their displeasure in such humor.
Kim, on the other hand, has condemned racism but lets Kanye express his backward views on slavery. She has insisted that she has "nothing bad to say" about Trump despite the accusations of sexual misconduct and assault. (Sadly, Kanye has said in jest that he was worried about his wife hooking up with Trump because the president "is a player.")
But with Kim's influence, isn't it about time that she stood up against the man who disrespects and undermines women, despite her husband being a staunch supporter? She did label herself a feminist after all and has spoken up against Trump's discrimination of transgender soldiers. So practice what you preach—we're also saying this to other women who are sticking their necks out for their men without educating them on why it's wrong.
Art by Marian Hukom
For the latest in culture, fashion, beauty, and celebrities, subscribe to our weekly newsletter here  
Follow Preen on Facebook, Instagram, Twitter, YouTube, and Viber
Related stories:
Kanye West talks about why he met with Donald Trump
Cole Sprouse and Zendaya remind Donald Trump that "trans is not a burden"
Deadly explosion rocks Ariana Grande's Manchester concert
Ariana Grande was caught in a Twitter thread defending her relationship with Pete Davidson