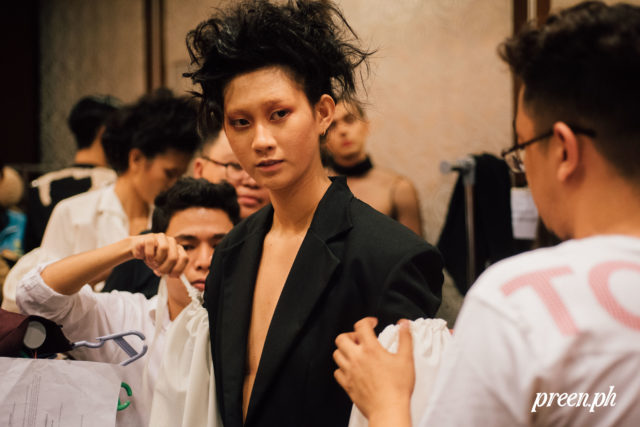 Ever since the first few fashion shows I've attended back in 2016, I've always took notice of pieces that worked for both men and women. There have been androgynous models who walked the runway throughout the years, and they looked so beautiful—in a gender neutral way—regardless if they wore a suit or an evening gown.
Androgyny in fashion is strong anywhere in the world—just look at icons like Grace Jones, even young homegrown talents like Jullian Culas who've modeled for both menswear and womenswear. Paris Fashion Week designers were also lauded recently for breaking gender norms and stereotypes, and recruiting queer models for various lines.
This season of Panasonic Manila Fashion Festival, so far, is no different. Before the day two shows started, we got to check out the pieces before they went down the runway. We were instantly greeted by models wearing ensembles from Chris Diaz's Camino. There were shimmery and leopard-print dresses, as well as studded suits and rompers that seem unconventional for menswear.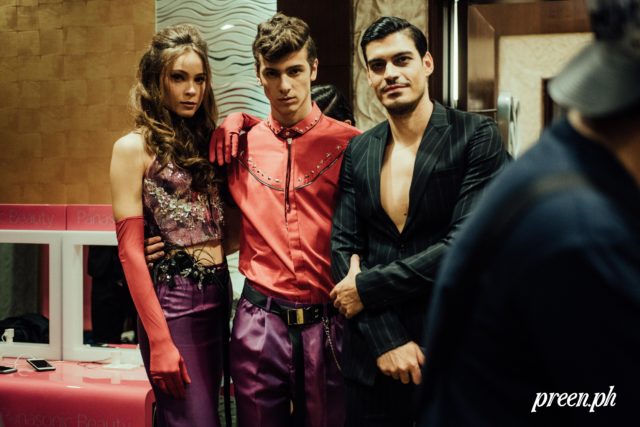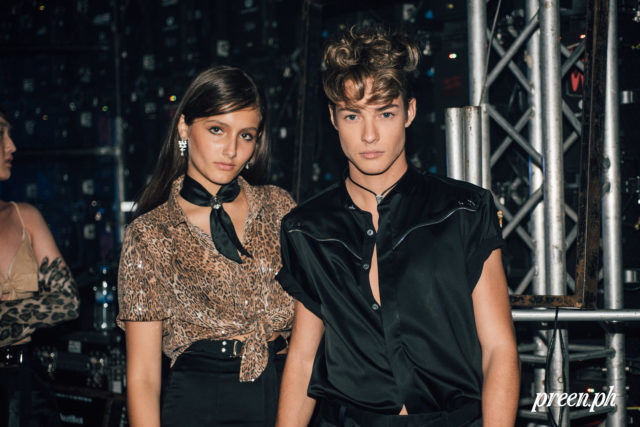 At the corner of the dressing room, there was a male model in a sheer nude top with a purple gradient in the navel area. It looked like beads or crystals were sewn in as well. We saw the same model again minutes before he walked for Kelvin Morales, and he was wearing a bejeweled mask á la Maison Margiela.
"My brand is about not focusing on standard beauty," Kelvin told us backstage. Hence, he made men's pieces that have backless details, ruffle-hemmed pants, and shimmery accessories. "Women aren't the only ones who can wear a backless piece."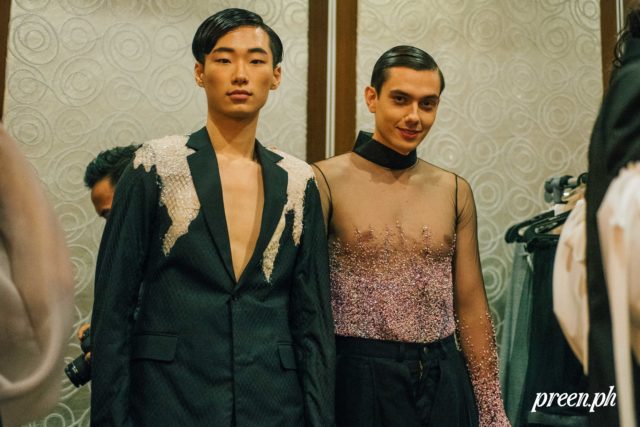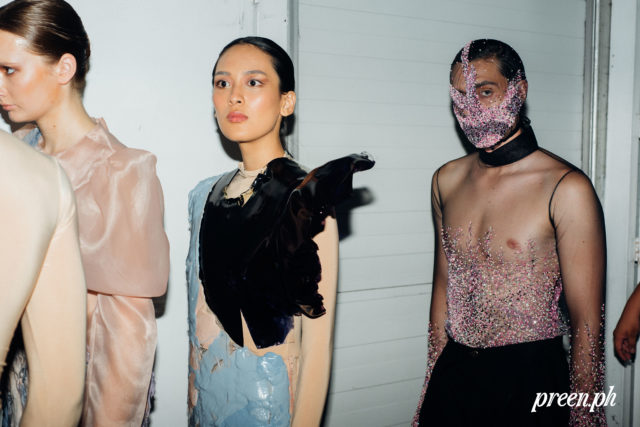 Wilbur Lang's womenswear collection, which he said was inspired by Katharine Hepburn and the Wiccan coven, featured flowy dresses—from plain white to dark burgundy shades—and pantsuits that Mr. Darcy of Pride and Prejudice would've approved of. "Usually I would go for masculine stuff and I told myself that I would do more feminine clothes," he told us. When it came to his suits, which had ruffle details on the neckline and tailored blazers, Wilbur maintained that he's always created pieces that any gender can utilize.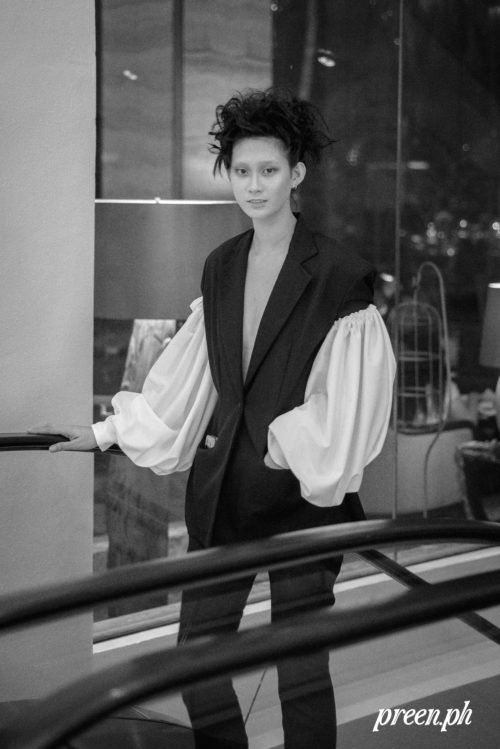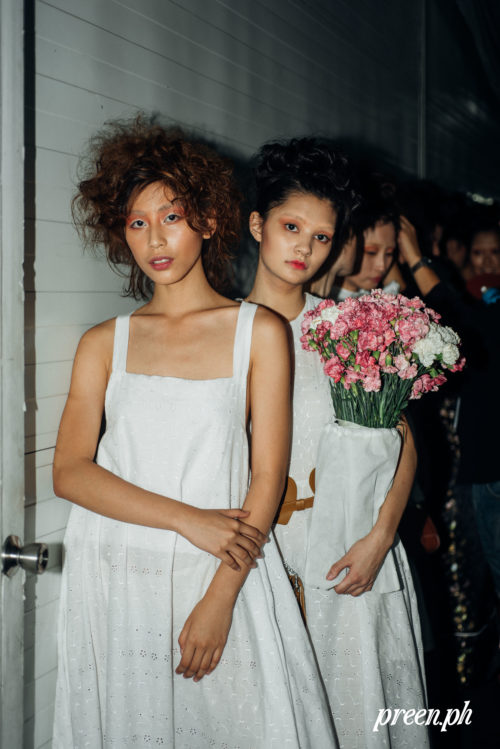 We also saw PMFF regulars who are known for their unique streetwear that challenges all gender norms. Renan Pacson's pieces reminded us of patterned bandanas and all the models wore elaborate accessories. KC Pusing, who often does monochromatic pieces that hinge on rebellious fashion, shares that her latest collection is inspired by "self-exploration" and that bold, free-spirited and ambiverted women can wear the pieces.
KC added that she also wanted to focus on androgynous styles this season. "I really want to balance between guys and girls," she said. "While doing this collection, I didn't know if I was going to do menswear or womenswear. So I thought, why not just do androgynous this time? Like, be flexible with the pieces." True enough, all her models were in cutout ensembles that we could see anyone use for layering clothes.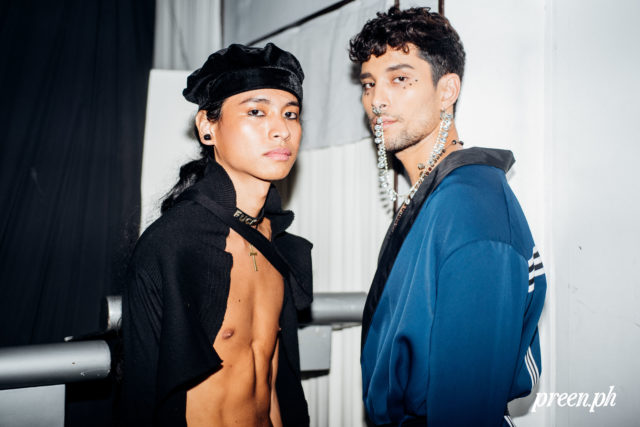 For something playful, Kaye Morales also dabbled into streetwear territory. There were baggy pants, fishnet pieces, and denim jumpers. Society might think these look too "mannish" (as Janelle Monáe famously said in her song "Django Jane") but for us, it's another facet of edginess.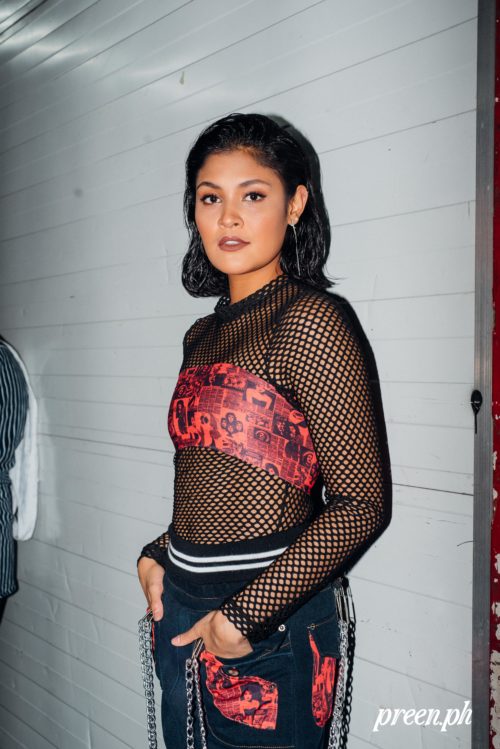 There are two days left in Panasonic Manila Fashion Festival and I'm hoping to see more pieces that break gender stereotypes. Don't get me wrong, I love seeing gowns and fun feminine pieces too. But androgyny in Philippine fashion is really something that should be highlighted and not seen as an oddity in our current cultural landscape.
Photos by JP Talapian
For the latest in culture, fashion, beauty, and celebrities, subscribe to our weekly newsletter here  
Follow Preen on Facebook, Instagram, Twitter, YouTube, and Viber
Related stories:
We hung out with bright "unicorns" at the MFF backstage last night
The prints and colors that popped in the dim PMFF backstage
Panasonic Manila Fashion Festival Season 8: KC Pusing
Panasonic Manila Fashion Festival Season 8: Wilbur Lang
Panasonic Manila Fashion Festival Season 8: Chris Diaz