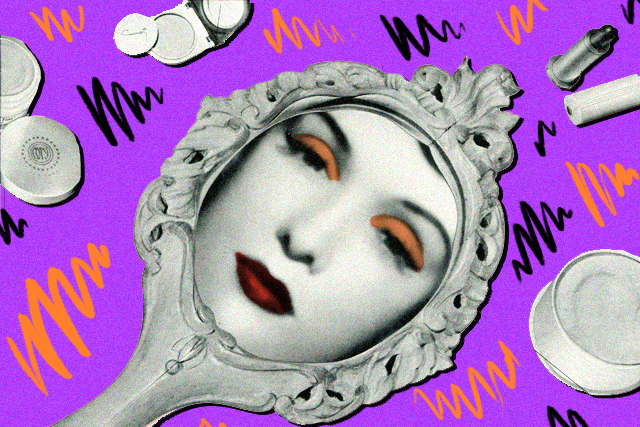 Who's ready for Halloween?! We know we are. Costumes? Check. Treats? Check. Home decor? Check. Fright night is only a few days away, but if you're still trying to figure out how you can pull off Halloween, maybe these makeup transformations can give you inspirations instead. From something glam and wearable, to going all out sinister with prosthetics, here are from some of our favorite Halloween makeup tutorials from beauty gurus and vloggers.
Halloween glam by Rihanna
For starters, let's start with something Halloween-ish yet still wearable. Riri's Tutorial Tuesday episode is perfect if you want to go glam instead of full-on spooky this Halloween. For the look, she used Fenty Uninvited in Black which gave her a full black lips. For her eyes, she used Flyliner longwear liquid eyeliner to get the perfect cat eye and finally finished it off with Killawatt freestyle highlighter for drama which she applied on the inner corner of her eyes.
Half skull on Kylie Jenner by James Charless
James Charless and Kylie Jenner together in one video was so much fun to watch. Along with learning a few things, like how Kylie wants eight more kids in the future, we also learned how to do a fabulous half-skull makeup in case you're planning to go "glam with a James Charless Halloween twist." For this look, obviously, the Kylie Cosmetics' Halloween collection was used. For Kylie's eyes, James used the howl-o-ween shade in the crease. He applied it from the top to the bottom lash line and then winged it out. He also used the Hex on my Ex and Hello Gorgeous Glitter to add some dimension on the eyes. For the skeleton on the bottom half of the face, he started with sketching the outline first with a white highlighter pencil and then using Hex on my Ex again to blend everything, so the color is more deep, dark purple rather than just plain black. He finished it off with the Go Ghost highlighter on the cheeks and brow line.
Creepy cute pastel clown by JKissa
Though JKissa normally doesn't do character transformations on her channel, she recently did so and went  for a "high fashion pastel two toned editorial clown." So the look is divided in two: Sad clown on the right and happy clown on the left. First, she applied the Flower Beauty skin elixir, Power Play concealer from Cover FX in white, mixed with shadow pigment from Sugarpill for some pretty shimmer. Next, she put on white Urban Decay freebase primer potion on her eyes, and Sugarpill eyeshadow in Tako under the right eye for the sad side. She then used the Strobe Cosmetics' Creepy Cute palette. The Cold Shoulder and Tombstone shades gave it more color. For her left eye, she used the Strawberry Milk and blended it with Third Eye, which is more of an orange, for the "happy" side of her face. She also applied Supercharged Electro Cute pigment from Sugarpill and Splash eyeshadow from Chaos makeup.
Pulled up jack-o-lantern by Jackie Aina
To pull off this look, Jackie started by gluing down her right eyebrow. She used a brush and spoolie and then set it with powder. She then applied diluted orange Snazeroo paint as base, finishing it off with the orange shade from Karity's 21 matte eyeshadow palette, And then used Black based paint from Mehron to apply the lines and cover almost completely her nose. For the eyes and mouth, she connected the lines from section to section and then set it with black eyeshadow. She then used the red, brown and black shades from Karity for shading, and finally, yellow highlighter from Fenty Beauty.
Jeffree Star as Voldemort by Glam&Gore
Jeffree Star's videos are always fun to watch, but this Halloween special was on another level. With special guest Mykie aka Glam&Gore. Dreams, he made his (Gucci) Voldemort dreams come true. Now this look is more complicated as compared to the others listed because it requires prosthetic. Mykie also used Ben Nye products like the colorless luxury powder, and some paint. She also used alcohol activated paints from Ve Neill. The whole transformation itself was pretty awesome, but also seeing Jeffrey trying to refrain from laughing was entertaining AF.
Art by Marian Hukom
For the latest in culture, fashion, beauty, and celebrities, subscribe to our weekly newsletter here  
Follow Preen on Facebook, Instagram, Twitter, YouTube, and Viber
Related stories:
All the times the Kardashian-Jenners won Halloween
This Halloween season, wear lipstick that's as dark as your soul
Please don't buy this sexy Meghan Markle Halloween costume
For Halloween, I want to dress as these strong female leads