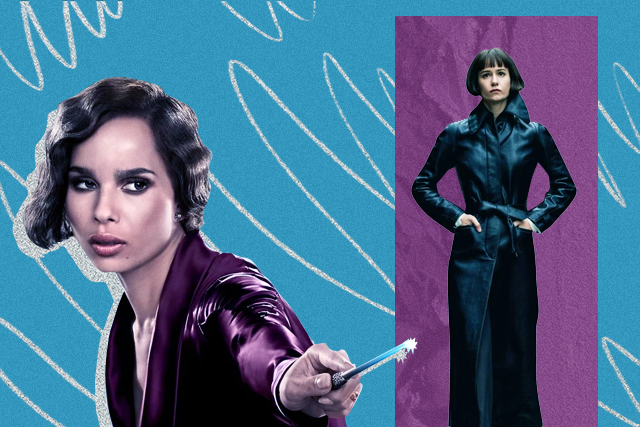 Fantastic Beasts: The Crimes of Grindelwald has finally hit theaters. Unlike Fantastic Beasts, i found that the women characters played important roles in each storyline that played out. Some were unexpected while others were typical female leads we love seeing. We talk about the four that stood out and made an impact, and, no, Queenie is not on this list for many reasons but you'll have to watch the movie to understand what I'm talking about.
Tina Goldstein
https://giphy.com/gifs/trailer-fantastic-beasts-the-crimes-of-grindelwald-1wmxERDZ2BCMQdjEnh
Tina Goldstein displayed strong characteristics throughout the film. First off, she's an auror, meaning she's part of the magical law enforcement of the ministry of magic. What does she do? Oh, just investigate crimes relating to the dark arts. She doesn't let anything get in the way of her work, especially her feelings towards Newt. She holds her own amongst the men and survives all the action to make it to the end of the movie.
Leta Lestrange
Zoë Kravitz is back as Leta Lestrange and we see more of her than in the first film. Because the plot of the film heavily revolved around her family tree, we get to see a lot of flashbacks from her life. At Hogwarts, she was bullied but stood up for herself. During one of the most tense scenes in the movie, she did something I honestly didn't expect. Instead of joining Grindelwald, she sacrificed her life to save everyone else who couldn't escape the flames including Newt, Jacob, Nagini, and Theseus. It was an emotional, action-packed scene.
Nagini
https://giphy.com/gifs/trailer-fantastic-beasts-the-crimes-of-grindelwald-8cVPSVoruzgA5fqSCy
Nagini is a complex character. Here, we see her before she met Voldemort. She is a maledictus, which means she carries a blood curse and eventually will not be able to transform back into her human form. But, in the movie, we get to see her before all that. Because she could transform into a snake, she was made an attraction at a traveling circus. After finally having enough, she was able to escape with the help of Credence. She also stays strong and level-headed when Credence starts to get emotional and out of control, despite her own problems. In the end she is sort of left by herself but I'm looking forward to seeing how her character develops in the coming installments.
Bunty
Bunty is only in a few minutes of the film but I found her character intriguing. Aside from obviously having feelings for Newt, let's focus on her work. Continuing from the first installment, Newt still has beasts to take care of. When he's not there, Bunty does all the work. She feeds them, treats illnesses, and basically makes sure all these fantastic beasts are in order. That's no easy feat considering what type of creatures she's dealing with.
Art by Marian Hukom
For the latest in culture, fashion, beauty, and celebrities, subscribe to our weekly newsletter here
Follow Preen on Facebook, Instagram, Twitter, YouTube, and Viber
Related stories:
Trust us, Glorious is everything you imagine it to be
Ralph Breaks the Internet reminds us to take a break from our screens
A list of all the Filipino movies coming out on Netflix
Old-school rom-coms to watch if you loved Lara Jean's fave movie