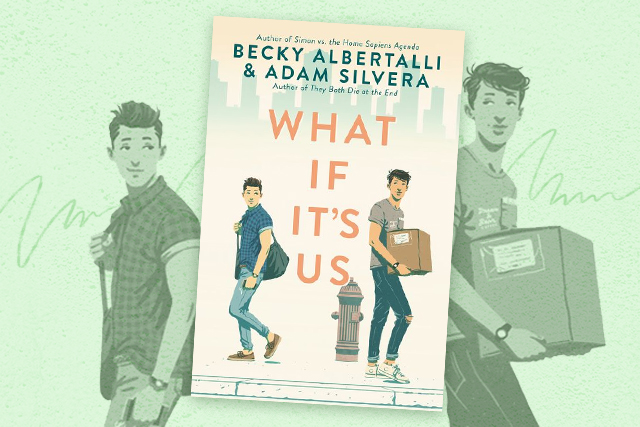 What happens when two acclaimed novelists collaborate to write one book?
This is what I found out when I interviewed Becky Albertalli and Adam Silvera. Becky is the author of renowned novels Simon vs. the Homo Sapiens Agenda (yes, the one adapted into the movie Love, Simon), while Adam is the NYT bestselling author of They Both Die at The End, More Happy Than Not, and History is All You Left Me. For the first time, they teamed up for the for the novel What if It's Us, which tells the story of two guys, Ben and Arthur, who meet each other by chance and had a connection. But while Arthur believes in love at first sight, Ben is not sure if he believes in love at all. As their relationship grows, they are faced with the complexities of young love. And if you think that sounds like any other YA book, I gotta tell you, I was given the book for perusal right before the interview. And after the first few paragraphs, I was already hooked. Not even fibbing. So I guess that is what happens when two acclaimed novelists collaborate—a book that's hard to put down. But I had other questions too, which Becky and Adam were happy enough to answer.
How do you know each other; how did you guys meet?
AS: So we have the same literary agent who sold our debut novels in the same week, and our friendship kind of grew from that—over that enthusiasm over each others' books.
What was the inspiration behind this book?
BA: It was very early on in our friendship, we hadn't even met in person yet and we were telling stories, like the dating trenches. And I told the story that happened to me a long time ago where I had made eye contact with a cute boy in a coffee shop and didn't have the guts to go talk to him. But then later on I put up a post online like, 'I saw you, I didn't have the guts to speak with you, but maybe, you know…' And um I did not find my guy.
AS: But I was really excited about it; even just the very possibility of what would have happened if Becky had [found him] and it was like "Hey, why don't we make a YA novel where two teenagers meet then they get separated then they get reunited and what happens when they do?"
I was going to ask if you believe in love at first sight, but from your story, I take it that you do?
AS: I believe in love at first sight, but I also believe in love forming later as well, you know?
BA: I actually don't believe in love at first sight. I mean, I believe in chemistry at first sight and even the potential for love at first sight. And even me in my most hyper-romantic, kind of like [me] writing that missed connections post, there was no part of me that was like, "That was love." That eye contact moment, it was more like potential love.
So let's talk about the creative process. How did you guys write the book?
AS: We had spent years developing who these boys were and what their story was, that when it was time to write, we knew a lot and we had an outline that we kinda like stuck to. On some levels, it kinda grew to other places, but you know, Becky wrote all of Arthur's chapters and I wrote all of Ben's so Becky would send me a chapter and I would send her a chapter, and we'd do that all the way up to the end.
What do you think are the advantages and disadvantages of working alone vs with each other?
BA: I find no advantage to writing alone. [Laughs] No, the advantages of writing alone are certain books are contracted alone, but writing together was so much fun. It was such a joy.
So there were no disagreements?
AS: No
BA: Yeah, we disappointed everybody [Laughs]
How do guys think  queer characters are portrayed differently now, especially in the YA genre?
AS: I think that we're getting broader stories, you know? And the stories are becoming more popular and queer characters are being more integrated into stories that aren't necessarily just about being queer. We're seeing queer people on genre stories; we're seeing queer people in Riverdale, and so many other shows and movies where them being queer is not a major focus. Like, I'm watching the Charmed reboot right now and one of the sisters now is bisexual who's dating another woman of color and that's really exciting.  And there's commentary there but it's not the major focus of the show.
BA: There's broader representation and there's a lot of opportunity to kind of keep expanding that in the future and right now, in YA books, which are closer to the forefront of that conversation, LGBT kids are grossly represented. And TV is worse, and film is even worse. Hopefully, we'll trend away from that and into more and more representation, like broader in different places.
Are you open for this to be translated into a movie? If yes, who do you want to play Arthur and Ben?
BA: It actually has been optioned for film by Brian Yorkie and Anonymous Content, who are the team behind Thirteen Reasons Why, so yes, it's very early in the process.
AS: And for casting, we can't really speak to that because we don't know who are gonna be the best people to represent Arthur and Ben. You know like it can be 'oh, he's  pretty,' but that doesn't mean he's the best person to play the character. So that really will come down to casting and we will just hope that they best represent Arthur and Ben's energy.
***
If you want to get your hands on What If It's Us, the book is available on National Bookstore branches, as well as online.
Art by Marian Hukom
For the latest in culture, fashion, beauty, and celebrities, subscribe to our weekly newsletter here  
Follow Preen on Facebook, Instagram, Twitter, YouTube, and Viber
Related stories:
Queer literature is happening and these YA books prove it
My long-standing romance with the Young Adult genre
Young Adult authors Jenny Han and Siobhan Vivian on fake news and the perfect place to write
How Love, Simon inspired people to come out