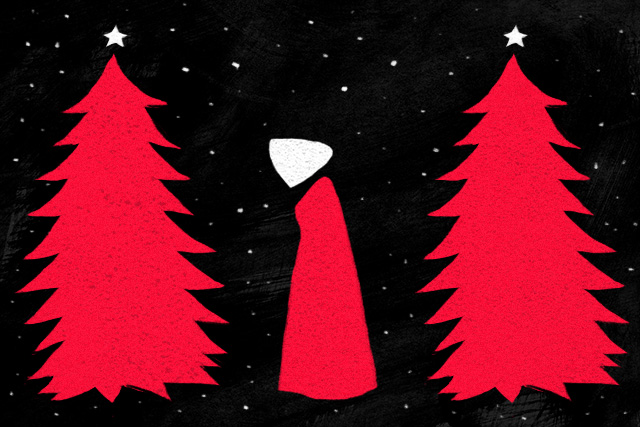 Everything US First Lady Melania Trump does is almost always criticized nowadays. We can't blame people, especially after she wore a pussy bow blouse after the Access Hollywood video leaked and, of course, that damn coat. On the other hand, it gives netizens the chance to create memes and jokes that sometimes get too much.
The latest meme target are the White House's Christmas decorations this year, which include a hallway lined with crimson trees. Many agreed that it looked ominous, even comparing it to the jarring scenes in The Shining and the Red Wedding in Game of Thrones (both have given me nightmares). But what caught our attention were the comparisons to The Handmaid's Tale.
Love this Photoshop of the red Christmas trees in the White House!😂 pic.twitter.com/Dg66Jwohwj

— Susie (Contains Nuts) (@Susie_Soapsuds) November 26, 2018
Okay, maybe Melania's choice of decor doesn't really mean anything. Maybe she just likes red because green is boring. Or she's redeeming herself after last year's "dead trees." But humor us for a bit because handmaid-inspired trees are very timely.
As you know, Handmaid's Tale is one of the shows that the #MeToo movement has resonated with. After all, the story is about the loss of women's rights and men raping handmaids to conceive children. Even though their world is fictional, the circumstances are getting real by the minute.
Let's not forget the amount of female protesters who dressed as handmaids to send a message against powerful men who don't take accountability for their actions. You know, like Melania's husband, Donald Trump, who practically admitted to sexual harassment. Also Brett Kavanaugh, Supreme Court Judge who was accused of sexually assaulting five women when he was in college.
If it turns out that Melania and her team were indeed inspired by handmaids, we're giving them props for creativity and messaging. But seriously though, we want to know the real reason Melania went with blood-red trees because it's starting to creep me out the longer I stare at them.
Art by Marian Hukom
For the latest in culture, fashion, beauty, and celebrities, subscribe to our weekly newsletter here
Follow Preen on Facebook, Instagram, Twitter, YouTube, and Viber
Related stories:
Melania Trump's jacket of choice was deliberate, the reason behind it will shock you
Why The Handmaid's Tale is the anti-woman series you need to see right now
The curious case of Melania Trump
Christmas decor just got better with Beyoncé and Hillary Clinton tree toppers