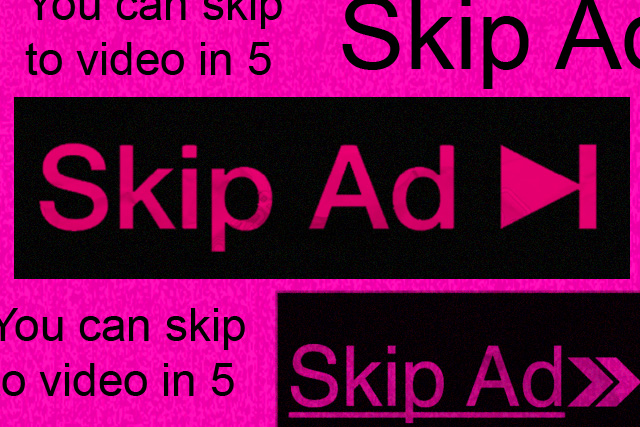 Lately, YouTube has become one of my favorite sites to visit. The channels I subscribe to vary from beauty to ASMR and overall lifestyle content. Sometimes, as I am getting ready for the day, I watch someone's travel vlog and then use an ASMR video to fall asleep. If you're on YouTube as much as I am, you probably enjoy it, except for the ads of course, which are everywhere. Either they show up just once before the video starts or they pop up in the middle—this especially sucks for ASMR videos because my earphones are on full blast.
Usually, you have the option to skip it after a few seconds but other times you have to sit through the entire thing. Now think, are you the type to skip or keep watching? Do you even pay attention to these pop-ups? I'm sure most of you, like me, skip and don't really fully pay attention. Some might say it's because our attention span has gotten shorter but Agility reports that we're just more selective. Contrary to what we think, "The attention of business pros can be captured for long periods of time with compelling content that includes great stories and interesting, gripping visuals." And this is something I agree with. I don't skip through ads because I'm impatient, I do so because I'm not interested. Somehow, it is less about the attention span and more about the content being put out.
Honestly, at some point, all of these pop-ups start to feel and sound the same to the point that it is no longer relevant. Sure, it's just a few seconds but that's wasted time you can't get back. Aside from the actual ad, it is also the frequency at which we see it. At some point, it would have played so many times that it becomes saturated and old. So, what's the solution? I don't think there's one quick and easy answer but keeping it short and simple would definitely be a bonus. And, the only time I actually sit through a long ad is if the story pulls some emotion out of me that I start to ugly cry. Personally, I can also see how this affects me as a content creator. I always have to be aware of what's happening around me and create stories, produce shoots, and social media posts that people want to consume. I have to put myself in their shoes and think of ways to make sure they don't scroll past these posts. What do you guys think? What would make you skip hitting the skip option on YouTube?
Art by Marian Hukom
For the latest in culture, fashion, beauty, and celebrities, subscribe to our weekly newsletter here
Follow Preen on Facebook, Instagram, Twitter, YouTube, and Viber
Related stories:
Will YouTube documentaries change the game for the website?
All the types of #YouTubeDOWN meltdowns
Watch Hello Kitty make fun of herself on her YouTube channel
BTS' "Idol" music video beat Taylor Swift's YouTube record