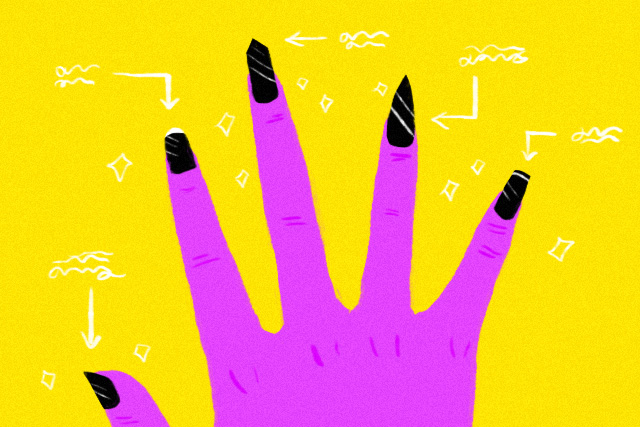 I'm someone who doesn't grow her nails too long. One, because I don't think I need claws; and two, I'm still kicking  my nail-biting habit. That said, the only nail shapes I know of are square, round, and long talons—that was until the other day.
Indeed, nail shapes go beyond the three types I mentioned above. There are also certain tasks that you might not be able to achieve because your nails will get in the way. Here are some instances according to the various types that exist.
Round and Oval
These two shapes are commonly seen on shorter nails. Round keeps the sides intact; while oval "replicates the natural shape of the nail shape," which is fitting for people with shorter fingers.
Perk: As someone who has had this nail shape for most of my life, the nails look natural and they're low-maintenance. No need to worry about breakage or accidentally stabbing someone with long nails.
Struggle: Opening certain packaging and even soda cans, especially if your nails are extremely short. We are the people who constantly ask help to open things, which is totally fine until you're alone and don't know someone to help you with your packages.
Square
I thought this was for shorter nails, but turns out it's a long-nail style. This creates a "perfect square with no soft edges," creating a dramatic nail look.
Perk: You now have an excuse to wear darker nail polish that'll stand out and have enough space for nail art. You also have a flat tip that's perfect for opening stuff and ripping packages.
Struggle: Just like with any long nail shape, you risk breakage while you open something. Plus,  sharp edges might go dull if you didn't file them the right way (unless you're going for the squoval look). Marie Claire also noted that your fingers will look stubbier.
Almond
Think of an almond and translate it on your nails. It's basically an oval shape with the edges filed to create a more pointed tip.
Perk: These are perfect to create that minimalist nail art where you put a rhinestone on the cuticle area. Also, you can press smaller buttons using your pointer fingers' tips.
Struggle: Nailshapes.org said that if you have brittle nails, this shape isn't for you because the tapered design creates a weak structure. You need to invest on acrylic or gel polish to keep your nails sturdy.
Coffin
"To create this look, begin with an almond or oval shape and file the nails edge, so that it is flat/straight," Bustle explains. It's also one of the popular nail shapes that's taking over Instagram this year.
https://www.instagram.com/p/BrA2m6DB2DB/
Perk: Most of the time, coffin nails are done with stick-on acrylic nails, especially if you've always had short nails. It's a great way to experiment on nail art and it'll make your fingers appear longer.
Struggle: The nails might get in the way while you type on the keyboard. Definitely not recommended if you write or encode for a living, and you don't want to get behind on your deadlines. If you're using fake acrylic nails, you might accidentally break them and you'd have to fix them yourself. On the off chance that you don't have time to stick them back, you're either going to live with a missing "nail."
Stiletto
These are the sharp talons I mentioned earlier. Stilettos are dramatically-shaped nails that's best done with acrylic and gel nails. This is usually done with a nail file to make those perfect points.
Perk: They'll make any outfit look elegant. Since these aren't natural nails, you can opt out of stiletto nails anytime. Also, scratching your nose or your head is going to be a dream.
Struggle: If you're used to applying concealer under your eyes using your fingers, the nails will get in the way. You also won't be able to rip open small packages and chips, press smaller buttons (unless you use the nail's tip), and typing will still become a hassle. People who can function with stiletto nails are the real heroes.
Art by Marian Hukom
For the latest in culture, fashion, beauty, and celebrities, subscribe to our weekly newsletter here  
Follow Preen on Facebook, Instagram, Twitter, YouTube, and Viber
Related stories:
These nail art prove you don't need long talons to have cool-looking nails
Ultrasound nails is the new way to show off your baby
KC Concepcion shares her secret to healthy nails
This insane tutorial shows a pooping butt nail art