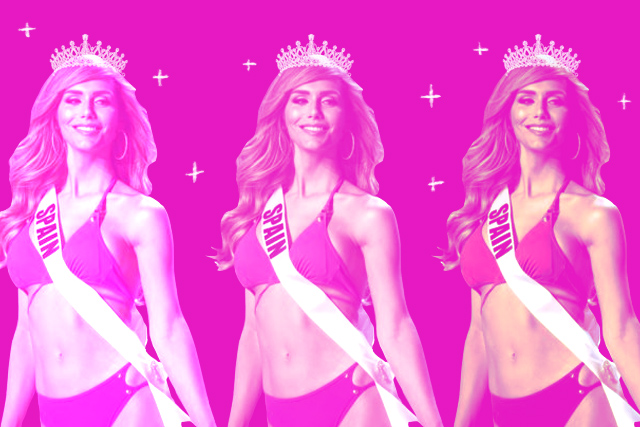 First and foremost: Miss Spain Angela Ponce is, indeed, a woman. Being transgender doesn't diminish that.
Weeks before the Miss Universe pageant even began, the transphobic comments started pouring in like crazy. Of course, since we're living in the Philippines, social media posts from locals have trended on Twitter. These were mostly coming from straight men who are questioning the womanhood of Angela.
One Facebook post, for example, quoted Miss Universe 1994 Sushmita Sen's answer to "What is the essence of being a woman?" He said that Sushmita answered that the ability to bear a child is what makes a woman. That's not the exact answer, but the beauty queen did say, "The origin of a child is a mother, and is a woman."
https://twitter.com/eloitsmeee/status/1074205793971462151
We understand how someone would come to the conclusion that Sushmita meant bearing a child made a woman. However, she didn't specify childbirth. Becoming a mother doesn't just mean you should carry a baby in your womb, adopting a child and/or being a motherly figure to someone also count.
That said, equating Angela's womanhood to being able to bear children is an archaic way of thinking. What about the cisgender women who are unable to get pregnant? Does that make them less of a woman, too? Additionally, a woman shouldn't be expected to be a mother as the end goal. Many don't want children, and that's okay. There are also those who want to focus on their careers rather than start a family, and that's fine too.
Sadly, men aren't the only ones who feel this way. Straight women and some members of the LGBTQ+ community have also voiced their disapproval of Angela's participation in Miss Universe. They claim that "being gay" doesn't qualify her to join, that her "femininity" isn't enough to warrant a crown. In the same breath, they preach about equality in the world.
Angela isn't gay, she is a woman. Her circumstances may be different than yours but, as she said, "My identity is here [points to temples], not down there." If you want equality, take a long hard look in the mirror to make sure you're practicing what you're preaching.
I will not forget you. You are loved mumsh! ♥️ #AngelaPonce #MissUnivers2018 pic.twitter.com/S3YvfZ3GgW

— ♡ anreena ♡ (@anreenagrande) December 17, 2018
Also, suggesting that Angela should just join a trans-exclusive pageant doesn't make you less prejudiced. The Miss Universe is a celebration of all women's beauties, and asking Angela to just join another pageant is a step back from inclusivity.
Despite not winning the Miss Universe crown, Angela was still given the opportunity to talk about her advocacy as the first transwoman to join the pageant. She also walked the runway with a sea of applause celebrating her success to have gotten this far.
Amid all the transphobic comments, we just know know that she will still continue fighting for her advocacy. "My hope is for tomorrow, to be able to live in a world of equality for everyone. Simply for us all to understand that we are human and that we must make all our lives easier together. That reality for many people is going to change," she said in her Miss U AVP. "If I can give that to the world, I don't need to win Miss Universe. I only need to be here."
https://www.youtube.com/watch?v=PXGeZbOvcJ0&t=21s
That statement alone is proof of how strong Angela Ponce is—stronger than any of the cisgender men, women, and all the people who are threatened by her existence. She is here, we see her for the woman she is, and we're expecting to see more people like her in the pageants to come. If you don't like that, switch your TVs off and keep your rude words to yourselves.
Art by Marian Hukom
Photo courtesy of Inquirer.net via AFP
For the latest in culture, fashion, beauty, and celebrities, subscribe to our weekly newsletter here  
Follow Preen on Facebook, Instagram, Twitter, YouTube, and Viber
Related stories:
Fans get emotional over Miss Spain's Miss Universe journey
Meet Angela Ponce: The first transgender woman joining Miss Universe
Miss Universe judges women's beauty, not their sexual identity
Catriona Gray doesn't think you need to speak English to win Miss Universe