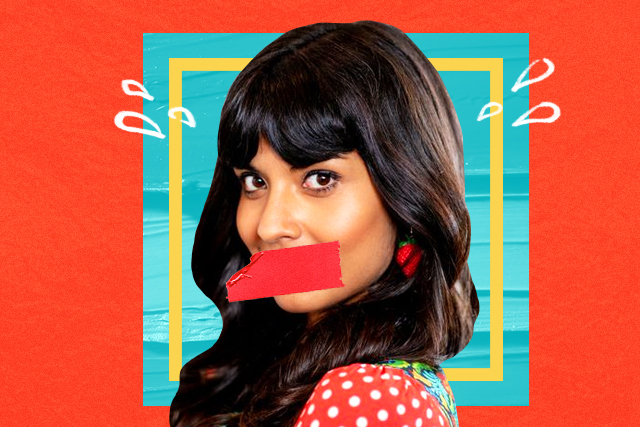 I've always been skinny, and believe it or not, though I have been outspoken about body positivity, I'm not always comfortable in my own skin. There are times I feel like I look like some skinny 12-year-old boy, and I hate it… and feel guilty about it. I know some people feel I should be grateful because my body type is what society dictates as "beautiful." I have friends who have struggled with their weight all their lives. And though I would make speeches about how they should embrace their own brand of beauty, sometimes I do feel like a fraud. Clearly, I don't know how they feel so maybe it doesn't give me the right to preach to them. This is why I felt personally attacked when I read that Jameela Jamil was told she's "too skinny" to advocate for body-positivity.
Aside from her shows, the actress is also known as the founder of I-Weigh, an Instagram account whose aim is "for us to feel valuable and see how amazing we are beyond the flesh on our bones." You could say its birth was a trigger response to another Instagram account–one which presented a toxic feed, including a post showing the Kardashian-Jenner sisters being judged and compared with each other based solely on their weight.
Can you imagine your whole being being reduced to some numbers? No wonder we desperately need body-positivity. And speaking of being judged for your weight, how f*cked up is it that here is a woman trying to change the world and empower other women, and there are trolls out there undermining her work just because she doesn't fit their standard of what an advocate should look like?
Never mind that Jameela has actually been fat-shamed by the media before, or that she has battled eating disorders, disability and bullying. The point is, her weight shouldn't be an issue to her advocacy.
Through Twitter, Jameela finally responded to her critics. "I just want to make clear what we are doing at I-Weigh," she wrote. "We are building a platform we will use to lift up actual activists from different marginalised groups. I am not trying to be the face of all of this. That would be frankly, f*cking ridiculous."
https://twitter.com/jameelajamil/status/1087500565980966913
She stressed too that as a celebrity, she has a wider reach of audience compared to most, and that's a responsibility that need not be taken lightly. Surely, there's nothing wrong with using her voice to try and affect change. "I'm just using the platform I am lucky to have, and the privilege I am afforded due to my job and my looks being deemed [socially] 'acceptable' to get the conversation to the people who can actually change the laws and change we treat people." She added, "Fat phobia and ableism leads those with power to willfully ignore the voices of the most important activists. Because of my privilege, they are not currently ignoring me. I take it as my duty to use that privilege to push things forward for ALL of us."
Moreover, she assured the critics who deem her unworthy to be on their side that "This is not me trying to steal your movement." She wrote, "It's me trying to kick the gates open for it. I haven't always been perfect at making sure everyone feels included in my feminism, but I am doing better now, and working at it every day. I stand with you. Not in front of you."
Not to say that Jameela is completely faultless. Even the actress acknowledges in her Twitter bio that she is a "feminist-in-progress." In light of those saying that I-Weigh lacks black representation in her page, she admitted, "I am sorry. I am learning and I thank you for educating me. I hear you." She also stated in her tweet that "I in particular want to address this to plus size black women, who I continue to see are so left out of this conversation. It's my bad for not having understood your plight and fought harder with you sooner." She acknowledged her mistake, saying, "It was ignorance, not a lack of care. I stand with you now and forever."
https://twitter.com/jameelajamil/status/1074010675779919872
Here, we see that the conversation about body-positivity is a continuous process. And the key to achieving our collective goal is to involve people and educate—not alienate—them. Shaming and branding Jameela—or anyone—as an outcast might only set us back on the movement. Let's review: Body positivity is about being accepting of your body, no matter its size, shape, or color, or despite its "flaws." Ultimately, it aims to empower ALL women. So why make it an exclusive movement? The you-can't-sit-with-us mentality simply has no place in this. Shouldn't we be glad that someone, despite being different, can empathize to somebody else's plight? Just as feminism needs men on their side, surely body-positive activists can appreciate that a "skinny" actress is more than willing to fight for the cause.
Art by Marian Hukom
For the latest in culture, fashion, beauty, and celebrities, subscribe to our weekly newsletter here  
Follow Preen on Facebook, Instagram, Twitter, YouTube, and Viber
Related stories:
Avon UK removes body-shaming ad after getting called out
Our fashion favorites from the Golden Globes red carpet
Why aren't women allowed to look old on magazine covers?
This weekend, remind yourself about how beautiful your body is