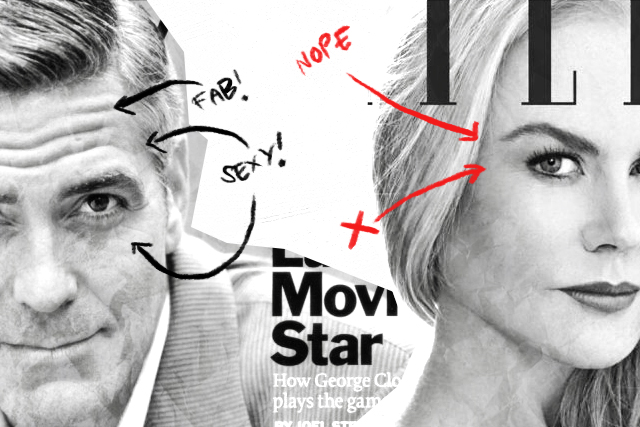 Magazine covers are often criticized for editing photos to the point that it creates impossible beauty standards, especially among women. There have been several cases of unnaturally thin waist lines, as well as concealing curvier bodies. Another sin that certain magazines do, as Jameela Jamil pointed out, is glorifying older men's wrinkles while also highlighting the seemingly flawless skin of older women.
"Men who age are sexy in HD. Women mostly just shouldn't dare age. Men can celebrate the inevitable, we must fear it," Jameela tweeted, noting how Photoshop is being weaponized against women. While it's okay to opt for skincare treatments that'll give us great skin at any age, imposing the idea that women are required to stay and look youthful isn't normal.
https://twitter.com/jameelajamil/status/1069340917398716416
Society is quick to judge a woman who doesn't have perfect skin and/or body. We are expected to be taut, wrinkle-free, and smooth—never mind the fact that we give birth and experience aging just like everyone else.
But when an older man graces a cover, he's lauded for looking attractive for their age. George Clooney, for example, is still seen as a sex symbol no matter how old he is. Meanwhile, women who are in the same age group as him are only allowed to three wrinkles per magazine cover. They're praised for their looks too, but after much airbrushing.
"Photoshop in advertising and magazines is so often used in ways that are ageist, ableist, fatphobic, racist and deeply sexist," Jameela said in another tweet. "It does more harm than good. We are making people almost allergic to the mere sight of normal human features."
https://twitter.com/jameelajamil/status/1069341788815704066
As consumers, we shouldn't subscribe to the notion that we have to look flawless for society to accept us. It is society that needs to fix how they perceive people outside of television and movie screens, and even magazines. Women are people, not forever-youthful Barbie dolls and that doesn't make them any less beautiful.
Art by Marian Hukom
For the latest in culture, fashion, beauty, and celebrities, subscribe to our weekly newsletter here
Follow Preen on Facebook, Instagram, Twitter, YouTube, and Viber
Related stories:
Lea Salonga, Daphne Oseña-Paez, and more give their two cents on Photoshopped bodies
Will magazines ever stop cropping plus-size women?
Read between the lines: The microtrangressions in lifestyle articles
This US magazine bans the word "anti-aging"