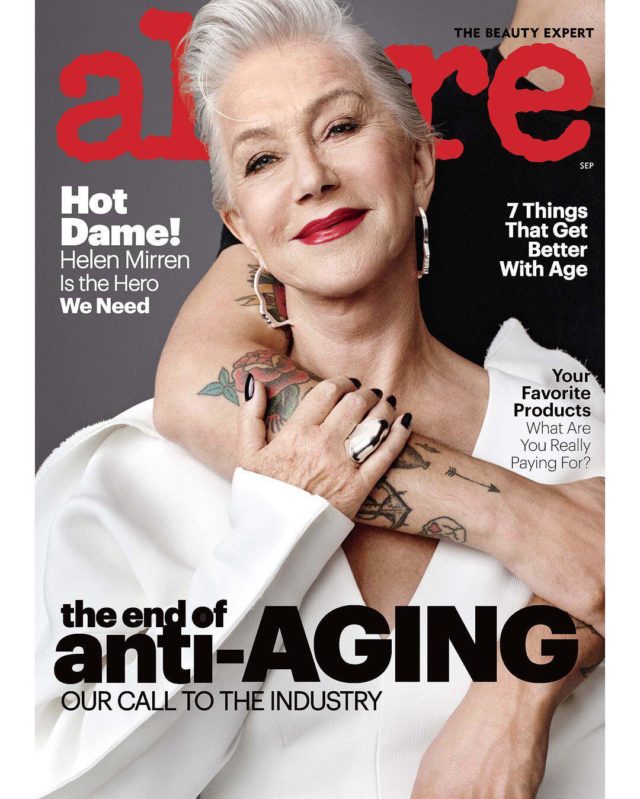 Allure is celebrating age in all forms by dropping "anti-aging" from their current lexicon. Can I hear a resounding "YAS"?
The announcement comes as they revealed their September cover star Helen Mirren. "The end of anti-aging: Our call to the industry," it reads.
"Whether we know it or not, we're subtly reinforcing the message that aging is a condition we need to battle—think anti-anxiety meds, antivirus software, or antifungal spray," Allure EIC Michelle Lee wrote. "Language matters. When talking about a woman over, say, 40, people tend to add qualifiers: 'She looks great…for her age' or 'She's beautiful…for an older woman.' Catch yourself next time and consider what would happen if you just said, 'She looks great.'"
Digital editorial director Philip Picardi added that Allure will still continue to give tips and product reviews to take care of oneself. "We'll be making a concerted effort to stop shaming women for getting older, and to celebrate their beauty instead," he said.
While the magazine is taking a progressive step in the right direction, Michelle also called on the beauty industry to do the same. "We know it's not easy to change packaging and marketing overnight. But together we can start to change the conversation and celebrate the beauty in all ages."
[
Allure
]
Photo courtesy of Allure
Follow Preen on Facebook, Instagram, Twitter, Snapchat, and Viber
Related stories:
Host of 'What Not to Wear' Redefining What She Wears as She Ages
4 Steps to Boost Skin Cell Metabolism and Delay Aging
A Glass of Gin Can Help You Look Younger Now
48-Year-Old Pinay Comes Home After Winning Mrs. Grandma Universal 2016