Here at Preen, we're fully aware that adult life doesn't always go as smoothly (and look as beautiful) as curated Instagram feeds. We all face challenges amidst all the good things. Meet Mikka Wee, a former food editor-turned-working gal in Singapore, who's about to share all the ups and downs that come with adulting and living. Welcome to Bless This Mess! 
Marie Kondo is now a household name. Even my grandmother, who is a hoarder, is knowledgeable about the method and is now on the hunt for storage boxes. It's a phenomenon, I tell you. Every three out of five articles I read on Facebook sport a preview image of the petite Japanese lady with her signature bangs. I admit, I've watched a few episodes of her Netflix show, in awe of the hills of clothing and the mountains of komono (miscellaneous items) everyday people have accumulated through the years.
I like the whole idea of this KonMari movement. If you check out my laptop's search history, you will see that I have Googled countless of times, her methods on how to fold this or that, how to store this or that. I also like the use of the word "tidying," as if it were a very polite and courteous way of saying, "you better clean up this freaking space." It feels like a soft blow as compared to the very disheartening image of toiling around your house just to keep it neat.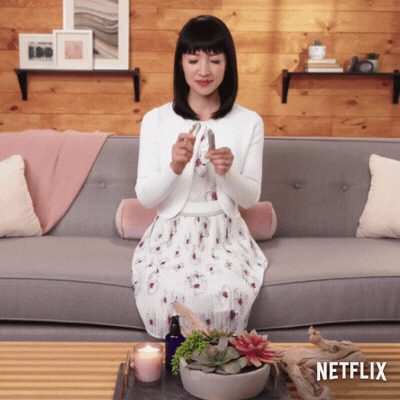 There is also the whole "spark joy" idea, which I find I have trouble with. It's not that I'm heartless; it's just that I find it so time-consuming to touch each article of clothing or each item I have and as if feeling out its heartbeat, discerning if it brings me joy. 
Full disclosure: I kind of did the KonMari method, but I felt also like I kind of cheated it when I did it because I was too impatient to finish the book. I remember the day I was moved to tidy up my things—I was 25 and bored out of my wits. I do recall borrowing the book from a friend because I couldn't commit to spending hundreds on a book about cleaning. Anyways, to make the long story short, I read the introduction, got sucked into it, and then once the steps were laid out… let's just say I zoomed past that and went right straight to the ending.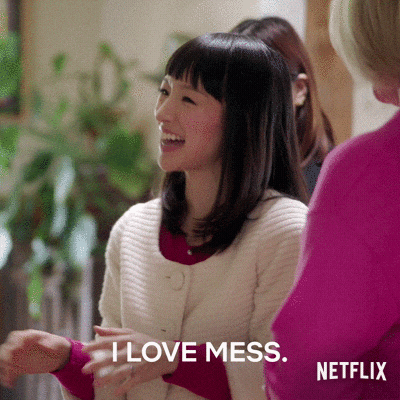 Perhaps, the only part I read about the actual tidying up was the clothing part—the daunting task of hauling out all your clothes and choosing only the ones that "spark joy," which in my book meant clothes that I actually wore in the past two months and discarding those that I haven't….
…and knickknacks, and makeup, and notebooks, and the hardest to let go of, books.
I felt a strange jolt after reading whatever I was able to from The Life-Changing Magic of Tidying Up: The Japanese Art of Decluttering and Organizing. I bottled up this adrenaline and headed to the grocery and bought 25 XL-sized trash bags. By the time I got home, it was around 4 p.m., and I told myself I'd save the adrenaline for the next day.
However, I was itching to get this decluttering thing over and done with. So, I started with my clothes. I hauled the whole pile out and started tossing garments into my trash bags, to the horror of my mother. Because all of my clothes were on my bed, I decided against slumber and continued to sort and toss and sort and fold. I finished by 4:30 in the morning. I woke up at 10 a.m. the next day and continued with my other items—it took me three entire days. Thank goodness I was on a holiday break. Out of the 25 trash bags I bought, I used up 21. Unbelievable.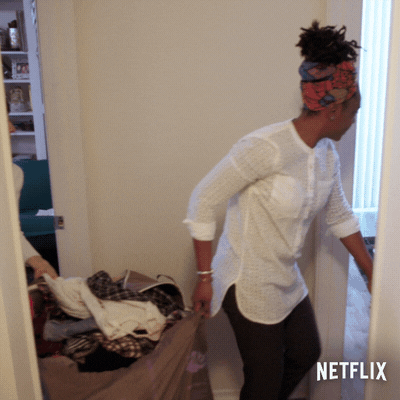 When I sealed the deal, I took a look around my room and felt immense peace and satisfaction. I rewarded myself with an ice-cold bottle of Coke, and then went to the department store and purchased new bedsheets, a new bedside lamp, and an aromatherapy diffuser because I was such a Tita already even at just 25. 
The verdict? As much as I hate for it to sound like a cliché, it really was, hands-down, incredibly life-changing. Really. Totally. My life changed 100 percent. Not only did my room have the space to breathe—I had space to breathe as well. I realized that one of the biggest stressors in life is the number of things we have. I felt peace knowing where things were, and that I didn't have boxes under my bed filled with books I would never read.
The effect it had on me mentally was that it helped clear my mind, and it was as if a huge weight was lifted off my shoulders. My hoarder grandma was definitely not pleased seeing me haul garbage bag after garbage bag of stuff, and I might have given my mother the shock of her life. To them, it looked like a waste, but to me, it was a relief.
Perhaps it opened my eyes to our attachment to materialism, and this could also be the reason why my family was so reluctant on letting go of "stuff." But maybe, just maybe, this is the start of a lifelong lesson about going back to a simpler life devoid of the need to have it all. Maybe, just maybe, this phenomenon is a stepping-stone into realizing that it's not the tangible things in life, but the memories we cherish through experiences. It's been four years later, and I look back on those days of tossing and hauling as a few of the most life-changing ones, indeed.
Disclaimer: The views expressed here are solely those of the author in her private capacity and do not in any way represent the views of Preen.ph, or any other entity of the Inquirer Group of Companies.
Art by Marian Hukom
For the latest in culture, fashion, beauty, and celebrities, subscribe to our weekly newsletter here  
Follow Preen on Facebook, Instagram, Twitter, YouTube, and Viber
Related stories:
Marie Kondo didn't do anything wrong, you're just hating on her culture
My "sharpen-the-saw" booklist
On gender roles in the household: What Marie Kondo teaches us beyond tidying
Women's March 2019 posters we should live by