People Magazine is in hot water as they fail to properly name the Asian celebrities they featured in an article. Huffington Post shared that "many lazily confuse Asians… Way. Too. Often." And it's safe to say that this time, we are not letting it slide. Sure, forgetting names can happen, but to throw out names of several Asian actors and hope for the best that you're correct is just irresponsible.
.@people Jae W Suh is not in this photo. I'm not Randall Park. And that's Tan Kheng Hua not Michelle Yeoh. pic.twitter.com/vwSBvdnhIl

— Ronny Chieng (@ronnychieng) January 29, 2019
The photo that was misnamed was from the SAG Awards afterparty. People initially misidentified Ronny Chieng as Randall Park and his wife, Hannah Pham, as Jae W Suh. But it doesn't stop there. People identified Tan Kheng Hua as Michelle Yeoh.

Upon checking, People have edited the caption to "The cast of Crazy Rich Asians," but mind you that Hannah was not part of the film and based on a prior edit, they still weren't able to properly name her.
But you know what? People wasn't the only one who made that mistake. Vogue happened to misname Asian celebrities during their SAG Awards coverage as well and we didn't hear a peep. This comes just a few weeks after they misnamed activist Noor Tagouri as actress Noor Bukhari in their print edition. The publication even apologized and said, "We also understand that there is a larger issue of misidentification in media—especially among nonwhite subjects. We will try to be more thoughtful and careful in our work going forward, and we apologize for any embarrassment this has caused Tagouri and Bukhari." But oops, it happened again.
https://www.instagram.com/p/BsvNDpxBEbZ/
In their gallery of red carpet looks, Vogue labeled a photo of actress Gemma Chan as Liv Lo (who BTW, is a host and is the wife of Henry Golding). Similar to People, they also misnamed Tan Kheng Hua as Michelle Yeoh.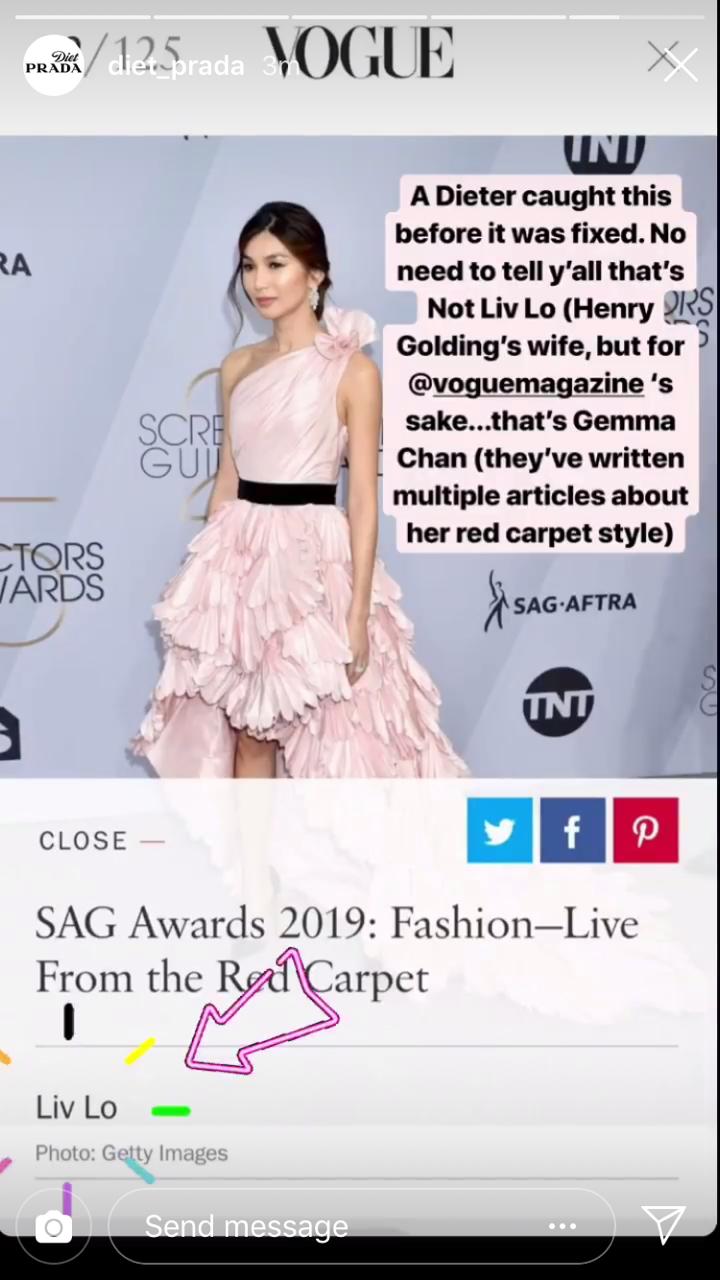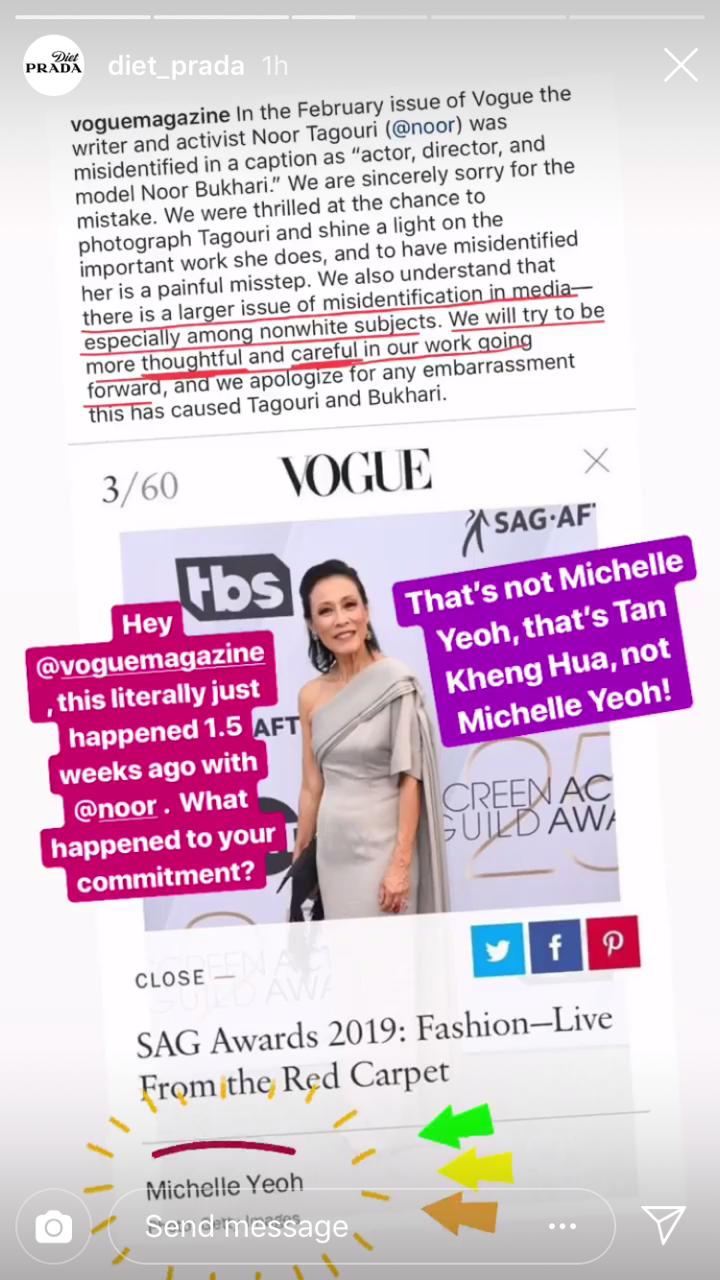 Another Crazy Rich Asian star Remy Hii talked about how misnaming Asian performers (actually this applies to any field) actually erases their identity. And simply put, he asked them to "do better."
@people I'm singling you out because not only do Ronny Chieng and Randall Park, Jae W Suh and Kheng Hua look NOTHING alike, Michelle Yeoh ISNT EVEN IN THAT PHOTO. This wasn't even a case of mistaken identity, you straight up threw a bunch of yellow names up and hoped they'd stick

— Remy Hii (@RemyHii) January 28, 2019
When you fail to recognise our faces, when you consistently misattribute our names as though any asian performer is interchangeable, you erase our identities & you erase our humanity. You negate our achievements & talents with your ignorance. We're not going to take it. Do better

— Remy Hii (@RemyHii) January 28, 2019
At this publication, we make mistakes, yes. But we make sure we double check and exhaust all possible resources we have. Let's all learn from this and be mindful that misnaming can cause a lasting impact.
Photo courtesy of People Magazine
For the latest in culture, fashion, beauty, and celebrities, subscribe to our weekly newsletter here
Follow Preen on Facebook, Instagram, Twitter, YouTube, and Viber
Related stories:
Vogue misnamed Noor Tagouri, a misrepresentation activist
Michelle Yeoh wore an iconic Crazy Rich Asians piece at the Golden Globes
Crazy Rich Asians sequel: China is richer than all of us
Misrepresentation in media still exists but it needs to stop