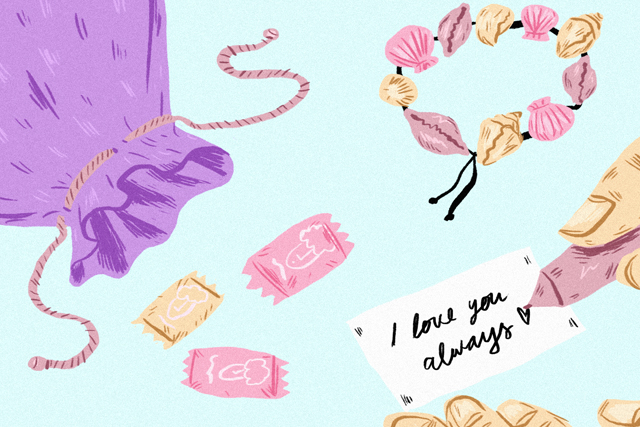 Here at Preen, we're fully aware that adult life doesn't always go as smoothly (and look as beautiful) as curated Instagram feeds. We all face challenges amidst all the good things. Meet Mikka Wee, a former food editor-turned-working gal in Singapore, who's about to share all the ups and downs that come with adulting and living. Welcome to Bless This Mess! 
This February, I thought of touching on a topic that seems so universal yet so vulnerable—love. Part of it could be due to the dawning of Valentine's Day, and part of me does want to write about love because of my fascination with it. Love, as they say, is the highest power. C.S. Lewis has a book called The Four Loves, and since there are four Saturdays in February, I thought, why not attribute each Saturday to one of these four loves. Each Saturday, a different love. 
The first type of love in the book is called Storge, and it is described as the liking of someone through the fondness of familiarity. In short, this is the type of love family members share and could relate to. C.S. Lewis goes to the point of describing it as a dependency-based love and considers it responsible for nine-tenths of all solid and lasting human happiness.
There is a phrase that goes, "friends are the family you choose," and while I believe in this 100 percent, I find myself constantly struggling when it comes to storge. I know that my family was given to me for a reason—as if we were bound by chance. I never talk about my family in the greatest of detail except for my mum or my lola, and maybe a huge part is because I always felt that I was a bad seed.
My mum raised me to be independent and to have a piece of mind. I was exposed to a multitude of books at such a tender age that I felt I had a lot of strong opinions about the world as my mind developed. I was considered an intelligent child, also a mischievous, sneaky, and smart-alecky one; however, my conduct always suffered because I always answered back to my elders—not only to my family, but also to my teachers. I had a lot of questions and I was so angry that I couldn't find the answers, and all this pent-up frustration caused me to behave the way I did.
We lived in a compound with my aunts and uncles and their families. I've seen my cousins grow from babies to adults, and I've always had a good, healthy, and loving relationship with them. I am an only child, and I feel that the love I have for my cousins is probably the same one as siblings have with each other. But to think of love in relation to a certain aunt and uncle with whom I've had constant quarrels with is a bit tough because I've created a barrier between them and myself. It doesn't paint the best picture of my relationship with my family, especially with my grandfather with whom I've always struggled to love as of late.
I cannot stress the number of days I wished to be removed from my family and to live far away from them. I felt it was really toxic for me to live in close proximity to them, and when my wish was finally answered, it was just an amicable wave goodbye. 
But time changes things, and sometimes, a healthy dose of space is good.
After three years of living away from my family, I've oddly acquired a newfound appreciation for them. Time has a strange way of softening you; of transforming something calloused into something tender; a sort of decaying of anger, replaced by lightness. I mean, it's not like I've become best buds with everyone in my family, but it is sobering to know that there are moments when they are missed; a realization that a huge part of my becoming has been fashioned by my family, and how a lot of good things in my life are what they are because of them. Love has always been the invisible string that has tied us together.
One of my favorite memories is when an aunt of mine gave me a tiny lavender-colored drawstring pouch for Christmas. It was the in-between years of puberty and childhood, and I was pent up with angst. See, I seldom got along with this specific aunt of mine, yet she knew I loved the color lavender. Under our Christmas tree it was her present I was most excited to open, but I didn't want to admit it. I remembered those days when I would cry to my mum and wail out, "she doesn't love me!" whenever we got into a fight, but my mum would always reassure me that she did, and did I forget all those times my aunt would sneak me out so we could watch a movie together? Sometimes, it is easier to forget the good and hold on to the bad.
As Christmas Eve finally arrived, I hurriedly opened all my other presents, saving that tiny lavender pouch for last. I held it close to my heart as I entered my room where I hurriedly loosened up the ends and emptied out its contents on my bed.
A few packs of Warheads, a rare bracelet made with seashells, and card that read "Merry Christmas to My Favorite Niece."
And handwritten below: "I love you always."
Disclaimer: The views expressed here are solely those of the author in her private capacity and do not in any way represent the views of Preen.ph, or any other entity of the Inquirer Group of Companies.
Art by Marian Hukom
For the latest in culture, fashion, beauty, and celebrities, subscribe to our weekly newsletter here
Follow Preen on Facebook, Instagram, Twitter, YouTube, and Viber
Related stories:
Which gift best suits your loved one's personality?
2019 is going to be another year of great reads
Not just friendship: The other important factor in intimate relationships
Beat traffic stress with podcasts about love, sex and everything in between